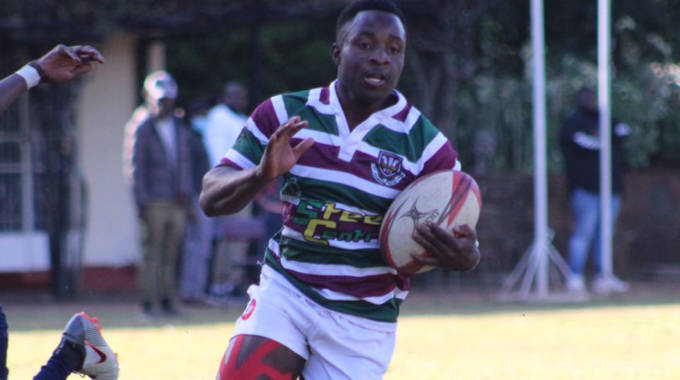 The ManicaPost
Ray Bande
Senior Reporter
EXCEPTIONALLY gifted former Hillcrest College student, Josiah Borerwe (Junior) is relishing the lifetime opportunity to be part of the Young Sables squad ahead of the all-important Under-20 International Series set for Canada in August.
Son to veteran Manicaland sports administrator, Josiah Borerwe, the former Hillcrest College student is part of a talent-laded expanded Zimbabwe Under-20 rugby squad of 61 players that was recently named by the team's technical department in preparation for the World Rugby-sanctioned Under-20 International Series to be played in Canada in August.
The squad is dominated by players who were part of the group which sensationally won the Africa Rugby Under-20 Barthes Trophy with a victory over Namibia in the finals.
The Junior Sables will represent the continent in the four-nation tournament which will also feature the hosts, Canada, Chile and Uruguay.
Following the cancellation of the World Rugby Under-20 Championship and Trophy 2021 due to the impact of the global Covid-19 pandemic, World Rugby has worked with regions and unions to identify safe competition opportunities.
The International Series which will be played from August 9 to 24 at the University of Guelph Campus in Ontario is expected to give the Junior Sables the much-needed international exposure ahead of next year's World Rugby Under-20 Trophy.
Borerwe (19), who is undertaking his Advanced Level studies at Prince Edward High in Harare, said: "It is a very talented group of rugby pros who are physically, mentally and professionally up to the challenge they will face ahead. Being drafted into the provisional squad is now one of my highest achievements, and the competition is getting tougher."
The speedy fullback draws much of his inspiration from the tireless efforts by his parents to better, not only his rugby career, but his future in general.
"My parents are my greatest inspiration. All the hard work and sacrifices they do for me are out of this world. I want to pay back all their sacrifices by making it to the top," he said.
His wish is to one day play the game in foreign lands.
"No doubt, my wish is to one day play international rugby outside Zimbabwe in more competitive leagues, preferably in Europe," he added.
Meanwhile, rugby authorities have since made a passionate appeal to corporates and sponsors to come on board and support the team which many believe is destined for greatness after their feat in Kenya.
Junior Sables U20 Squad:
Props: Tomuvonga Msasanure, Happias Zhou, Nqobile Manyara, Tadiwa Chinwada, Farai Madzima, Veshal Jasi, Martin Hakunavanhu
Hookers: Marlon Guwuriro, Bryan Chiang, Takunda Mudzingwa, Tawanda Banda, Takudzwa Zvomuya
Locks: Simbarashe Siraha, Tamuka Kambani, Solomon Zawe, Tadiwanashe Marumisa, Craig Snyder
Loose forwards: Andrew Rinomhota, Tendai Chimyama, Tanaka Ndoro, Muzuva Gutu, Anthony Kalubi, Andy Maringo, Rua Karimazondo, David Mangwende , Gary Kagande , Phillip Ehlers , Gealan Jaricha
Utility Forwards: Tanaka Gondo-Mukandapi, Denzel Maramba , Daniel Johnson
Scrum Halves: Panashe Zuze, Tanaka Ndabambi, Shadrick Mandaza, Welton Charumbira, Matthew Hickey
Fly Halves: Benjamin Pattenden, Takudzwa Musingwini, Stephen Terera
Centres: Rukudzo Ndoro, Carl Kawodza, Alex Nyamunda, Dion Khumalo, Tanaka Chinyanga, Brooklyn Chikaka, Crispen Mashingaidze, Jerome Sagomba , Giles Munyamana
Outside backs: Liberty Sibanda, Tariro Tapfuma, Brendan Mason, Tawanda Matipano, Tavonga Ablant, Munotida Marimirofa, Josiah Borerwe, Emmanuel Farawu, Lesley Mubeto, David Yosa , Hunter Chiutsi
Utility Backs: Simbarashe Kanyangarara, Brendan Marume.