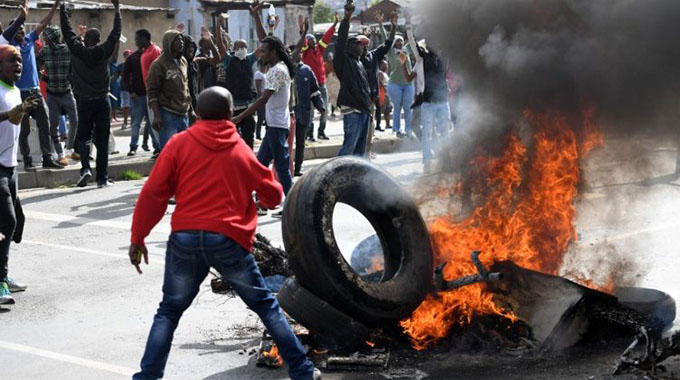 The ManicaPost
Post Correspondents
MUTARE residents have expressed mixed reactions on the ongoing xenophobic attacks in South Africa and the subsequent retaliation by Nigerians and Zambians against South Africans in their respective countries.
South Africans went on a rampage, attacking foreigners in their country, accusing them of causing unemployment to the natives.
Perpetrators of xenophobic attacks also argue that foreigners are responsible for rampant drug smuggling.
Apparently, employers in South Africa prefer engaging foreigners because of their work ethic and skills.
Since Sunday, in South Africa's commercial hub, Johannesburg, mobs have been looting and destroying shops, most of which are foreign-owned.
The recurrence of xenophobic attacks in South Africa has drawn the ire of other African states like Zambia and Nigeria.
South Africa has since temporarily closed its diplomatic mission in Nigeria following reprisal attacks by Nigerians triggered by xenophobic violence in South Africa.
Media reports indicate that Nigerian-based Shoprite supermarket and MTN have since been closed following the attacks from the citizens, revenging on what their counterparts in South Africa are facing.
In the same vein, Zambian youths went onto the streets protesting against the business operators of South African origin in their country.
In a snap survey by The Manica Post, Mutare residents were of the opinion that the recurrence of xenophobia in South Africa discourages unity, solidarity and the promotion of peace, security and stability on the continent.
Mr Romeo Chipembere (41), lamented over the continuous xenophobic attacks saying Africans should be united.
"I feel these attacks will not lead to the development of our continent as Africans, but rather will lead to the destruction of infrastructure which would later require substantial funding to repair.
"These attacks go against the principles of humanity and severely compromise the people-to-people solidarity that has existed between South Africa and other countries," he said.
Mrs Milcah Chikomba said: "We must learn to share the little that we have. I am not happy with what South Africans are doing to fellow Africans. It is only that the economy is not performing well here in Zimbabwe, I am sure our President would offer refugee to those Nigerians who are being attacked in SA."
Mr Progress Chipfumi urged authorities to urgently deploy adequate resources and put in place measures aimed at protecting human life.
"We urge South African authorities to shun issuing xenophobic statements. We advise them to urgently deploy adequate resources and put in place measures to protecting human life, regardless of nationality. Human beings are inviolable. Every human being should be protected. No one should be arbitrarily deprived of this right. The South African government should address and stabilise their country because this whole thing is now affecting the whole of Africa," he said.
"The retaliation by the Nigerians and Zambians was justified, and meant to make them have a taste of their own cruelty," said Oscar Demba. Considering the fact that fellow Nigerians and Zambians are suffering in South Africa, their brothers back home are naturally bound to retaliate."