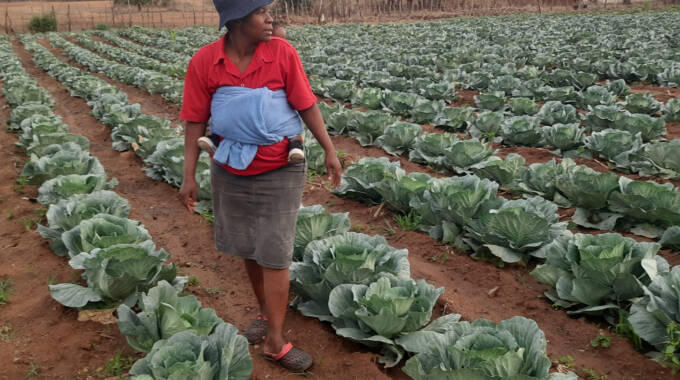 The ManicaPost
Samuel Kadungure
Senior Reporter
A CATALOGUE of high-impact irrigation development projects has been lined up in the province in sync with Government's vision to put 350 000 hectares under irrigation to climate proof agriculture, enhance productivity and unlock access to nutritious food in dry areas, The Manica Post can reveal.
Irrigation development is guided by the Accelerated Irrigation Rehabilitation and Development targeting to achieve 350 000ha by 2025 in line with National Development Strategy (NDS1).
The full utilisation of water from Osborne, Mpudzi, Ruti, Mwarazi and Marowanyati dams is key to transforming livelihoods of communities around the water bodies.
In pursuance of that goal, the 260ha Chiduku-Tikwiri Irrigation Scheme, which draws water from Rusape River, funded through the Public Sector Investment Programme (PSIP), was commissioned by the Minister of State for Manicaland Provincial Affairs and Devolution, Advocate Misheck Mugadza last week on Friday.
The irrigation scheme, which has 520 direct beneficiaries in Makoni West was developed under the turnkey arrangement in which the contractor — Maka Farm — was responsible for developing it in accordance with the designs before handing it over to the client.
Speaking during the commissioning ceremony, Information, Publicity and Broadcasting Services Minister, Dr Jenfan Muswere said Government has embarked on an aggressive drive to rehabilitate and develop irrigation to climate-proof agriculture and restore productivity in dry areas.
"Of principal importance is that under the leadership of President Mnangagwa, there has been an acceleration of irrigation projects across the country in-order to guarantee food security.
"Food security is essential for national security. National security is no longer defined by geographical boundaries and borders, but also in terms of food security. The more a country imports food for its population, the less sovereign it is in terms of vulnerability. The more a country produce its own food and feed its people, the more sovereign it is.
"We must urgently transform our agriculture to improve production, while mitigating climate change and restoring nature. Our ability to feed ourselves, now and into the future, depends on our capacity to produce and harvest a wide variety of nutritious foods," said Dr Muswere, who is also Member of Parliament for Makoni West.
Speaking during the same event, Minister Mugadza said the country is experiencing erratic climatic conditions, hence the need for irrigation schemes.
"Manicaland has witnessed unreliable and poorly distributed rains in the past agriculture seasons. Rainfall patterns are no longer reliable, and despite promises of normal to above normal rains, most parts of the country are experiencing a late start to the agricultural season.
"We have drawn important lessons from the poor rains received during the last seasons, and we are currently seized with efforts to build resilience in most rural communities. Government has embarked on a number of smart agriculture initiatives to ensure continued national food security in light of climate change," he said.
Minister Mugadza said Government plans to fully operationalise 450 irrigation schemes to contribute to the 350 000 hectares target by 2025.
Acting Manicaland Provincial Director for Irrigation Development, Engineer Misheck Rupfutse said they are working on a plan to irrigate thousands of hectares of arable land between Odzi and Nyazura using water from Osborne Dam to reduce heavy reliance on rain-fed farming, which has always been a recipe for disaster during droughts.
Osborne Dam is the largest lake in Manicaland,sitting on 2600ha of land, but its water is yet to be fullyutilised for the benefit of the local communities in Mutasa and Mutare North.
"Manicaland, like the other nine provinces, is contributing towards our NDS1 targets through irrigation rehabilitation and development under funding from Government. Partners include IFAD, GCF, Practical Action, UNOPS, FAO, and the private sector.
"Across the province, 2023 saw the completion of the Chiduku-Tikwiri Irrigation Scheme, with a total area of 260ha, as well as Chibuwe Irrigation Scheme (376ha). Likewise, the rehabilitation of Cashel Valley (620ha) is in progress and is at 71 percent. It is being funded at a cost of US$5.2 million under the Small-holder Irrigation Revitalisation Programme being implemented by Government in partnership with the International Fund for Agriculture Development (IFAD)," said Engineer Rupfutse.
He said under the same programme, work to develop the first phase (384ha) at Romsley Irrigation Scheme in Makoni South is 74 percent complete.
Government, in partnership with the World Bank and AfDB, has also successfully restored the irrigation infrastructure that was destroyed by Cyclone Idai in Chimanimani and Chipinge Districts.
"Under the Green Climate Fund (GCF) that is being implemented in partnership with UNDP, Government has completed feasibility for Rimbi Irrigation Scheme in Chipinge. The utilisation of water in completed dams is a Government priority, and dams like Osborne, Mpudzi, Mwarazi, Ruti and Marovanyati quickly come to mind.
"Government is currently resolving issues of contracts at Mpudzi and Ruti, which have seen contractors abandoning sites. Likewise, the first contract to develop the first block at Marovanyati Dam has been awarded and the contractor is expected on the ground soon.
"The procurement of the contractor to develop the first tranche of 450ha at Osborne under the V30 accelerator model is underway," said Engineer Rupfutse.
In 2014, feasibility studies were conducted by engineers from China, who then indicated that a hydropower generation plant could be developed for the purposes of generating power and irrigation since electricity in farming.
The land to be irrigated stretches from Odzi River to Nyazura.
A canal will draw water from the dam to irrigate land on both the upper and lower sides of the river.