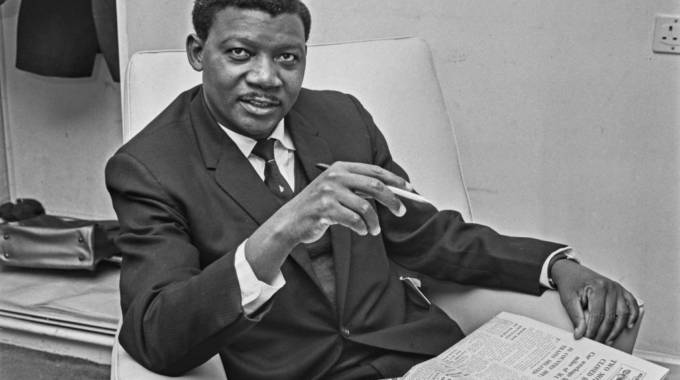 The ManicaPost
Cletus Mushanawani
News Editor
THE saying: "If your actions inspire others to dream more, learn more, do more and become more, you are a leader", aptly captures nationalists and liberation fighters' immense sacrifice to see a liberated Zimbabwe.
As the country prepares to mark this year's 42nd Heroes' Day and Defence Forces holidays next week, it is clear that the supreme sacrifices of the nation's founding fathers were not in vain as the country is on a steady development trajectory despite being saddled with a number of challenges.
The enemy has not relented and is working round the clock to reverse the gains of the liberation struggle through illegal sanctions, sponsored acts of violence as well as financial indiscipline that has seen the prices of basic goods soaring.
However, this is not stopping patriotic Zimbabweans from chasing Vision 2030.
The country's liberation brought with it unity, resulting in peace and political stability, the prerequisites for the nation's development.
With the need to have access to land being the driving force behind the liberation struggle, Manicaland is playing a leading role in ensuring the attainment of Vision 2030 through agricultural production.
The province is fast leveraging on its agricultural comparative advantage to grow both the provincial and national Gross Domestic Product through avocado, bananas, citrus, coffee, macadamia, pineapple, sugarcane, tea and timber plantations.
Having been inspired by the fact that the province has all the five ecological natural regions, Manicaland's son and Zimbabwe African National Union (ZANU) founding chairman, the late Dr Herbert Chitepo who was born at Bonda Mission in Mutasa District, was so resolute and unwavering on the land question.
Although Dr Chitepo died on March 18, 1975 in Lusaka, Zambia when a car bomb placed in his Volkswagen Beetle exploded, his aspirations on the land question have come to pass.
Speaking in Australia in 1973, Dr Chitepo said: "I could go on into the whole theories of discrimination in legislation, in residency, in economic opportunities, in education. I could go into that, but I will restrict myself to the question of land because I think this is very basic. To us the essence of exploitation, the essence of white domination, is domination over land. That is the real issue."
Without access to the means of production, the oppressor would have remained in control, hence in 1974 Dr Chitepo said: "There will be no talks, no negotiations, no discussions involving our movement until Mr Smith recognises the right to immediate majority rule. That is not majority rule tomorrow, next week, next year or whenever. It is now. Until we hear that man, the rebel leader of the rebel regime, speak those words, our war goes on and it will continue until we have liberated every acre of our country."
Yes, until the former colonisers stop meddling in Zimbabwe's internal affairs, her citizenry will not rest in defending their birth right.
One of the longest serving prisoners of the liberation struggle, having spent 21 years in detention, Cde Maurice Nyagumbo believed in discipline and the education of the masses for future roles.
Cde Nyagumbo died in Harare on April 20, 1989, and was buried at the national shrine on April 23, 1989.
Under Government's Education 5.0 philosophy, education in science, technology and innovation is now more than ever more intricately connected to the multi-dimensional aspects of development, just as envisioned by Cde Nyagumbo.
In his letter to former President Mugabe and ZANU Central Committee while imprisoned at Salisbury Central Prison in June 1979, Cde Nyagumbo wrote: "Chimurenga is for the revolutionalised masses, with the revolutionalised masses and through the revolutionalised masses.
"It can be waged and won by an intelligent mobilisation on the revolutionalised masses through a genuine and sincere rational reliance on them under a concerted programme. Its operations must be consistently in the interest of the WHOLE.
"Vakomana (liberation fighters) must usher a concerted revolutionary (economically and politically) purposeful education to gear the masses consciously and responsibly for the new power base in a revolutionary Zimbabwe. It is essential to rouse and maintain their revolutionary interest and keep them well informed for they are entitled to know why and how they are being prepared to play an effective role in the new and greater responsibilities they will soon assume.
"They must be allowed to grow necessary confidence and courage to exploit their own capabilities. As we are all natural slaves to opinion, the voice of an educated revolutionary mass is the voice of the Almighty. The masses must participate rationally and objectively and in full confidence in the making of those decisions that affect their lives, for they alone are the custodians of Chimurenga," Cde Nyagumbo wrote.
One of the three national heroines to be buried at the national shrine, with roots in Manicaland, the late Dr Ellen Gwaradzimba, was so passionate about the development of the province.
Her vision was to see each of Manicaland's seven districts having a special economic zone, with investments worth millions of United States dollars.
Had Covid-19 not wreaked havoc, some of the projects Dr Gwaradzimba spoke passionately about include the Dairy Valley in Odzi, the Checheche Solar Project, a peanut butter making plant in Mutare, a Banana Valley in Burma Valley, a seven-star hotel and conference centre in Fern Hill, Mutare, macadamia and coffee processing plants in Chipinge, a cigarette manufacturing plant in Makoni, a dry port at Arda Transau and a new settlement at Odzi Transau.
Dr Gwaradzimba also spearheaded various developmental programmes that have economically emancipated many people in Manicaland.
Her astute leadership qualities were also demonstrated during the trying times of the March 2019 Cyclone Idai when she led the province, with the help of President Mnangagwa, in sourcing help for the victims.
Other heroines who hailed from Manicaland province include Cdes Victoria Chitepo and Vivian Mwashita, among others.
In Nyanga, the development of the district as a strong economic player can be attributed to the late Senator and Chief Rekayi Tangwena.
Traditional leaders provide moral sanctions that help in shaping human societies and communities' development. It is through such inculcation of royalty, respect and honour that social order is enhanced and preserved to shape development.
In Nyanga, economic development is being witnessed through a sound and efficient irrigation agricultural system, as well as good quality hospitals and schools.
Having resisted eviction from the fertile Nyafaro land in Nyanga, the late Chief Tangwena's stance has enriched and empowered the people of Nyanga and Zimbabwe at large.
Abundant agricultural land in Bende Gap, Matema, as well as Tombo One and Two is enabling ordinary people to grow cash crops in a way that is boosting the country's GDP.
Potato and fruit growing is also dominant in the area.
This is aided by the abundant water the area receives. This water is being harvested for irrigational purposes in low-lying areas of Regina, Bumhira and Crossdale.
Crops grown under this scheme include beans, onions, garlic and fruits. These are cash crops that have seen the people of Nyanga living above the poverty datum line.
Money earned from agriculture is also being diverted to other demanding economic pressures such as education and health care.
Forestry is also being done, while the promotion of tourism in Nyanga is brewing positive fruits.
The availability of high flying educational facilities in Nyanga, including Marist Nyanga, Emmanuel, St Mary's Magadelene and Regina Coeli High Schools, also proves that Chief Tangwena was the forefather of the area's present day development.
Among the other gallant nationalists of Manicaland are Dr Samuel Tichafa Parirenyatwa, Cdes Edgar Tekere, William Ndangana, Zororo Duri, Moton Malianga, Kumbirai Kangai, Moven Mahachi and Robert Mubaiwa Marere, among many others.
Those who served with distinction in the Zimbabwe Defence Forces include Lieutenant-General Edzai Chimonyo, Retired Major-General Gideon Lifa, Major-General Eliah Bandama, Air Commodore Mike Karakadzai and Brigadier-General Ruphus Chigudu, among others
The province's most decorated sons and daughters are among those accorded the highest honour of national hero status.
Their remains are interred at the National Heroes' Acre in Harare, while the several other provincial heroes are laying at the Manicaland Provincial Heroes' Acre.
Unity, freedom and hard work, which are the embodiment of the country's heroes, are values that should not only be cherished, but should continue to be hallmarks of the Zimbabwean society.