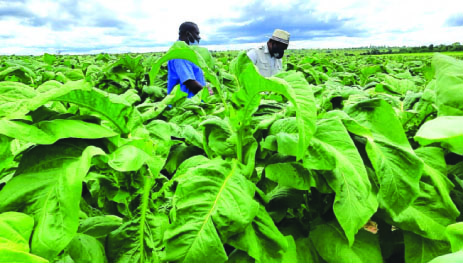 The ManicaPost
Samuel Kadungure
Senior Reporter
AGRICULTURE has always depended on weather, with farmers requiring a blend of the sun and rainfall to produce sustainably.
Although farmers always anticipate weather variations, it is increasingly difficult now as the once predictable growing cycles are at risk of climate change.
They are now enduring droughts, floods and outbreaks of livestock diseases.
While the future looks uncertain, this can be reversed through the development of efficient irrigation systems.
A tour of Kelvin Farm, which belongs to Mr Booker Chinamasa, is an affirmative case in point.
The Headlands farm is proof of how efficient irrigation can be the answer to declining yields.
Mr Chinamasa has 45 hectares of a thriving and high value tobacco crop.
Of the 45ha, 30 are under irrigation.
He planted on October 1, 2021; and expects a yield of 3 500kg per hectare.
The leaf should not fetch less than US$6 per kg.
Hands-on Lands, Agriculture, Water, Fisheries and Rural Development Minister, Dr Anxious Masuka visited the farm last Thursday, and was left speechless.
He took a bow to the young farmer after being impressed by the leaf quality and general management of the farm.
He implored young farmers to emulate Mr Chinamasa.
"This is a very good crop, and an example of what we expect every farmer to do. This is highly commendable and our youths must strive to match or exceed what Mr Chinamasa is doing," said Dr Masuka.
He promised to avail to Mr Chinamasa inputs to plant an additional 80ha of short season maize variety after seeing a virgin portion of land that was left idle.
The land was cleared last year after the farmer was promised a centre pivot, but the deal fell through after the bank shifted goalposts.
Dr Masuka promised to assist Mr Chinamasa to secure the centre pivot.
"We need to give these young farmers all the support they need so that through them other youths can see value in agriculture. If our young farmers take the lead, the future will be bright," he said.
Mr Chinamasa said the Government, banks and private sector groups need to support for young farmers in their wider efforts to combat climate change.
He said enabling youths to access financing, equipment and training will help ensure that they can sustainably produce.
Mr Chinamasa's goal is to irrigate 300ha.
"It will allow me to use the same amount of water on a much bigger area to grow high value and more water-intensive crops. Irrigation is about ensuring that there is consistent and reliable supply of water. My season can be as long as I want, and will not necessarily have to be short season crop varieties because the key ingredient, which is water, will be there.
"I can have a minimum of two crops per year. It is unviable to solely rely on rain to grow crops, the risk is just too great," said Mr Chinamasa.
He said farming was becoming increasingly technology-driven and young farmers need to be equipped with relevant knowledge and skills to use agricultural technologies to help their businesses to flourish.
"Farming is undergoing technological transformation which helps farmers improve the sustainability, efficiency and profitability of the business. Agriculture is a science.
"Let us apply scientific principles. There are countries that receive less rainfall than us but they feed the world.
"There are smaller countries than us that are feeding the world.
"They have moved forward, taking advantage of technology and precision agriculture. Issues of soil testing, fertiliser application, etcetera must be done scientifically, while supporting research, training and extension services because without them there is no way agriculture can prosper.
"Even after producing, do we as farmers know what to do with the produce? There is very little value addition and beneficiation starting from the farm," he said.
Mr Chinamasa said there is need to understand the whole agriculture value chain and address the bottlenecks in a holistic manner.
He said our policies and strategies need to make it possible for all farmers to take advantage of opportunities that exist in the sector.
"If agriculture is the mainstay and driver of the economy, then all efforts should be directed towards supporting it. The areas I feel need consideration include the development of irrigation and sufficient financing models. Different farmer categories require different models," he said.
Farming is a hard work job, and words may not aptly describe how Mr Chinamasa has invested sweat, blood and tears on his land with great passion and dedication.
The young farmer is on the farm planning and executing manual work for at least eight hours that come with either the sun, wind, cold or rain.
No sweat, no gain!
"After producing and selling, I must be paid adequately and on time so that I can capitalise my enterprise. Farming is a business that should finance itself for it to be successful.
"The producer prices are supposed to entice and encourage farmer to invest their resources on the farm in the hope that they will make a profit that will allow them to get back into the field the following season.
"Viable and sustainable producer prices are the basics of pushing the agriculture sector forward and are non-negotiable.
"My farm is everything to me. I do everything I can to take risk off the table and get things right in my farming business. I am driven by an intrinsic desire to surpass goals, and my life is only as good as my last crop. I should lock in a profit every year, pay my bills, go for holiday, and live to farm another day," he said.
Mr Chinamasa was allocated 100 hectares at Kelvin Farm in 2014.
He is a successful commercial maize producer, delivering between 700 and 1 000 metric tonnes to the Grain Marketing Board (GMB) annually.
He diversified into tobacco last season.
His tillage area shot to 300ha after leasing unoccupied and untilled surrounding farms.
He employs 134 workers who get monthly grocery hampers to keep them motivated. They are paid in hard currency.
Mr Chinamasa has invested over US$300 000 in his operations, part of which was used to build a state-of-the-art farm house, purchase six tractors, cars, motorbikes, an assortment of farming implements and tillage accessories.
He has also renovated his tobacco curing infrastructure.