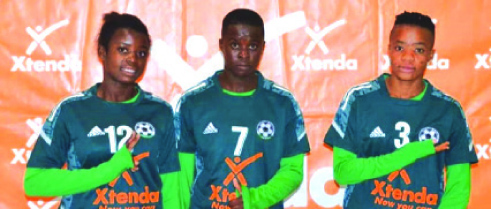 The ManicaPost
Ray Bande
Senior Reporter
AS the world celebrates the social, economic, cultural and political achievements of women in the month of March, Manicaland continues witnessing fruits of girl power and fortitude in football outfit, Faithdrive Academy.
The Mbuya Nelia Musikawanhu-owned women football outfit has churned out a galaxy of stars who have illuminated the domestic top-flight league and beyond.
Formed in 2003 and promoted to play in the Premier League in 2011 up to now, Faithdrive Academy has stood the test of time to become a household name in football for the fairer sex, not only in Manicaland, but countrywide.
Since its formation, Faithdrive Academy has been a talent nursery of repute, churning out players, some of whom have donned the Mighty Warriors apparel.
Faithdrive Academy's contribution to young talent development through a lasting partnership with Nyamauru High School in Dangamvura, Mutare which birthed the trailblazing national Copa Coca Cola championship winning squad, has, however, earned very little, if any, corporate partnership.
Their head coach, Admire Mahachi, said: "Yes, we have so many challenges as a club. We have faced challenges in securing equipment for training, transport to fulfil matches and refreshments for our players before and after matches.
"We will not talk about resources to motivate the girls after every match because this is something we have struggled to put together. We know that if we can get a few resources to motivate the girls, we can do much, much better as a team."
For their survival, Faithdrive Academy has been depending on the little resources that passionate Mbuya Musikavanhu, a spiritualist in her own right, gets from her herbal treatment vocation.
Last season, Faithdrive Academy settled for eighth position in the 16-team Premier League.
Mahachi believes they can attain a top four finish for the 2023 Premier League season.
"We are aiming at finishing the 2023 Premier League season in the top four. That is our aim. We have assembled a squad that can achieve that, all things being equal.
"We started our preseason preparations mid-January and things have been going on well. We have drafted junior players to fill in the gaps left by players who are no longer with us. These juniors include Grace Chimbera, Anita Ncube, Polite Dzuremba, Adesha Garepi and Samantha Mushonga," said the Faithdrive Academy FC gaffer.
To their credit, Fathdrive Academy have produced a number of talented players who have since joined other foreign and local clubs and the list includes Berita Kabwe (Correctional Service), Edeline Mtumbami (Chapungu), Maud Mafuruse, Shyline Dambamuromo, Melody Chikore, Rennie Mudimu (Herentials), Purity Mugayi (Malandies, South Africa), Concilia Madotsa (Rhinos), Angeline Mudambanuki (FC Platinum), Cythia Shonga (Harare City), Alice Moyo, Bethel Kondo, Cathrine Gwangwara (Green Buffaloes, Zambia).
Such is the inspiring story of fortitude of girl power that has been unfolding in Dangamvura since 2003!