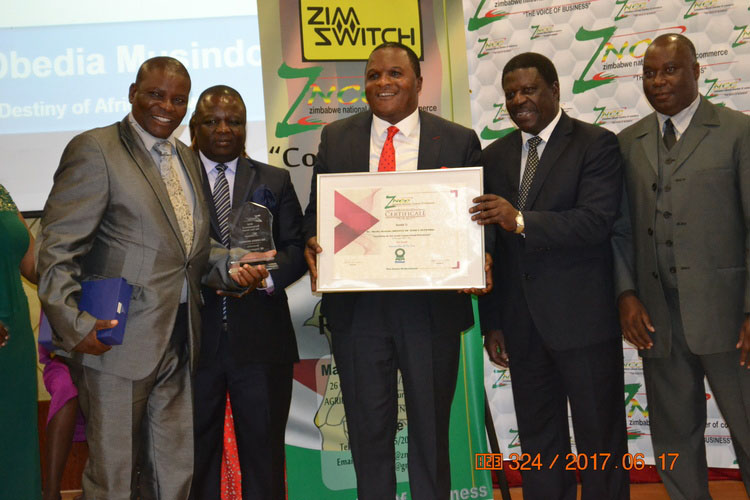 The ManicaPost
Liberty Dube Business Correspondent
DESTINY of Africa Network stole the thunder at this year's edition of the Zimbabwe National Chamber of Commerce provincial business awards ceremony last Friday after scooping two awards.
The organisation scooped the Construction Company of the Year award, while its founder, Reverend Obadiah Musindo won the prestigious Businessman of the Year award.  In the Businessman of the Year category, Rev Musindo, shrugged off competition from Mr Isaiah Musabayana of Golden Crust and Mr Garikai Gwenzi of Gwenzi Hardware.
In an interview after the ceremony, Rev Musindo said: "I feel honoured to be recognised by a credible organisation like ZNCC. I don't take this award for granted, it is an endorsement of the organisation and I feel motivated to do more and in a much better way.  ''It is refreshing to note that people are recognising our quest of helping people countrywide. "We are spreading our tentacles to regional countries. We also intend to build storey houses across the country with specifications for African families."
Makoni Rural District Council scooped the Corporate Governance Rural Local Authorities award, while Mutasa RDC came out tops in the Service Delivery Rural Local Authorities category. In the best Overall performance Rural Local Authorities category, Makoni came out first ahead and Rusape Town Council emerged winners in the Corporate Governance Urban Local Authorities category.
In the Service Delivery Urban Local Authorities category, Chipinge Town Council was crowned winners. Border Timbers came first in the Exporter of the Year category (Agriculture).  In the Exporter of the Year (Manufacturing), Manica Boards and Doors emerged winners, while Nyanga-based Troutberk Resort won The Exporter of the year in Tourism award (Non Consumptive).
Mr John Chinonzwa was crowned Best Miner in Manicaland, while Mrs Evelyn Madya scooped the overall best women miller in Zimbabwe award.  The Educational Development award was shared among First Class Academy, Gutika Academy, Milestone Group of Schools, St Noah Group of Schools, Jack and Jill Foundation and Hauna Christian College.
Rural Electrification Agency, NSSA, ZETDC and TelOne shared the Public Entreprise award, while the Financial Institution Supporting Small and Medium and Macro Enterprises award was shared among Agribank, NMB and FBC.  Africa University, Mutare Poly, Zimbabwe Open University and Mutare Teachers College shared the Tertiary Institution award.
Mutare Poly outshone Mega Markets and Magamba Vocational Training Centre to scoop the Enterprise Development Award. Chiredzi-based transport organisation, Fairline Investments, which is owned by transport mogul, Mrs Winnie Marange, came out tops in the Transport and Logistics category.
Tongaat Hullet outshone first runner up NetOne and second runner up Nyaradzo Group to scoop the Sustainable Development Goals — Champion award. Willowton Group scooped the company of the year gong. Speaking at the ceremony, Minister of Industry and Commerce, Dr Mike Bimha, said Government would support industry so that business continues to be at the heart of the country's economic transformation.
"A competitive culture is what is needed within industry for this will help determine our country's ability to attract investments, raise capita GDP, create jobs and wealth itself and ultimately raise the standard of living of our own people.
''The award serve to highlight the need for every organisation to implement systematic processes within the organisation that address the key elements of business development, to be well-positioned to scale, grow and be competitive," said Dr Bimha.