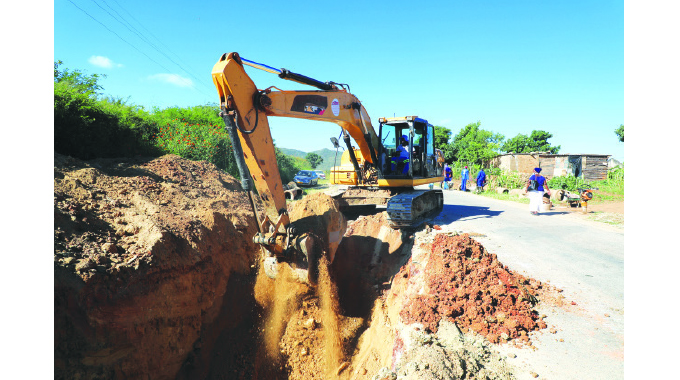 The ManicaPost
Abel Zhakata-Senior Reporter
After missing the December and April deadlines on completing the much-awaited Dangamvura Water Pipeline Project, Mutare City Council seems to have resigned to fate, with the Mayor, Councillor Blessing Tandi saying council would complete the project in due course.  
But disgruntled ratepayers and residents' associations in the eastern border city have since petitioned the Parliament of Zimbabwe to intervene and ensure that the local authority is arm-twisted into availing water to Mutare                                                                        residents.
According to the petition, there is widespread belief that council is abusing funds meant for water infrastructure.
However, Mutare Mayor, Councillor Blessing Tandi, claimed early this week that the local authority had enough resources to complete the installation of the pipeline which is set to end perennial water woes in Dangamvura and Fern Valley.
He said the current delays in the project have been caused by some "structural challenges" occasioned by new designs for the pipeline.
"When the deadlines were set, no one knew about these structural issues because we thought the process was as simple as just laying down some pipes. 
"However, a unique concrete and steel tunnel needs to be built near Bernwin; and we have already created a detour on that area to pave way for this. That tunnel requires about 21 days to be certified fit after undergoing a lengthy curing process. So this means that the timeframes we had calculated will be delayed by about three weeks.
"Where the pipeline crosses the railway line near Zimta and Dreamhouse suburbs, another tunnel will be built. That means again we will have to wait for another 21 days for the structure to undergo curing processes in line with recommended guidelines. Rough calculations will show you that at least two months will be lost altogether," said Councillor Tandi.
"Council has in store all the materials that are required to finish the project, save for a few metal pipes that are being imported from South Africa. These pipes were bought long back and we expect them to arrive anytime soon. It is only that Covid-19 is slowing down everything at the borders. 
"Unfortunately I'm no longer in a position to tell you when the project will be finished, otherwise it will be a lie; but what I can tell you is that we are almost there. 
"The completion of this pipeline will be a milestone achievement for Mutare as it will spur development in surrounding areas. More water will be made available and new settlements will benefit," he said.
In a petition dated April 29, 2021, the United Mutare Residents and Ratepayers Trust (UMMRT) wrote to the Speaker of Parliament and copied the Minister of Local Government and Public Works.
In the document, a copy of which this paper has in possession, council is accused of misappropriating funds.
"Numerous complaints have been received by UMRRT from domestic and business ratepayers regarding the perennial failure of council to complete the Dangamvura Water Project since 2007. It is therefore incumbent upon this organisation, as it would be of any ratepayers association or organisation, to act on their behalf.
"Everyone must access safe, clean drinking water and sanitation for them to live a dignified life. Water is important for a healthy life. No one can exercise other rights if they do not enjoy their right to water. 
''The Constitution of Zimbabwe in its Declaration of Rights enshrines socio-economic rights, and among them is the right to water," reads part of the petition.
Mr Ephraim Matanda of Dangamvura, who two years ago dragged council to court over the perennial water woes in his neighbourhood, said the local authority is not taking the water issue seriously.
"For more than a decade we have not been getting any water supplies and yet we are billed monthly. Imagine spending 10 years fetching water elsewhere. It is expensive and those living in the rural areas are better off," he said.
Ms Janet Chiguyo, another Dangamvura resident, said desperate residents are now accessing water from unprotected sources.
"We also wake up late at night to fetch water from other places. It is risky, especially these days when cases of mugging are on the increase," she said
A businessman operating a butchery in the suburb said the provision of water is requisite in the attainment of good health standards. 
"We sell meat here, but for years we have not received any water from council. This has increased our operational expenses as we have to buy water and get it delivered to our premises," he said.