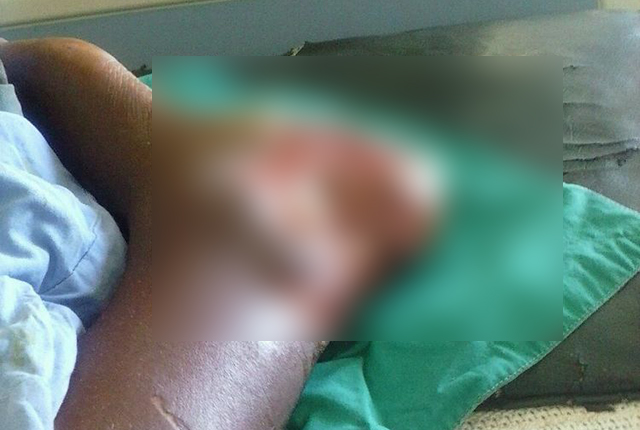 The ManicaPost
Ray Bande and Luthando Mapepa
A CROCODILE attacked and killed a 13-year-old Birchenough Bridge boy, while his friend was left without a heel during a fishing expedition in Save River last Thursday midday.
The late Owen Chianga (13) went for fishing in the company of his friend Liberty Ruzivo (15) as part of the former's efforts to supplement income at home, given that his physically challenged father was failing to send him to school.
The incident was on the lips of many after The Manica Post visited the area last Friday when Owen was laid to rest.
Owen's remains were recovered the next day in a nearby tunnel.
Chauruva Ruzivo, the father of the survivor, who rushed to the scene when he heard his son screaming for help and yanked him from the jaws of one of the marauding crocodiles, confirmed that the boys were attacked by two huge crocodiles.
"It was around 12:30pm on Thursday when they were attacked by two huge crocodiles. I heard my son calling out for help. I rushed to the scene and saw him wrestling with one of the crocodiles. By the time I arrived, his friend had been overpowered and dragged into the dam. I held my son by his upper body and pulled him from the jaws of the crocodile.
"The crocodile mauled his heel. They had gone there for fishing, but some people had applied a chemical into the water to kill the fish. This is why the boys decided to get so close to the water body to pick the dead fish.
"The late Owen used to go fishing more often because he was no longer in school as his father is physically challenged and was failing to pay school fees and fend for the family," he said.
Ruzivo said they were struggling to secure the required expensive medication for his son who was admitted at Birchenough Bridge Hospital.
"They (at hospital) told us that we have to find medication that costs $90 per bottle and we need five of those bottles to save the boy's leg from amputation. We are in real trouble as we have no clue where to find that money," he added.
Ward 33 councillor, Councillor Edwin Mabika, who was also present at the funeral, bitterly complained about the never ending loss of human life and livestock to the crocodiles.
"It is sad that we continue to lose human life and livestock to the crocodiles. Recently the local traditional leader lost his cattle after being attacked by crocodiles. Last year we buried half of the body of a local villager after he was attacked by crocodiles. There are so many similar cases we might talk about.
"We sincerely hope that awareness campaigns or any other initiatives from the Department of National Parks and Wildlife will help us to preserve human and animal life. The situation has been made worse by elephants that are straying into our communities," he said.
Efforts to get a comment from the Department of National Parks and Wildlife spokesperson, Ms Caroline Washaya-Moyo were fruitless as she could not pick up her mobile.
Meanwhile, at least two cattle and a donkey were trampled to death by angry elephants that had been provoked by villagers who were washing and bathing along Save River near Birchenough Bridge last week.
Chipinge District police spokesperson, Assistant Inspector Blessing Kadzuraumera, confirmed the incident.
"On the fateful day, two elephants were spotted near Save River by Tawanda Mukamba (29) of Tuma Village in Chief Chamutsa's area. The elephants were annoyed by the noise that was being made by people who were washing and bathing along the river. They became aggressive.
"The bull elephant became violent and killed two cattle and a donkey," he said.
Asst Insp Kadzuraumera said following the incident, the Department of National Parks and Wildlife rangers stationed at Birchenough Bridge together with six officers from Support Unit from Changazi teamed up and went to trek the elephants.
"They came across the violent bull, which was gunned down by senior ranger, Frank Siyachombe by an AK 47 rifle. The elephants are suspected to have strayed from the adjacent Devure Range. The other elephant was not seen and it is suspected to be still in the area," he said.