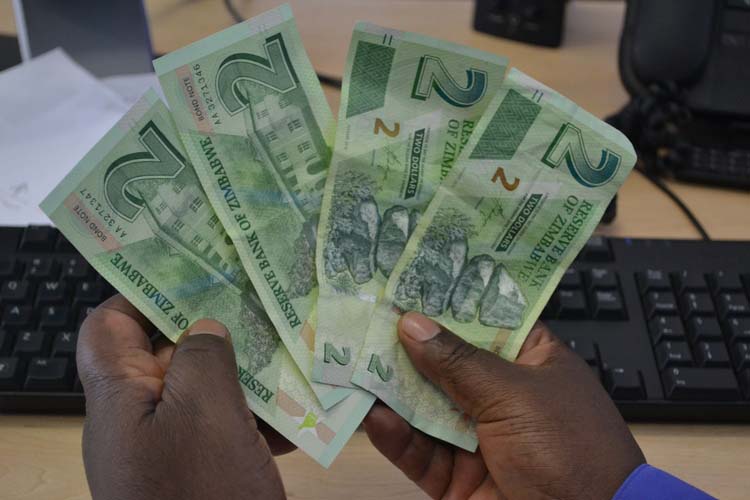 The ManicaPost
Kudzanai Gerede Business Correspondent —
With just about one and a half months since the $1 and $2 equivalent of bond coins and notes were introduced in late November, the Micro, Small and Medium Enterprises sector is confident of better fortunes this year citing improvements in cash liquidity, thanks to the bond currency assuming commendable market presence.
The bond notes, courtesy of the US$ 200 million Afriexim bank facility, were unleashed into the economy as a measure to counter cash shortages that had rocked the country and also as an export incentive to improve the country's export receipts.
A snap survey by Business Post revealed that there was an improvement in business transactions particularly in the small and medium sector, which mainly handle smaller denominations, a case that has showered credits to the Reserve Bank of Zimbabwe for coming up with the initiative.
Most SMEs who spoke to this paper revealed that prior to the bond notes introduction less than two months ago, business had come to a halt with lesser people willing to part with the US dollar currency instead keeping it for other priority needs, a situation that was pushing them out of business.
The SMEs sector is highly informal and financially excluded, thus most of the sector players still transact in hard cash. For them embracing plastic money remains a challenge as they mainly trade in small amounts, hence transaction charges renders the exercise non-palatable considering the size of their businesses.
Alistair Mandoro, a fruit and vegetable vendor in the Central Business District said despite initially being skeptical of the bond notes, he has embraced the currency as it has since proved to be more popular among his customers and has led to improved business activity.
"At first we were not sure of the bond notes assuming they were worthless but we soon realised that there was very little American dollars circulating and the bond notes are money after all. It took a while though to feel the impact of the bond notes but now we are realising that the main currency I pocket after a day's work are $1 bond coins and $ 2 bond notes," he said.
So far the Reserve Bank says it has injected about US$79 million worth of bond notes to ease the cash shortages which are still evident with long queues still the norm at most banks.
The RBZ governor has, however, reiterated that they will ensure that bond notes are not flooded into the market as this will cause inflation.
The coming aboard of the bond notes have also seen an improvement in accessibility of cash on EcoCash, which according to POTRAZ, commands a 99 percent market share in the mobile money services sector.
Mobile money banking has in recent years accorded a chance to partake of financial services for most financially excluded groups hence the cash challenges had seen accessing cash on the various mobile money platforms a torrid task.
An EcoCash agent who refused to be named said for the greater half of 2016 most transactions on the mobile platform were cash transfers as there was seldom cash available for withdrawals and this led to many people shunning EcoCash payments.
"Since mid December, there has been an improvement in cash available for those who wish to withdraw cash from their mobile wallets. Most people were hoarding the US dollar cash so it worsened business because we experienced very little cash deposits yet demand for withdrawals was overwhelming. We are improving our withdrawals figures for our customers now with the coming in of the $2 bond notes, they have brought back a breath of life in our businesses," he added.
He said the bond notes have eased the cash scarcity which had fuelled corrupt behaviour among some agents who were now demanding 10-15 percent of total withdrawal in order to dish out cash to customers.
Analysts have also welcomed the success of the bond notes on the market crediting the Central Bank chief Dr John Mangudya for maintaining a cautious approach in the injection of the bond currency in the economy to avoid inflation.
Analysts are optimistic that by end of first quarter 2017, the cash shortages would be a thing of the past as the RBZ continues to pour more bond notes with the US$5 worth of bond note bill expected to be unleashed during the course of this year.
Economists however say the RBZ should not only focus on bond notes alone as the solution to ease the cash shortages but also stick to its fundamental goals when it introduced the bond currency that is to incentivise exports so that the country earns more foreign currency to sustain its multi-currency system.
The central bank has in a statement said it has paid 80 percent of exporters and receivers of remittances as part of its export incentive scheme.
"This is in line with the Bank's projection of bond notes that should have been issued during this period and the export incentive scheme. The major beneficiaries of the export incentive scheme so far are tobacco farmers (being paid) US$29,4 million, gold miners US$10 million an diaspora remittances at US$5,4 million," said the central bank.
Economist Professor Ashok Chakravarti at the inaugural National Economic Symposium late last year, warned of a possibility of disappearance of US dollar currency once bond notes were in circulation if necessary reforms such as improving local industry capacity to produce and export were not put in place to ensure the country generates more foreign currency back into the economy.
"We need to look at SI 64 and incentivising of export in one bracket this will ensure more production and more export to stabilize foreign currency in the market," he said.
This comes in the wake that the US dollar currency was slowly depleting with US$50 and US$100 bills now very hard to come by.
Most banks have resorted to disbursing US$20 and US$10 notes and this has created business opportunities for illegal money dealers who have for a long time hoarded the US$100 bills and are now charging US$2 interest.
Most wholesale and retail players who still get their stock outside the country are forced to buy the US$100 bills citing that suppliers of goods outside the country mainly in South Africa, Mozambique and Dubai do not accept smaller American dollar denominations.