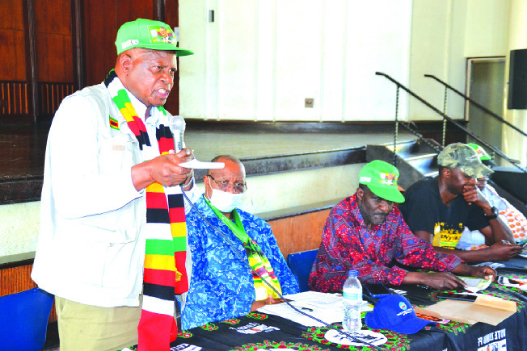 The ManicaPost
Samuel Kadungure
Senior Reporter
EIGHT-THREE Zanu PF candidates have submitted their Curricula Vitae (CVs) for vetting to contest for the 32 Central Committee seats allocated to Manicaland Province.
The Central Committee is the principal organ of the congress and the highest decision-making body of the party.
The ruling party's Provincial Coordinating Committee (PCC) last week on Friday convened as the provincial election directorate and received 83 CVs from aspiring candidates dotted across the province.
Zanu PF provincial chairman, Cde Mike Madiro said the process went on smoothly, adding that positions up for grabs were equitably allocated to the party's eight administrative districts.
Makoni has a total of five seats, of which two have already been taken up by Cde Jairosi Mapungwana and Cde Philipa Mukoko who landed substantive posts in the national war veterans and youth leagues respectively.
The PCC further recommended to reserve one of the remaining three seats in the district to national secretary for finance in the Politburo, Cde Patrick Chinamasa.
Chipinge was allocated five seats, but four will be up for grabs as the other slot has since been taken up by Cde Munashe Mabika (national Youth League).
Buhera was left with three slots after the other one was taken by Cde Perennia Uta-Chimuso (Women's League).
Zimunya-Marange was allocated four slots, but only two will be contested as two of the seats were taken by Senator Monica Mutsvangwa (Women's League) and Cde Ellen Chinamatira (War Veterans League).
Chimanimani and Mutare Districts each have three seats up for grabs, while Nyanga has four.
Mutasa has four slots, and the PCC also recommended that one slot be reserved for the party's national chairman, Cde Oppah Muchinguri-Kashiri.
The recommendations to reserve the seats for Cde Muchinguri-Kashiri and Cde Chinamasa awaits approval by the national election directorate.
However, The Manica Post understands that despite recommendations for them to be uncontested, Cdes Muchinguri-Kashiri and Chinamasa still submitted their CVs.
ln Makoni, Chimanimani, Chipinge, Mutare and Mutasa, one slot in each of the districts will be contested under the women's quota.
Said Cde Madiro: "So far so good. Our preparations went on very well and in a peaceful and harmonious environment. We did our part as the provincial elections directorate and we are now waiting for the next instructions from our superiors.
"We received 83 submissions in the province, with varying numbers from the administrative districts. In terms of who succeeded and who did not, that is not our mandate.
"The provincial election directorate does not endorse or disqualify anyone – that is the responsibility of the national election directorate, and I can only comment on that after we get feedback from the superiors," he said.
Zanu PF national political commissar, Cde Mike Bimha recently issued a circular on set minimum qualifications for participation in the elections.
"A clear criteria has been set by the party. Aspiring candidates know whether they qualify or not.
"It is true that some of the candidates do not qualify because the submission of CVs was not by invitation, but a voluntary process," said Cde Madiro.
Former Agriculture Minister, Cde Joseph Made, former Home Affairs Deputy Minister, Cde Shadreck Chipanga, former Local Government Deputy Minister, Cde Chris Chingosho and Information, Communication Technology, Postal and Courier Services Minister, Dr Jenfan Muswere are in the race for the remaining seats in Makoni.
From Nyanga, some of the candidates who handed in their CVs are Nyanga South legislator, Cde Supa Mandiwanzira; Cde Moses Gutu, former Nyanga North legislator; Cde Hubert Nyanhongo, and current Nyanga North legislator, Cde Chido Sanyatwe.