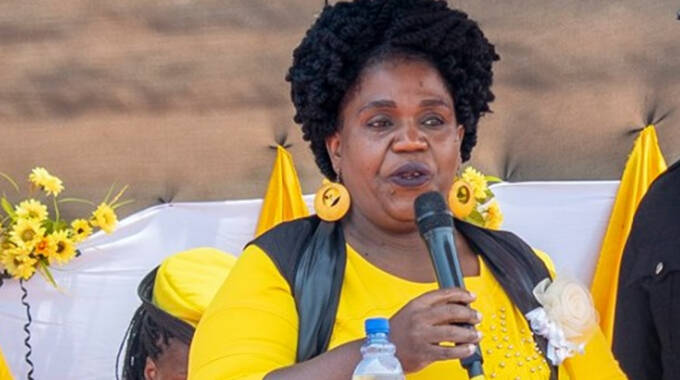 The ManicaPost
Wendy Nyakurerwa-Matinde
Editor
ZIMBABWE is on the cusp of an economic breakthrough as envisioned by Vision 2030, with the agriculture, mining and tourism sectors standing as the anchors of the rapid growth, a prominent businesswoman has said.
Speaking to The Manica Post during a recent tour of her thriving business interests that include schools, farming projects and a game park, Mrs Edith Mukuwapasi, co-director of Knowstics Academy said Vision 2030 is within reach.
Mrs Mukuwapasi also said the younger generations are the key drivers of Vision 2030; adding that the country's Education 5.0 policy will come in handy in equipping the future leaders with the requisite skills to leapfrog the country's development.
The businesswoman said in its pursuit to achieve an upper middle income economy by 2030, Zimbabwe should take a leaf from other countries that are already enjoying an upper middle income economy.
"We are not the first country to go down this road and we are not going to be the last. Look at China and the kind of economic transformation that has happened in that country in the last 70 years. There are models to follow and therefore we will surely get there and even surpass our own targets," said Mrs Mukuwapasi.
According to the World Bank, since China began to open up and reform its economy in 1978, the country's Gross Domestic Product (GDP) growth has averaged over nine percent a year, and more than 800 million people have lifted themselves out of poverty.
Mrs Mukuwapasi, however, reiterated that for Vision 2030 to become a reality, the country has to increase production in all its sectors.
"Most people might make the mistake of waiting for the Year 2030 to arrive and expect Government to present them with an upper middle income economy on a silver platter. That is a wrong approach. We have to work towards attaining Vision 2030 and that work began years ago," she said.
"We are one of the best countries in terms of human capital. We are able to provide highly qualified professionals to countries that have GDPs that are ten times bigger than ours and that speaks volumes of our capacity.
"This, unfortunately, is why we have a production deficit. We are utilising a lot of foreign currency through importing a lot of products that are available locally or could be produced locally.
"How do we justify importing bricks when we have the resources to make our own? Why import potatoes, fruits and chicken; when we have got the land and the technical expertise to produce our own?" she asked.
Mrs Mukuwapasi went on to applaud Government for coming in to boost local production by availing the necessary resources, especially through the various Presidential Livestock and Inputs Schemes; as well as the loan facilities being offered through the Women's Micro Finance Bank and Empower Bank.
The Government of Zimbabwe has been working round the clock to ensure food security following the erratic rains that were received during the 2021/22 cropping season.
Furthermore, Government's adoption of the conservation farming method Pfumvudza/Intwasa, as a hedge against climate-change-induced food shortages, is also promoting food security.
"We must be productive. Unfortunately, the urban population cannot be as productive as we would want because theperi-urban farmer cannot provide enough to guaranteefood security; hence the need to align our production maps with our settlement patterns," she said.
Mrs Mukuwapasi went on to challenge the country to pursue what she called the 'billionaire agenda'.
"Appreciating the essence of Vision 2030 is crucial. There are people who eat, live and breathe Vision 2030 and are already starting to enjoy the benefits of this vision; yet we are still eight years before the target.
"These are the people who should look beyond Vision 2030 and pursue the billionaire agenda because the World Economic Forum has forecast that the next generation of billionaires will emerge from Africa," she said.
Mrs Mukuwapasi went on to highlight that Zimbabweans should change their perception towards the supposed challenges that are being met by the southern African nation.
"It is all about perceptions. As a country, we are not facing any challenges. Rather, what you see as a challenge is part of what you should do to get to a certain point, in this case Vision 2030," she said.
Speaking on the same issue recently, Director for Economic Development in the Office of the Permanent Secretary for Manicaland Provincial Affairs and Devolution, Mr Munyaradzi Rubaya said Manicaland should leverage on its low hanging fruits in areas where it has competitive advantages against other provinces, including the mining, tourism and agricultural sectors.
"More jobs have to be created, both formal and informal ones. We have fully embraced Education 5.0 and tertiary institutions are producing graduates who can produce marketable products and services. We want everyone to be productive," he said.
Mr Rubaya said to ensure that the province adequately benefits from its resources, especially in the farming sector, value addition should start at the farm.
"We have diamonds but we should not solely depend on them to grow the provincial economy. Manicaland is blessed with all the five natural regions, good soils, above normal rainfall, dams and rivers that can be used to boost horticulture.
"Value addition should be intensified on our fruits and vegetables. Abundant fruits are found across the province – from apples, avocado pears, bananas and pineapples. Nowhere else will you find these fruits in abundance across the country, but are we really getting value out of them? Then there is the coffee, tea and macadamia nuts.
"Our major challenge is value addition. We should take a leaf from other countries and ensure that value addition starts on the farm. We need a lot of investment in these areas. We also need to standardise our production chain as it is currently haphazard," he said.