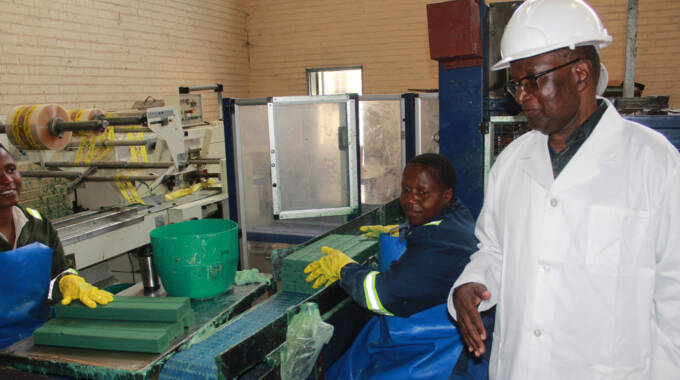 The ManicaPost
Tendai Gukutikwa
Post Reporter
WILLOWTON Zimbabwe, a leading manufacturer of cooking oil and soap, is working towards doubling its production capacity in response to the growing demand for its products locally.
In a recent interview, the company's managing director, Mr Suleman Darsot said they have invested in top of the class equipment and facilities to increase their output of high-quality and affordable bathing and laundry soap.
Currently, the company is producing 800 tonnes of bathing soap every month at 100 percent capacity.
Mr Darsot said early next year, they will have doubled production to 1600 tonnes a month.
"We are looking to double production as our soap is on high demand. The soap production of the company is currently operating at its full capacity of 800 tonnes per month, but the company's plans are to increase its output to 1600 tonnes per month by next year," he said.
Reflecting on their laundry soap production, Mr Darsot said between last year and now, they recorded a 30 percent growth in their production.
He attributed this development to the competitiveness of their soap against those produced in other countries.
"On laundry soap, we are producing the product at 80 percent capacity. Between last year and now, we grew production by 30 percent. Our products have become competitive and the demand keeps growing locally. We are looking at increasing production until we hit and exceed the 100 percent mark.
"At the cooking oil site, we have the capacity to produce 4 500 tonnes a month, but at the moment we are only operating at between 60 and 65 percent capacity," said Mr Darsot.
He said the expansion will create more jobs and boost the local economy.
Mr Darsot went on to thank Government and the community for their support in making Willowton Zimbabwe a successful and sustainable business.
He said the country's favourable investment climate has allowed the company to flourish.
"As local producers, we have enough capacity to supply the Zimbabwean market and export as well. We also appreciate that Government is combating smuggling as we were facing unfair competition from illegal smugglers who were bringing in foreign products and selling them at very low prices," he said.
Speaking during a recent tour of the Willowton Zimbabwe Mutare premises, Special Advisor to the President responsible for Monitoring the Implementation of Government programmes and projects, Dr Joram Gumbo said 80 percent of the products in local supermarkets are produced locally.
He went on to commend Willowton Zimbabwe for contributing to that figure.
"It is the expectation of Government that the bulk of goods sold in local supermarkets will be produced locally and it is instructive to note that at the advent of the Second Republic, approximately 37 percent of the products on our supermarket shelves were produced locally.
"I am pleased to report that through initiatives such as the Willowton Zimbabwe operations, 80 percent of the products in our supermarkets are now locally produced. Increased production at local companies is expected to reduce importation of finished goods and promote exports," he said.
Willowton Zimbabwe has created employment for 200 people, while it is expecting to add more employees in December.