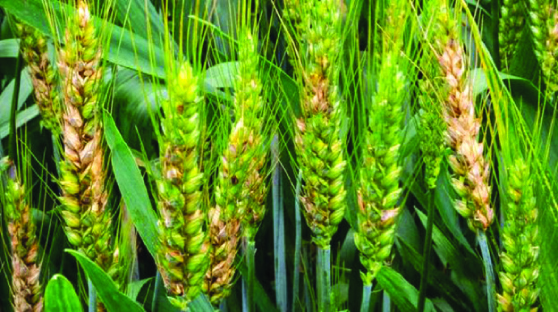 The ManicaPost
Samuel Kadungure and Lovemore Kadzura
THE country is on course to reach this year's winter wheat target of 75 000 hectares, with the planting deadline extended by a week to allow those lagging behind to catch up.
By June 15, on which the initial window was supposed to wind up, Manicaland, which is one of the bastions of wheat production in the country, was sitting on 73 percent of its set target of 10 000 hectares.
Of the planted 7 300 hectares, Makoni has the biggest planted area of 2536ha, with the remainder divided between Mutasa, Nyanga, Mutare, Chipinge and Chimanimani districts.
The remaining hectrage is yet to be planted as farmers are facing various challenges like late land preparations as well as late processing of loans by financial institutions.
Provincial agronomist, Mr Cephas Mlambo, confirmed the extension of the planting deadline to June 21 and and expressed optimism that the move will allow the province to reduce its deficit.
"Some of the farmers are facing challenges in harvesting maize, and once that land is available, they should plant following the extension of the deadline to June 21. The humid conditions being experienced in the province are slowing the drying of maize," he said.
Mr Mlambo also urged farmers to apply good agronomic practices to improve yields from the average of five tonnes per hectare attained last season.
Chief Agritex Director, Professor Obert Jiri said Government, banks and the private sector financing the production of the crop.
He said grain dryers are being deployed to farmers to speed up maize harvesting and pave way for wheat planting.
"After taking into consideration that we are yet to meet the targeted hectares, we decided to extend the planting season. Farmers who have not yet planted wheat should do so, as there is still room for that.
"Some of the reasons are that the land still has maize and farmers cannot deliver wet maize to the Grain Marketing Board. We have already deployed grain dryers to some areas so that farmers have easy access. Some farmers encountered delays in having their loans applications processed by the banks, hence the delay in planting.
"Farmers must capitalise on the support they are receiving from Government to extensively plant wheat," said Prof Jiri.
Mr Francis Nyabadza who has planted 50 hectares of wheat at Rocking Stone Farm in Rusape said Government must continue to monitor the prices of inputs as some companies are charging using parallel market rates.
He also bemoaned labour shortage as some casual workers are now demanding to be paid in hard currency.
"We have 50ha of wheat wholly funded by a local bank. We are expecting around 6.5 tonnes per hectare. We planted late due to issues with our financiers and input suppliers over the pricing.
"Casual workers are demanding to be paid in US dollars, yet we sale our produce in local currency. Despite all these challenges, we are soldiering on so that the nation is wheat sufficient," said Mr Nyabadza.
Zimbabwe National Authority (Zinwa) provincial head, Engineer Tendayi Mlambo said the major dams – Osborne, Rusape and Muchekeranwa, as well as other private ones — have enough water to support wheat production.