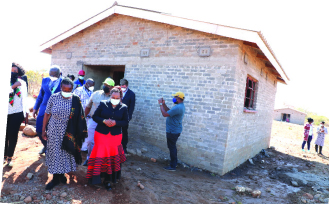 The ManicaPost
Ray Bande
Senior Reporter
THE cost of finishing the construction of houses for Cyclone Idai victims at Runyararo Relocation Site will gobble a further US$28 million.
Upon the completion of the first phase, a total of 224 households will have modern four-roomed houses sitting on half a hectare stand and another two and half hectares for farming.
While 173 units had been completed as of Wednesday last week, provision of water, sanitation facilities, irrigation development, livelihoods projects, housing and roads are still work in progress.
According to a consolidated budget for development of Runyararo Relocation Site, sanitation facilities need US$225 032, while irrigation development will chew up US$65 500.
Livelihoods projects will cost US$11 812.
Water supply and housing will cost US$24 million and US$3 691 097, respectively.
Roads are expected to cost US$263 115.
In an interview on the sidelines of a tour of recovery projects in Chimanimani and Chipinge districts which was organised by the Manicaland Civil Protection Unit (CPU) on Wednesday, Deputy Director (Coordination) in Minister of State for Manicaland Provincial Affairs and Devolution's office, Mr John Misi said Government is happy with the progress made so far in the Cyclone Idai recovery process, even though much more work still needs to be done.
Mr Misi said the main purpose of the tour was to appraise development partners of the existing gaps in the recovery process to avoid uncoordinated approach in interventions.
"The major purpose of the tour was to provide a clear understanding of progress and the intervention gaps that exist in the Cyclone Idai recovery process. Our partners have had an appreciation of the intervention gaps that exist in the recovery process and that is key in deciding how they can come in to compliment Government efforts," said Mr Misi.
He added: "We also noted the challenges at Runyararo. Progress has been tremendous, but water provision remains a challenge. Our partners also noted this and some are eager to chip in. The long term solution to the water challenges at Runyararo will be the construction of a dam along Umvumvumvu River.
"However, we are happy with the progress made in this recovery process and hopefully the remaining gaps will now be addressed from an informed point of view," said Mr Misi.
On Wednesday, development partners and officials from several Government departments toured Runyararo Relocation Site, roads and bridges repaired under the Cyclone Idai Recovery Plan, Mhakwe River Weir and schools that were affected by the cyclone.
The officials also toured Nyabamba and Kondo evacuation centres, as well as other places that were badly affected by the March 2019 cyclone in Chimanimani and Chipinge.