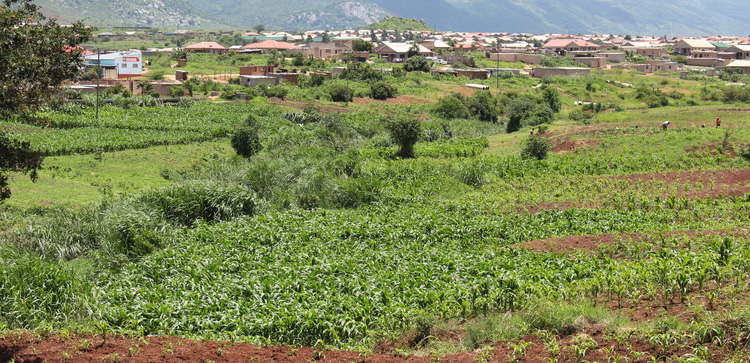 The ManicaPost
Abraham Mudefi Enviroment Issues —
Urban agriculture has sustained poor urban communities' food security over years.
Many have provided food and educated their children with the proceeds.  Unfortunately the devastating impacts of Stream Bank Cultivation (SBC) to the river basin ecosystem has gone underestimated. SBC chocks the rivers with silts, destroys the habitat of fish and other forms of life in rivers.
SBC negatively influences the hydrological cycle, causes eutrophication and inhibits the replenishing of the water table.
This week this article seeks to help its readers gain a deeper understanding of the impact of stream bank cultivation to the natural ecosystem. Other insights on sustainable urban agriculture will be unveiled.
Stream Bank Cultivation refers to any form of agricultural activities that is conducted within a radius of 30 metres from the river basin. Some of the farming activities include and not limited to cultivation, plantation and grazing.
The concept is also loosely used to refer to farming done in wet lands.
Circumstances compel the practice of SBC. River banks retain moisture for the rest of the year and can sustain crops hence boosting household security.
River basins are ideal for crops such as madhumbe and vegetables that require high levels of moisture. The erratic rainfall and the perennial droughts that is being influenced by the El Niño Southern Oscillation Phenomena has seen famers taking agricultural refuge on river banks.
The high urban population being caused by escalated rural urban migration is also to blame.
This has resulted in urban pressure and a corresponding tense scramble for the remaining arable urban land. River banks have been naturally rewarding because they are very fertile due to the deposits of alluvial soils.
In war torn countries rivers provide farming in good cover from surprise bandit attacks.
Unemployment and economic challenges have driven communities to practices SBC. It has given an immediate reprieve from the harsh realities of urban unemployment.
While the arguments above seem sympathetic to the plight of perpetrators of SBC this cannot be an excuse for the wanton destruction of river ecosystems.
The future destruction of the ecosystem will inevitably put the life of many more people in danger, compared to the pockets of community benefiting from this illegal form of agriculture. SBC chokes rivers with silt consequently silting urban dams to the extent that a plethora of diseases and serious water shortages will result in catastrophic impacts.
Fertilisers used in the river banks is washed away in the rivers resulting in eutrophication.
Eutrophication is when excessive nutrients are washed into the rivers creating a dense plant and bacteria colonies that feed from these nutrients resulting in the death of fish due to reduced oxygen levels.
One of the culprit plant is the hyacinth weed that has racked havoc in Lake Chivero.
When fish, frogs and insects in rivers die, the result has devastating consequences for food webs and chains that link up with these animals.
The use of pesticides and herbicides along the river channels also exacerbates the dangers of SBC.
Chemicals used kill water life and other animals that prey on this poisonous food. The ingested chemicals result in processes known as bioaccumulation and biomagnification.
Bioaccumulation refers to the process where chemicals enter food chains. Biomagnification is a process of transferring the chemicals from one trophic level to the next in increased quantities.
For example a bird eats 5 dead poisoned insects.
But a wild dog will eat 10 poisoned bird in that order. Eventually wild dogs will inhibits large quantities of poisons that killed the bed. The dogs will also die.
Sometimes people eat these poisoned birds and the impact can be fatal.  SBC reduces the capacity of rivers to absorb water that replenishes the water table.
This is due to increased fine sediments in the river bed that forms a thick sludge which discourages infiltration of water. Run off eventually increases seriously affecting our urban water table.
The challenges of SBC in the Sakubva River and the consequences for the Dora community can fill volumes of writing. Stream Bank Cultivation along Sakubva River in Mutare
To avert the long term effects of SBC the government has empowered the Environmental Management Agency through Section 20 of the Environmental Management (EIA and ecosystem) Regulations, Statutory Instrument 7 of 2007.
This section states that "…it is an offence to operate or cultivate a land within 30 metres of a naturally defined bank or highest flood level of a stream or wetland without a licence issued by the Agency".
The Ministry of local Government and Urban Development empowers its local Councils to be custodian of the environment through the enforcement of council by laws.
Statutory 7 gives a maximum penalty of $500 and repeat offenders are taking to court and stiffer penalties are imposed. Some of the attempts by government to protect urban environments is enshrining environmental rights as part of the Bill of Rights of the Constitution of Zimbabwe.
The establishment of a Parliamentary Portfolio Committee to oversee serial offenders and community outreach awareness programmes are steps in the right direction.
The Portfolio Committee strives to regularly amend legislation in line with the changing global environmental issues.The government has also strengthened multisectoral coordination between stakeholders to ensure joint forces in environmental conservation.
One of this success stories is the mandatory implementation of the Environmental Impact Assessment before any development or business venture.
The Environmental Management Agency (EMA) needs to be supported with more resources so that it increases community awareness on SBC through radio adverts, social media messages (Facebook, Whatsapp, Twitter etc.).
More resources will empower EMA to do more community outreaches and formation of community policing groups and school programmes. Joint regular patrols of EMA, Council and the Police including enforcement of harsh fines to perpetrators could curtail the danger that seems looming unabated.
To combat this vice the Pennsylvania State of America introduced Stream Bank Fencing with very harsh penalties for people who temper with this fence. The fence can be about 30 metres from the river bank.
A vegetation buffer zone between the river and the fence is then promoted. Crossing points are carefully selected.
The buffer zone is very effective in absorbing excess nutrients and halting all sediments from entering the river. Stream Bank Fencing allows the river to undergo its natural self-cleansing processes.
The river has time to rejuvenate its self by shaping its channel and carrying away excess sediments.
Under supervision local authorities can allow natural extraction of excess silt or sand to be removed from the river channel. SBF increasing the water quality in the river making it usable by community downstream.
So it is clear that Stream Bank Cultivation remains a vice in urban communities. While urban agriculture remain very pivotal in household food security it should be done in the designated places.
That is at least 30 metres away from rivers as stipulated by statutory 7 of 2007.I want to thank my readers from all over the country for you valuable feedback. Your feedback is greatly treasured and I try to respond to each one who gives such feedback.
Asim Abker from the UK thank you for your phone call, feedback and your willingness to invest in Zimbabwe's refuse collection good luck.
Thank you once more readers have a good weekend. Remember, only cultivate at least 30 metres away from the river, our future depends on that.
Please kindly send in your feedback through the following contacts [email protected] or 0772 968 040.