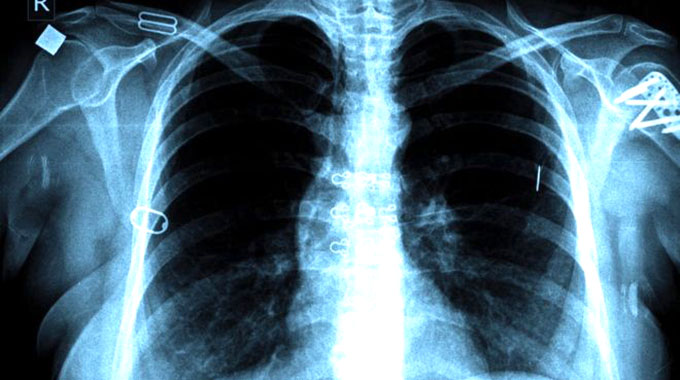 The ManicaPost
Ray Bande Senior Reporter
23-YEAR old Rebecca Betty Bvekwa of Nemaramba Village in Chimanimani district lost five blood sisters in a space of two years who succumbed to the ravages of tuberculosis but her decision to shun apostolic teachings and resort to medication ensured she would not be part of the list of her departed siblings.In a script that reads like the famous Great Escape, the 1963 American World War II epic film that depicts an escape by British Commonwealth prisoners of war from a German POW camp, Bvekwa is not regretting the decision defect from Johane Marange apostolic sect to be diagnosed and treated of TB, if anything she is in a celebratory mood.
Although the young mother of a one-year old boy is now being considered an outcast and rebel in her own family, she is enjoying every moment in her life after defecting from the apostolic church sect and sought medication to fight tuberculosis.
Bvekwa's salvation came when she was pregnant after a Community Volunteer Cecilia Tsingano, attached to anti TB organisation the International Union Against TB and Lung Diseases simply referred to as The Union, detected that her incessant coughing at a local business centre and recommended to her that she get her sputum tested for TB.
'We met at a local business centre and I detected that her incessant coughing could be a symptom of TB. I approached her, talked to her nicely and suggested to her that we could get her sputum tested. She agreed.
"I linked her to care and treatment by the TB Alert project by referring the case to Mr Freedom Kavhumbura, a TB Alert project field officer, who came down here to collect her sputum. It was communicated to us on the same day that she was indeed infected with TB.  "At that time she was pregnant and had lost a lot of weight. She immediately started treatment and after contact tracing her husband also tested positive. They went on treatment and the wife has since finished treatment. Tests were done and she is now negative. Her husband, who was also diagnosed with TB after contact investigation, is still on treatment," said the Community Volunteer Tsingano.
Bvekwa was a bundle of joy when the Manica Post recently visited her homestead in the hilly terrain of Nemaramba village in Chimanimani district.
"I am really happy that I managed to get treated. I could have died and left my child without anyone to look after. I do not regret the fact that my family no longer want to see me because they feel I betrayed the church teachings. Even though I last met my father when I started treatment, I am living a happy life and I am sure you can see it for yourself," she said.
Asked why they think they got TB, Bvekwa said: "Five of my sisters died after long and serious bouts of coughing. The all dies between 2014 and 2016. We strongly believe they could have had TB. The reason being that we used to take care of each other each time the other fell sick. However their apostolic beliefs barred them from seeking health care, and they all died without receiving any diagnosis."
Bvekwa said she did not get treatment earlier because of the apostolic sect teachings as well as the fact that she thought it was a cold but the symptoms were not going away.
"There was no way I could get treatment because of teh church teachings. The Community Volunteer who saw me coughing at a funeral encouraged me to go to the clinic for help.  I had heard about the TB Alert project and how it had done training and sensitization with local church and faith leaders, so I just felt I should seek medical care, unlike my sisters. Otherwise, I may never have been diagnosed, and may have passed away without any diagnosis, as my sisters did," she said.
She completed her TB treatment last year on March 28, 2017 and did not experience any side effects. Her husband Ibbo Madzianike thanked The Union for saving their lives.
"I will not ever forget how The Union TB Alert programme saved my family. We had heard about HIV and TB, but we thought that one always had both together, and that one would most likely die. We now know that if one is coughing continuously he or she needs to get tested for TB. We are also aware that that the disease is airborne. I also now know that the coughing, fever, side pains and loss of weight my wife experience before getting treatment are the symptoms and signs of TB. She went through that for about three months," he said.
Bvekwa and family survive on small scale farming and also does some work assignments in return for food instead of cash.
However, the husband is the main breadwinner as he is a small scale carpenter.
"Although I am not the main breadwinner, when I became ill, I was no longer able to do work for food.  This meant the family had less food available, and meant that my husband's earnings did not go as far as more of it had to be spent on food and to the economic situation of the family," Bvekwa said.
When she was sick, she was no longer able to assist with the farming as much and she could no longer do work in compensation for food.
Her husband was also infected with TB but he was diagnosed very early due to the TB Alert project through contact investigation.
Through the TB Alert project, Bvekwa was not only diagnosed and successfully treated so that she would not suffer the same fate as her sisters but she was taught how to prepare healthy meals and how to take care of other patients.
She also received seeds for a vegetable garden.
As a result they have been able to provide for their young baby.  Without the TB Alert project's intervention the whole household would have been at increased risk of poverty, malnutrition and even death.
As a parting shot, Bvekwa said: "Everyone should get tested for TB if they are not feeling well. I really encourage everyone including church leaders to become educated about TB so that people no longer die from TB. My focus is now on taking care of my child and my husband who is still on treatment for TB."