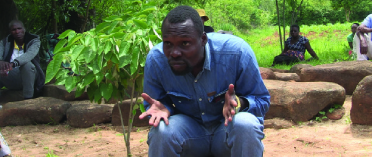 The ManicaPost
Tendai Gukutikwa
Weekender Reporter
IN A bid to clear his name, a local university lecturer dragged a traditional leader to court, contesting allegations that he is in the habit of wrecking marriages and proposing love to married women in Chigodora.
Ranganai Njodzi, a Computer Science lecturer at a local university, stands accused of wrecking marriages in the peri-urban area of Chigodora and pampering the women with chickens.
He was also accused of assaulting the women's husbands and leaving them for dead.
All this was revealed after Njodzi dragged Village head Gosho whose real name is Denford Zimunya to Headman Chigodora's court, accusing him of tarnishing his image in the community through the unfounded allegations.
Njodzi insisted that he never proposed love to any married woman. He also said he never assaulted anyone.
"Gosho called for a meeting at his homestead and told the gathering that I was a marriage wrecker and robber. He instructed the people to attack me with stones and I now fear for my safety because these people are baying for my blood.
"They no longer want me in the area because of the instructions they got from their community leader, yet I am not a marriage wrecker.
"He has tarnished my image in the community. I work at a local university and some of my students stay in the area. They no longer respect me because of the allegations. This man (Gosho) hates me, a reason why he wants to destroy my good social standing," he said.
Njodzi challenged Gosho to bring forward witnesses who can confirm that he had proposed love to married women.
However, Gosho insisted that Njodzi was wrecking marriages in the Chigodora community.
He told the court that out of fear of victimisation, the husbands and their wives refused to attend the court.
"I have witnesses. He is in the habit of proposing love to married women and pampers them with chickens. When the women's husbands confront him over the issue, he assaults them. He even stripped naked one of the husbands before assaulting him. The man fled and hid in the graveyard," said Gosho.
He said he is on the verge of kicking Njodzi out of his area as he does not entertain marriage wreckers.
Njodzi hails from Masvingo.
Headman Chigodora castigated Gosho for tarnishing Njodzi's image before ascertaining the truth.
As a community leader, you should have summoned Njodzi as well as all the men who allege that he wrecked their marriages and dealt with it fairly.
"Instead, after hearing the allegations, you hurriedly convicted Njodzi in his absence and ordered people to stone him. You were wrong and should rectify your mistake. We do not know whether he is womaniser or not, but he needs to be given a chance to present his side of the story," said Headman Chigodora.