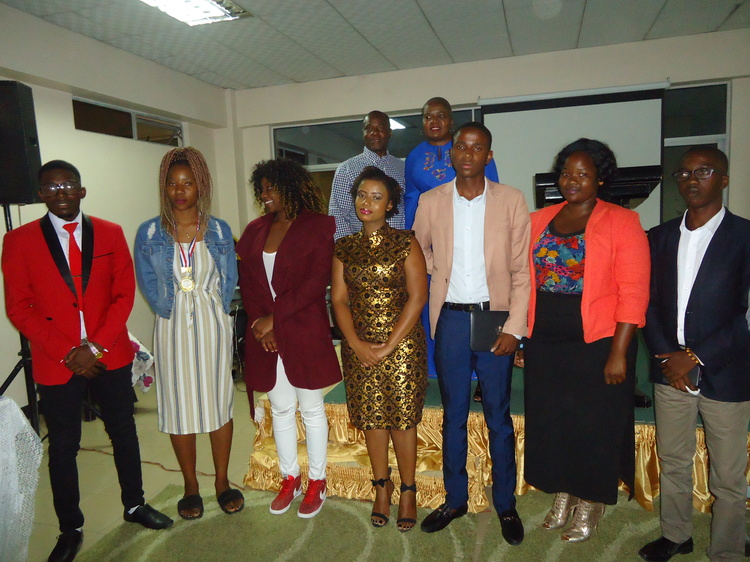 The ManicaPost
Morris Mtisi Education Correspondent
Directors, school head, teaching staff and students of Eastern Heights College this year decided to dedicate 2018 Speech and Prize-Giving Night to the late principal of the college Dr R.C Bakare.
In his school head's report, the school head Mr Tom, paid tribute to the late Dr Bakare and announced that the science laboratory would henceforth be called Dr R.C. Bakare Science Laboratory.
"In recognition of her sterling effort and contributions to the setting of the standards that we witness and cherish today, I am proud to announce that, today, 5 October 2018, we are going to officially dedicate the science lab to Dr Bakare," said the school head.
"We sincerely hope that this will continue to inspire many more generations who shall be driven by Dr Bakare's visionary dream to produce science students who are a critical cog in national development."
Dr R.C. Bakare passed on, on 21 October 2017 after having served the college as principal since 2015 when the college opened its doors for the first time.
In paying tribute to the late Amai R C Bakare, Mr Tom did not forget to extend the tribute to the late principal's husband, Dr Bishop Sebastian Bakare. "In all her efforts, Dr Bakare was not alone. All the successes we celebrate today came as a result of the unwavering support that she received from her loving and caring husband. Remember alongside every successful woman there is a man…Baba we sincerely appreciate what you and the late Dr Bakare did for the family of Eastern Heights College. We will continue to seek your wise guidance and advice from you. "
A minute of silence was observed in honour of the late EHC heroine.
Mr Tom reported that the college enrolment had been on the increase from year to year since 2015 when the college started with only one student.
"Our enrolment has grown from 110 in 2017 to 140 learners this year, with 60 girls and 80 boys. It is also encouraging to note that there is a rise in the number of girls venturing into the science subjects, namely Chemistry, Physics, Biology and Mathematics. We do this to ensure that girls are on equal footing with boys. It is our aim to change the narrative of the girl child," he said.
The school head reported the introduction of a Students Representative Committee (SRC) replacing the concept of prefects which is common in most schools. He emphasized the college's compliance to the new curriculum and cited primary evidence of such compliance. He emphasized the college's effort to equip learners with the requisite skills to contribute positively to the development of self and the nation.
He revealed that EHC achieved second position in the Manicaland Independent colleges pass rate ranking attributing the excellent performance to, he said, "… a highly committed teaching staff and sterling support from the college directors, Mr and Mrs Magada."
Among the achievements of the college, the school head cited the establishment of a college library, again courtesy of the college directors. Another milestone cited was the opening of a primary school currently running from ECD A to ECD B through to Grade 1.
Mr Tom did not forget to highlight the college's challenges.
"Inability by some of our parents to honour their school fees payment plans is a major stumbling block." He revealed 19 500 dollars being arrears owed the college by parents and asked, "How can you then expect us to offer the best education? On whose fees do you think your child learns if you do not pay fees? And how do you expect us to purchase the new books required by the new curriculum for each learning area?"
The school head concluded his report by a few words of warning and advice to the students."Never do tomorrow what you can do today. Procrastination is the thief of time," he said. "For the student who always sees a mountain (ahead), it always seems impossible until it is done."
Mr Tom's Socratic philosophy for the parents' food for thought was deep and penetrating: "To the parent who does not know where his or her child wants to go, there is no favourable wind. The world today needs not just growth or money, but your commitment and your ability to make your child happy."
It was the Bishop Dr Sebastian Bakare's words at the moment of dedication and renaming of the science laboratory in his late wife's name that touched the heart of every thinking and empathetic listener: "Two things most difficult to go through at the same time are heartbreak and joy. I am obviously at pains to remember my wife is not with me here today, gone and gone never to come back; but I am full of joy that her legacy is today being written in indelible ink." That is exactly my state of mind tonight…heartbroken and joyful." He thanked everyone who contributed a heart and mind to remember his late wife in this special way.
Speaking on the same occasion the guest of honour, Ms Nyamandwe encouraged parents to be broad minded about education: "Oftentimes, parents do not heed to the call to give support to their children who have gifts and talents they want to pursue…these include Music, Sports, Athletics, Debate, Public Speaking, Quiz, etc," she said. "International conventions like UNESCO have described sport and physical education as fundamental rights, for nearly 30 years now, but until recently this right has too often been ignored."
Unpacking the Speech night theme Promoting Sustainable Development Through Excellence in Vocational Skills, Academics, Sports And Culture, the Agribank Credit officer emphasized how Eastern Heights College was raising and preparing responsible  and contributing citizens who are able to take the perspectives of sustainable development into account in their work and everyday choices. "A responsible citizen is aware of the ecological, economic, social and cultural dimensions of sustainable development, aiming to reconcile them in everyday decisions," she said.
The guest of honour described Vocational Education as an important tool for a country's social and economic advancement. "It offers," she said, "…an alternative educational path for youths and adults who wish to grow professionally…providing skilled manpower needed across all sectors of the economy."
The story of the EHC Speech and Prize-Giving Night is incomplete without the mention of the awesome brilliance of the following students: They were overall best students in each stream, all of them scooping almost everything away and literally disallowing second, third or fourth places for anyone: Form 1-Fanuel Clive, Form 2-Dhliwayo Tinotenda, Form 3-Nyamandi Grassuance, Form 4-Natasha Mudekwe, Form 5 (Arts) –Ndhlovu Epharaim; (Sciences)-Nicolas Mutsoka (Commercials)-Mararakwenda Tanyaradzwa; Form 6  (Commercials)-Stanley Chiremba, (Sciences)-Kushaina Canon. It was almost a winner or best-take-all game! The College does not offer Arts at 'A' level.
The speech night was graced by former students who vowed to continue supporting their school through a recently formed Former Students' Association.
As usual the pantomime-lip-sync dance was the icing on the cake. No one beats Eastern Heights College students on this genre of on-stage musical drama. (Kushaina Canon, led by the Matavire impersonator and their pantomime dance team all inspired to the marrow by the late Paul Matavire of the Tanga Wandida fame) always put up a performance that gives you something to remember till another speech and prise-giving night the following year.  What a way to end a magnificent night of extraordinary school carnival!    God willing, this education reporter will be their again in 2019 when this great school has its fourth edition of Speech and Prize-Giving Night.
The Manica Post, through this your guest education reporter and columnist, is always there for you to tell your good story the way you want it told.