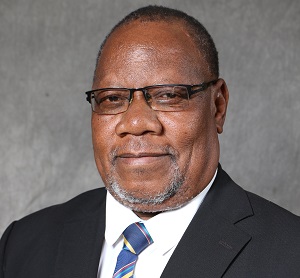 The ManicaPost
Cletus Mushanawani
News Editor
PROVINCIAL liberation war hero Cde Kenneth 'Sayeyo' Saruchera was an affable character liked by many.
He was a towering giant, both politically and academically.
He was a friend of the media, ready to comment on any subject brought to his attention.
From politics, academics, business and social issues, he was there to give an insightful comment to media practitioners.
Fallen, no more to rise is the gentle giant, Cde 'Sayeyo'.
Last week on Friday, a dark cloud hovered over Manicaland as Sayeyo breathed his last.
As news of his demise filtered, various social media platforms went into overdrive as many tried to outsmart each other in being the first to break the news of Sayeyo's death.
From the political and religion divides, people joined hands to pay their respect to the man easily identified by his rich ChiManyika dialect, thereby earning him the nickname 'Sayeyo' (Sir).
In his life, Sayeyo was a man of firsts.
He was the first headmaster of Dangamvura Primary School when it opened its doors in the early 1980s, before he was promoted to the position of Education Officer.
He popularised Zimbabwe Open University courses in the province as he was ready to give prospective students an insight on the benefits that came with enrolling with the distance education learning institution.
His tentacles were also visible in the business world as he held various positions in the Zimbabwe National Chamber of Commerce.
Cde Saruchera served the Manicaland Chapter as an executive committee member and chairperson from 2015 to 2017, before he was appointed national vice president from 2017 to 2019.
In entertainment circles, his Eldorado joint at Manicaland Agriculture Show Grounds was popular with party animals and he would spice up the gaiety with his nimble-footedness on the dance floor.
Despite his huge frame, Sayeyo would not hesitate to be on the dance floor as he danced to his favourite jazz tunes.
Veteran Local Government administrator and former Zanu PF Manicaland provincial secretary for administration, Cde Cosmas Chiringa was at a loss of words on Cde Saruchera's death.
"I am saddened to hear the sudden demise of Baba Kenneth Saruchera. Surely, Shumba (the late Cde Saruchera's totem) did his part in working for this province in the academic field. An educationist par-excellence and staunch supporter of the ruling Zanu PF party.
"A man who was proud to be identified with his culture and people of the Manyika tribe. Shumba shall be greatly missed by his own people in Nyanga, the City of Mutare, Manicaland in general, those he natured in the education fraternity and fellow academics.
"We get solace from the great work and love he exuded and the tangible and visible things he did on this earthly world," said Cde Chiringa.
Speaking at his burial at Manicaland Provincial Heroes' Acre on Tuesday, Minister of State for Manicaland Provincial Affairs and Devolution, Cde Nokuthula Matsikenyere described Cde Saruchera as a dedicated and very active party cadre.
"We take solace in acknowledging his professionalism and loyalty to the party and nation at large. The Saruchera family has been robbed of a son, brother, breadwinner, husband and father," said Minister Matsikenyere.
Zanu PF Manicaland provincial chairman, Cde Michael Madiro said Cde Saruchera's death left the party poorer as he was very humble and was very passionate about the party.
"He was very unique in his application when it came to party matters. He was a team player and we are poorer without him. Everyone should imitate the good works that were done by the late hero as he was a well disciplined man, principled, transparent and abhorred factionalism. This man was a man of unique qualities," said Cde Madiro.
Family spokesperson, Mr Allen Saruchera described the late veteran politician and educationist as a loving person.
"He was a man who never wavered to the right or to the left when it came to following his principles. He served us well and gallantly and he shall forever be remembered. He has left a torch for us to carry forward," he said.
The Zimbabwe National Chamber of Commerce Manicaland Chapter described the late academic, politician and businessman as a remarkable gentleman whose business acumen and intelligence will be greatly missed.
Said ZNCC in a statement: "The ZNCC family is deeply saddened by the news of the passing of Mr Saruchera. Our heartfelt condolences go to his family during this difficult period. Mr Saruchera was a remarkable gentleman who will undoubtedly be missed."
Cde Saruchera was born on January 8, 1951 in Nyanga.
He held a Masters' Degree in Educational Administration and Policy Planning from the University of Zimbabwe.
He worked with ZANLA forces during the liberation war in Nyanga, mobilising resources, as well as transporting comrades, weapons and recruiting cadres.
He participated in campaigns against internal settlement elections in Marondera and Mabvuku, Harare.
In Manicaland, he was a Zanu-PF district secretary for Nyamauru and Dangamvura districts, before rising to the rank of provincial deputy treasurer.
He was also a provincial secretary for publicity and information for 10 years before becoming the provincial secretary for administration, a position he held until the time of his death.
He served as a councillor under Mutare City Council for 12 years as well as a commissioner for the city.
Cde Saruchera is survived by his wife, Tsitsi, and four children – one girl and three boys.