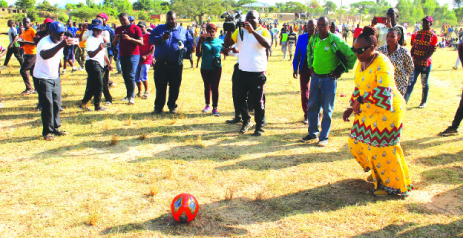 The ManicaPost
Tendai Gukutikwa
Post Reporter
INFORMATION, Publicity and Broadcasting Services Minister, Monica Mutsvangwa has emphasised the importance of community involvement in supporting sporting activities that contribute to national development strategies and sustainable development goals.
Mutsvangwa aired these sentiments while launching Senator Academy Football Club at Chitakatira High School grounds last week on Saturday. The academy is a project aimed at scouting for local talent and to combat the problem of drug and substance abuse among youths in Manicaland Province.
It will be headquartered at Chitakatira High School and scholarships, fellowships and school bursaries will be availed to talented players from across the province so that they can study near the academy in Chitakatira, said Mutsvangwa.
She said sport is more than just a physical activity or a form of entertainment.
"Sport is a powerful tool for education, human social and economic development for our communities. Through sport, we can learn important values such as teamwork, respect, fair play and discipline.
"We can also foster social inclusion, gender equality, health and well-being, and peace and solidarity. Sport further creates opportunities for employment, entrepreneurship and community development. Therefore, let us celebrate sport's contribution to our society and our lives," said Mutsvangwa.
She said the initiative supports Government's efforts to promote sports development in the country, while praising the academy for providing opportunities for young people to showcase their skills and to stay away from harmful habits.
"President Mnangagwa has launched various sporting programmes to benefit the people of Zimbabwe as part of his vision of leaving no-one and no place behind. These programmes are inclusive of boys and girls from all parts of the country, not only those in urban areas. You should seize this opportunity and participate in these programmes.
"Our aim is to develop sport, while also empowering our youths with clubs like these that provide employment and keep them away from the streets where they may fall prey to drug abuse. Sport can help prevent and reduce the problems and challenges associated with drug and substance abuse, so we are pleased that official clubs like these are being established across the province," she said.
Mutsvangwa applauded Zimbabwe Football Association (ZIFA) for partnering with Senator FC manager, John Kanyikwanaka to organise sporting programmes across the province.
"Your partnership is making football history here in Manicaland, while also mitigating against drug and substance abuse among our youths. I commend ZIFA and its partners for organising such clubs across Manicaland's eight administrative districts," she added.
Kanyikwanaka said they named the Academy after Mutsvangwa as she is one of the directors as well as Zimunya-Marange Senator where the academy is headquartered.
Senator plays in Division Two.
Majesa Academy director, Charles Chave said his academy will help in fostering and training Senator players.
"We thank Government and Mutsvangwa for remembering the youths of Zimunya-Marange where she grew up. Thank you for remembering these children, it only proves that you are walking the talk of leaving no-one and no place behind," he said.
Mutsvangwa donated 45 soccer balls to the three constituencies which are in Zimunya-Marange area as well as cash prizes for the teams that won during the launch of Senator.