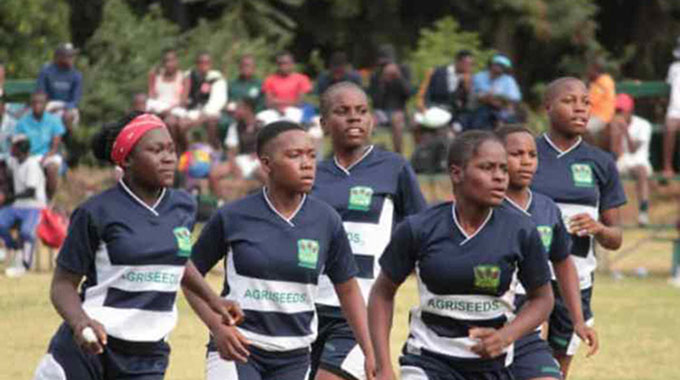 The ManicaPost
Ray Bande
Senior Reporter
MANICALAND Rugby Board's ambitious rural rugby development drive, which led to the birth of Sahumani Secondary School girls rugby team, is continuing to score successes following the establishing of a jungle gym in Honde Valley.
A strenuous mission for coaches Phanuel Toro and Shepherd Mundozi, backed by provincial rugby administration leadership, saw female youngsters at the remote Sahumani Secondary School defying the odds in a game that has traditionally been played by the elite.
The school made its debut at the prestigious Dairibord Schools Rugby Festival in 2017.
The following year, Sahumani girls put up a commendable performance at the festival, thereby leading to the selection of Catherine Muranganwa, Mavis Zunga, Mary Birwa, Privilege Mabhozhera and Fortunate Nyamavanga to be part of the Zimbabwe Girls' Under-18 team that took part in the Craven Week in South Africa the same year.
The phenomenal performance of the rugby team recently received a major boost through the donation of a gym which is  expected to promote the much-needed physical fitness for the players.
Manicaland Rugby Board newly installed patron and Agriseeds managing director Simon Nyanhete, who traces his roots to Honde Valley, facilitated the donation of a gym from the seed concern.
"I grew up in Manicaland and I am also a sports fan. I got involved in rugby in 2002 through Mbare Academy. Through our involvement with rugby, we have also identified Hillcrest as a potential candidate for sponsorship. We invested in the Honde Valley gym after looking at the girl child as a sportsperson and realised that the mindset and fear had to be worked on. We need to build their confidence.
"We also realised that there is need to have them well kitted, with the issue of sanitary wear also being a necessity. We did our part in empowering the coaches in their training. We came up with a gym and that will improve their physical abilities.
"We are also targeting primary schools. Our marketing team is yet to identify schools from other parts of Manicaland to benefit from the sponsorship package," said Nyanhete in his briefing to the provincial rugby board recently.
At the same meeting, MRB chairperson, Josiah Borerwe said the board is not going back on its mission to spread the game to marginalised areas.
"This is something that we have been seized with for years and we think we are in the right direction as evidenced by the results we got at Sahumani Secondary.
"We need to tap all the talent in the remote areas of the province because we believe these rural kids have the same capabilities as their urban counterparts. They are only lacking the opportunities and platforms to showcase their talents.
"We hope to cover areas such as Buhera as soon as the situation permits. We should be talking about more success stories in the near future," said Borerwe.