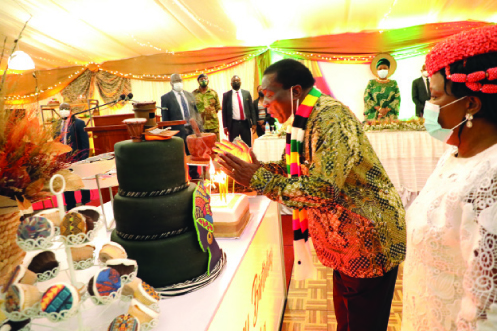 The ManicaPost
Samuel Kadungure
Senior Reporter
PRESIDENT Mnangagwa turned 79 on Wednesday, with people from all walks of life hailing him for exuding uncommon wisdom, remarkable vision and exemplary leadership which have positively impacted on the country since assuming the Presidency in November 2017.
The people have congratulated the President for significant achievements towards the attainment of Vision 2030 which seeks to grow the country into a upper middle income economy despite the Covid-19 pandemic.
The pursuit of this transformative and inclusive development vision is delivering broad based transformation, new wealth creation and expanding horizons of economic opportunities for all, with no one being left behind.
The country made huge strides in the rehabilitation and upgrading of infrastructure, while the devolution and decentralisation thrust has boosted development and transformation of the country's 10 provinces.
On the economic front, President Mnangagwa was hailed for dealing decisively with malpractices by mobile money operators which resulted in the restoration of sanity and integrity in the financial services sector.
He was also hailed over the manner in which the nation has handled the unprecedented and deadly Covid-19 pandemic.
Nyaradzo Group chief executive officer, Mr Phillip Mataranyika wished the President a happy 79th birthday.
"We wish His Excellency, President Emmerson Dambudzo Mnangagwa a very happy 79th birthday. As we celebrate his milestone, we pray that he will be blessed with many more years filled with wisdom, remarkable vision, exemplary leadership and above all, good health, happiness and peace. Congratulations Murambwi," said Mr Mataranyika.
Former Agriculture Minister, Dr Joseph Made said infrastructural developments in the agricultural sector which are central to boosting national food security and production of agriculture raw materials are striking.
He also hailed the President for various initiatives in the agricultural sector aimed at boosting crop and livestock production.
Agriculture is the mainstay of Zimbabwe's economy, contributing up to 18 percent to the Gross Domestic Product (GDP).
"As we congratulate the President, what is most puzzling is the dynamism and capacity to listen to all, be they professionals in the technical sector.
"He never gives up on the aspect of listening, no matter how long the narration is, capturing details of what one will be saying or advising on. Then on his part, the reflection on the facts as they are put together, and the ability to come up with strategy based on the facts suggested is amazing. That is very important. The selected projects, some have been on the planning stage, while some were at implementation level, but took long to be rolled out. President Mnangagwa took a bold decision to focus on the agriculture sector and made sure the human resources was ready to implement, while the financial resources were availed. I am associated with many, many projects, but to see them, one by one, being implemented and completed is very striking.
"From some of the projects, particularly those that focus on water and irrigation, you can see the impact and results they bring in to augment water supplies whenever the rainy season is not favourable. It shows that the President's strategies are correct, spot on and are doable. In congratulating him, we all must rally behind him. We all must focus on the strategies that relates to developing ourselves and the human resources capacity to implement.
"If you take a look, under very difficult circumstances, the manner in which he handled the Covid-19 pandemic is very amazing. The strategy to get the vaccines so that our people can be protected shows his concern for the citizenry," said Dr Made.
Information Communication Technology, Postal and Courier Services Minister, Dr Jenfan Muswere described President Mnangagwa as a dedicated freedom fighter and an exemplary teacher.
"He is a dedicated freedom fighter and exemplary teacher, a President and Commander-In-Chief, who believes in empowering the people of Zimbabwe, and in particular youths. A father and fighter for justice, freedom, democracy and development, President Mnangagwa has exhibited remarkable visionary leadership in the development of Zimbabwe and Africa at large," he said.
Zanu PF Makoni District Coordinating Committee (DCC) chairman, Cde Albert Nyakuedzwa wished President Mnangagwa robust health, happiness, and further successes in his presidential activities.
"Thank you for your brave and fearless leadership. Your leadership has meant so much to this country, it has a positive impact on Zimbabweans. You have proven yourself to be a leader of high ethics and morality. We thank you for your service to our country and you have exhibited uncommon wisdom, remarkable vision, and exemplary leadership.
"You have been a role model and an example of selfless giving to this generation, and we are proud to hold you as someone worthy of emulation. Through your thoughtful leadership, great vision and sincerity, you have had a positive impact on every aspect of our country. You have been an inspiration to us and the future generations. You deserve our greatest respect for the lives you have touched and the stability you have brought to our democracy.
"Thank you for being our greatest asset, our democracy is now better because of your skills as a leader. We are delighted to mark this special day with you, congratulations and happy birthday, and many happy returns to a wonderful leader," said Cde Nyakuedzwa.
Revered sculptor, Mr David Guy Mutasa said those who have been following economic and infrastructural developments in this country will appreciate President Mnangagwa's developmental thrust.
"If you look at the Command Agriculture Programme, which he started during the late President Mugabe's era, you can see how the economy is growing leveraging on agriculture.
"It is something commendable. He deserves recognition for his hard work. He has achieved a lot in a very short period of time," said Mr Mutasa.