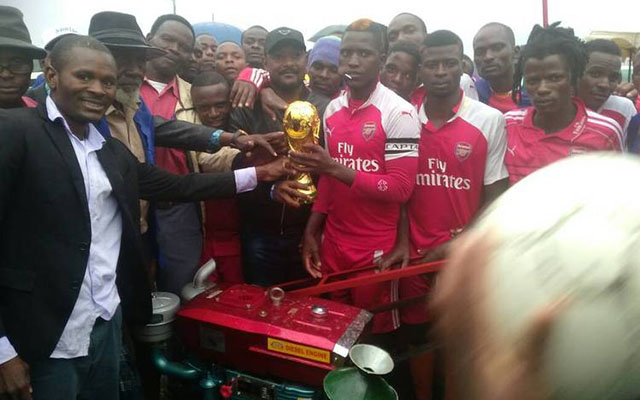 The ManicaPost
Nyore Madzianike Sports Reporter
A CARNIVAL atmosphere swept through Ward 31 in Mutare North on Friday as hundreds of people gathered at Odzi business centre to witness the unveiling of sponsorship for Odzi FC after being promoted into the soccer Division 2 League on Friday.
The event also saw the Member of Parliament for the area, Batsirayi Pemhenayi, officially opening and handing over a grinding mill to Odzi FC after winning in a soccer tournament held a fortnight ago.
Pemhenayi, who is bankrolling the sporting programmes from personal funds, also took the opportunity to officially hand over a classroom block he assisted in constructing to Odzi Primary School. Teams drawn from the constituency's wards are competing in various sporting activities where winners walk away with prizes that allow them to generate income, courtesy of MP Pemhenayi's efforts to spearhead development in the area through sport.
Speaking at the handing over ceremony, Pemhenayi promised to continue empowering the communities in Mutare North through sport.
"I am happy to hear that our team-Odzi FC – has been promoted into Division 2. It is a great achievement," he said.
"Let me also take this opportunity to announce that I will be sponsoring the team as it goes into Division 2. I would like to see development in this area and this is why we are bringing income generating programmes through sport. We want to create opportunities with downstream benefits to the community. We are giving away freezits and peanut butter making machines. We are also giving chickens and stock feeds to start projects to the community," he said.
Pemhenayi said his efforts were aimed at achieving tangible results as enunciated by President Emmerson Mnangagwa's 100-day plan.
"As we are all aware that President Mnangagwa set a 100-day plan. This is part of the President's call, as at the end of the day we would like to reflect on tangible development achieved within the 100 days," he said.
On Saturday MP Pemhenayi took his sporting events to Nyagundi Business Centre where four teams participated under the same initiative. It was the 10th event to be held within Mutare North constituency's districts where The Hunters FC squared off with Karate FC in a tight match which ended goalless in full time.
The Hunters FC won the match 3-2 in penalties and scooped a grinding mill, trophy and a kit. In netball, Swallows walloped Gama 17-3.
The teams walked away with peanut butter and freezits making machines.
Mutare District Sports Promotion and Development Officer Prince Mutsunguma, who was representing his Ministry of Sport, urged the teams to remain focused.
He told hundreds of people who witnessed the event that they should prepare strong teams as there are indications of rejuvenation of the Resident's Minister's league.
"There are indications of revival of the Resident Minister's league. Logistics are underway and this calls for strong teams to participate in that league. If plans go according to the script, teams will be drawn from across the province," he said.