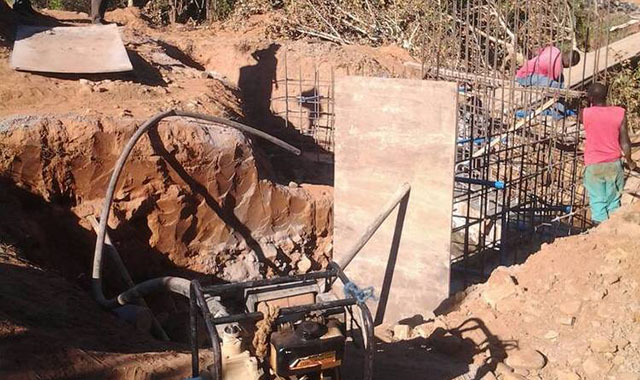 The ManicaPost
Freedom Mutanda and Knowledge Mhlanga Makamera Post Correspondents
CONSTRUCTION of Nyamukunga Bridge in Ward 17, Chipinge, has reached an advanced stage with a hive of activities marking the order of the day at the site.
The bulk of the construction material for the bridge, which connects Shekwa and Pfidza areas, is already gathered at the site.
The Nyamukunga bridge project comes as a panacea to the area's perennial problem of deaths from drowning as people attempt to cross the flooded river. Shekwa Village in Chikore Mission has been the hardest hit by these misfortunes over the years. In 1992, Shekwa villagers constructed a temporary foot bridge, which was swept away by the rains soon after construction.
At the moment students from Shekwa have to cross the river on their way to Chinaa and Chikore High Schools, the only two nearby schools that offer Advanced-Level studies. In 2017 Mr Chrispen Sidhuli Dhliwayo, a graduate of Great Zimbabwe University approached Shekwa Township businessman, Mr Nhamo Dhlakama with a few others with a proposal to work jointly and construct Nyamukunga Bridge.
Zimbabwe National Roads Administration (ZINARA) came in handy to finance the project estimated to be worth $18 000 in 2017.
Construction work subsequently started early this year and is expected to be completed before year end.
The project has benefited local people through job opportunities that came up and is expected to boost the performance of local businesses since there will be good road networks linking Shekwa, Chinaa and Maripita villages.
Ward 17 councillor, Fordwell Hlatywayo said he felt relieved that construction of the bridge was now underway.
"I was first approached by concerned locals who stressed the need for a bridge at Nyamukunga River to curb flood-related losses of human lives as experienced in the past," he said.
The Environmental Management Authority (EMA), Agritex, Forestry Commission, Chipinge Rural District Council, District Development Fund (DDF) and the district administrator also approved construction of a bridge at the site, he added.
The construction of the Nyamukunga Bridge follows a series of other successful such projects, for instance, Budzi Bridge in Chief Mapungwana's area and Dakate Bridge in Chibuwe done by Chipinge Rural District Council this year.