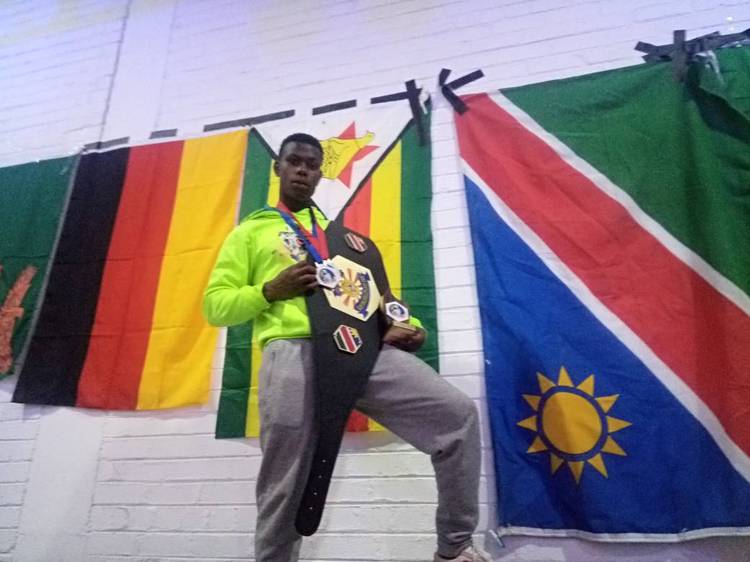 The ManicaPost
Fungayi Munyoro Sports Correspondent
MUTARE-based kickboxing sensation Knowledge Nyamhoka's (junior) star continued to shine on the international stage after successfully defending his Desert Storm 2 International title.
Apart from wining the Desert Storm 2 International title, Nyamhoka also became the first Zimbabwean to walk away with the Ring Contact Fighting Arts belt in Walvis Bay, Namibia last weekend. Nine countries which include Botswana, South Africa, Zambia, Zimbabwe, Brazil, Portugal, Germany, Angola and the hosts Namibia, took part in the competition.
Zimbabwe was represented by David Machikidza, Walter Chiteto, Bruce Gumbo, Nyamhoka and Action Winya.
The 20-year old defeated his South African opponent to be crowned the Desert Storm 2 International Ring Conduct Arts champion. Nyamhoka told Post Sport that good preparations were the main reason behind defending the title he won in Namibia last year.  He also attributed his success to hard work.
"I am very happy that I have managed to defend my title. The fight went well. I first won a silver medal in the Fitness challenge on Friday before the main fight on Saturday.  "I was well prepared for the fight. I once fought with the guy last year and won. That alone gave me confidence that I was going to win. It was a tough challenge. I was able to win the fight because I was more powerful and skilful than my opponent. I am happy that I also got a lot of support from my colleagues during the fight," said Nyamhoka. He said his next target is the Zambian tournament slated for next month.
"I will be taking part in the Zambian tournament next month. I just have to build on the confidence and experience that I have gained in Namibia. I want to go there and win tournament. I intend to continue working hard," he said
Zimbabwe kick-boxing president Tony Kamangira heaped praise on the boxer.
"We travelled with a team of five boxers. They did very well and put us on the map. Young Nyamhoka has done extremely great and we are very proud of him. He has a bright future if he continues working hard. We will be also taking part in the Zambia Tournament and we hope to perform well and come up victors," said Kamangira.