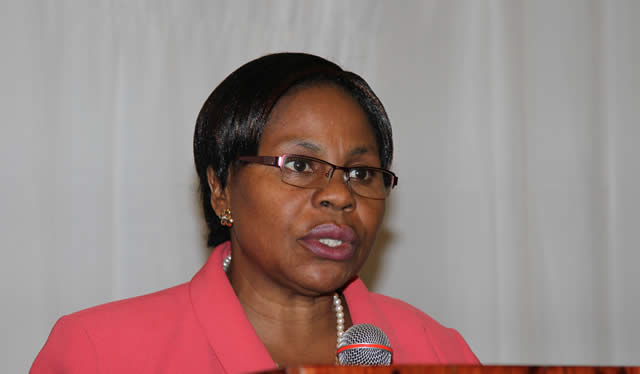 The ManicaPost
Rumbidzayi Zinyuke Senior Reporter
The phrase "Zimbabwe is open for business" has been resonating from Zimbabwe's high offices for a few months now, generating a lot of interest from investors, both local and foreign.
Not only has President Emmerson Mnangagwa made significant strides to set the economy on a recovery trajectory within his first 100 days in office, he has also managed to push his ministers to strive to achieve the same.
For Manicaland province, while the president was declaring Zimbabwe is open for business, Provincial Affairs Minister Monica Mutsvangwa has also been singing the same hymn, albeit with a slight variation.
"Manicaland is open for business" has been her mantra since her own 100 days in office started. Not only has the minister engaged all stakeholders in the province to chart a way towards reviving the province, she has also been actively seeking ways to attract investment into the province.
And this has started yielding the desired results.
On Friday last week, hundreds of stakeholders from the privates sector, the public sector, civic society, academia among many others, converged at Golden Peacock Villa hotel in Mutare to be part of a historical event.
The inaugural Manicaland Investment Opportunity Public Private Partnership Conference, organised by the Chartered Institute of Project Managers Zimbabwe, was aimed at facilitating economic growth and promoting potential investment opportunities in the province.
The interest generated by the event showed that indeed, Manicaland is now open for business. For years, the province, which has great potential to be an economic hub, has lost out on significant opportunities for growth. Despite being home to the best tourist destinations, having an abundance of minerals including gold and diamonds and having the best climatic conditions for most crops that can be exported, the province has remained dormant for decades. Not much progress has been made in terms of reaping the full benefits of the resources that it has. But that might be about to change.
Speaking at the conference last week, Minister Monica Mutsvangwa said Manicaland had the opportunity to rise, like the phoenix, from its ashes.
"As Manicaland we dare not miss this opportunity to fundamentally transform our economy, attract new investment, create jobs and sustainable incomes, revive our industry and improve social service delivery. The Manicaland people have taken responsibility and have been deeply humbled and highly encouraged by much of what the President stands for. His announced values constitute the core of our programme for socio-economic transformation, re-industrialisation and rehabilitation of Manicaland's economy," she said.
She reiterated the importance of restoring Mutare as the historical gateway for the central Africa region for Zimbabwe, Botswana, and southern DR Congo.
Mr Emmanuel Charumbira, a South African- based Zimbabwean who is part of the Diaspora Infrastructure Group, said his company had already identified areas they wanted to invest in Manicaland.
The group was awarded the $400 million NRZ recapitalisation tender, which has seen the delivery of the first consignment which consists of 150 wagons, seven locomotives, and seven passenger coaches.
"We believe that Manicaland is open for business and we are ready to come in," he said.
He said the group was targeting other major projects in Manicaland.
"In this province, we are looking at projects around forestry. In the past, even before the diamond rush, most of the timber came from this province and we are keen to look at how we can be involved in this sector," he said.
Added Mr Charumbira: "Under tourism, we have a company called Tourvest, which is the largest inbound tourism company in Africa bringing in about 200 000 tourist into continent. Tourism is one area we are prepared to work in Manicaland," he said.
Mr Godfrey Marange, a Germany-based Zimbabwean, said he was also excited to have an opportunity to bring development into Manicaland.
"We are interested in mining, and there are projects that can be done in the Penhalonga area where people can be empowered to mine sustainably without using mercury, which affects both the environment and their health. We want to introduce sustainable mining methods to empower those people," he said.
And of note is the coming on board of the Zimbabwe Investment Authority (ZIA) to ensure that the province attracts investment while making sure that existing businesses operate in a conducive environment.
ZIA chief executive Mr Richard Mbaiwa said local business should be ready to partner with foreign investors who have expressed interest in Zimbabwe.
"We are looking forward to working with local authorities to assist them to produce promotional strategies that market their specific locations. We want to bring investment down to provincial level because each province has its own unique features and we want to market them from this point to promote investment into these areas," he said.
Special advisor to the President Ambassador Christopher Mutsvangwa said Manicaland had suffered, but that was in the past now as Government was committed to helping the province realise its full potential.
"You in Mutare today, you are actually driving that point in your own local way. You have not recovered what deserves to you on the national stage. But President Mnangagwa has made it possible for Mutare to regain its status. So this is your time. Think big to make this city a world class agro processing centre, a world class trade region which produces the food, fruits and nuts which are now needed by Asian and European markets to make them your oracle,'' he said.
United Nations Development Programme (UNDP) senior economic advisor Amarakoon Bandara said while the interest in Zimbabwe and the province was a good sign, there were still a few issues that government needed to take care of to realise maximum benefit from investments.
"Put into action everything you have been saying," he said.
He said Government should also ensure that the local taxation system was efficient and less of a burden and hassle for the investor.
"Most importantly, you should learn to let investors know what is on offer," he added.
Going forward, the take away from the conference was that Manicaland is indeed open for business. And no one is as excited about the future now as the people of Manicaland are.
See full text of Minister Monica Mutsvangwa's speech on Page 7.