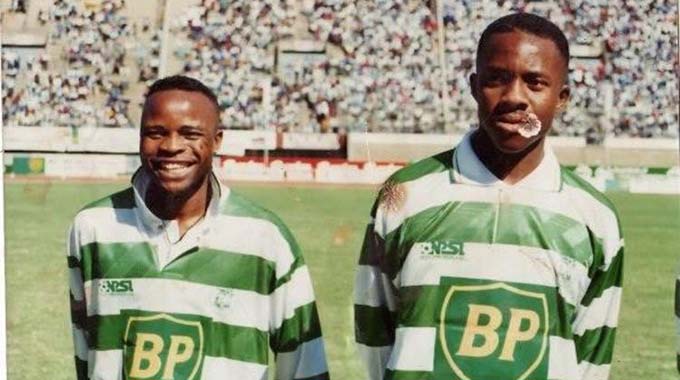 The ManicaPost
Moffat Mungazi
Sports Correspondent
TOMORROW (Saturday), marks exactly 17 years and two weeks to the day one of Mutare's great football sons, Blessing "Yogo-Yogo" Makunike tragically died in a car accident.
The ex-CAPS United star passed away on March 13, 2004 when the car they were travelling in rammed into Hunyani River Bridge and exploded into flames. He was travelling together with teammates, Shingirai Arlon and Gary Mashoko as well as two fans.
All occupants in the vehicle perished in the inferno. They were returning from an away assignment against Njube Sundowns in Bulawayo.
Makunike, who was born and raised in the P Section of Dangamvura was 27 at the time of his death.
To commemorate the anniversary of their colleagues' death, former MaKepeKepe duo, Alois "Gazza" Bunjira and Joseph "Shabba" Takaringofa reminisced on the times they shared with Yogo-Yogo on and off the pitch. The pair has deep-running roots in Manicaland.
As suggested in his name, Makunike was a blessing both to the game and other people around him.
Bunjira described him as a gifted footballer radiating immense quality on the ball.
"Blessing was a very calm and laid back somebody when I played alongside him at CAPS United. We met at the club in 1996, but he could not break into the first team immediately. Ironically, he made his debut after I had picked an injury. From there he never looked back. When I recovered from the injury, he was relegated to the bench for a few months, but bounced back in style when Morgan Nkathazo and Stewart "Shutto" Murisa left for South Africa. After that, he would command a regular first-team jersey. By the time I left in 1999, he was a full and important member of the squad.
"To my pleasant surprise, when I came back for national team duty a few years later, Yogo-Yogo had played himself into the squad and firmly established himself in the set-up. At that time, he had become more vocal and assertive; qualities which a good footballer must boast," said Bunjira, a prolific gunslinger in his heyday.
He added that Makunike was both a gamechanger and match winner.
Recollected Bunjira: "We starred together in the Green Machine's 1996 Premiership title triumph. One of his meaningful contributions to that cause was the winner he netted against Highlanders at Barbourfields Stadium. What a performance he had, as he majestically rose above our opponents' defence to smash home the winner as we chased the championship. I will always remember him for that winner as we overcame Highlanders 2-1. Morgiza (Morgan Nkathazo) was also on target."
Off the pitch, Makunike was an easy-going, yet affable and charismatic character.
Brilliant with his feet, he was also smart in the head. His bond with Bunjira continued to blossom.
"Away from the game, we remained close and tight buddies. When it was not match days, I used to visit him every weekend in Glen Norah where he stayed. One of the lighter moments I will always remember is that at that time he was dating a lady older than him and our team manager, Freddy Mkwesha did not approve of that relationship. He even tried to break them up.
"After meeting the lady, who struck me as wonderful person, I advised the couple to follow their hearts despite Mudhara Mukwesha's reservations. When they broke up, I met the woman again in South Africa where I was playing and we became close; evoking memories of Yogo-Yogo. Such was Blessing's heart of gold, quite handsome and very popular with the ladies. He was a bit naughty, but a well groomed young man who remained smart and respectful," he said.
Sadly for Gazza, he could not make it for Yogo-Yogo's funeral, who was interred at Yeovil Cemetery in his home town of Mutare. He only managed to visit the grave site almost a year later after returning from his South African base.
Bunjira expressed his disappointment that CAPS United as a club have not been doing enough to commemorate that sad day in the chapter of their history to celebrate the contribution of the players who died while returning from duty.
"May Blessing Makunike, Shingirai Arlon and Gary Mashoko's souls continue resting in eternal peace," he quipped.
Another of Makunike's ex-teammates, Takaringofa, narrated the football journey he travelled with Makunike. They were part of the trailblazing Green Machine which steamrolled past opponents as they restored the club's Cup Kings legacy.
Together they scooped several silverware. Under the tutelage of tactician, Steve "Dude" Kwashi, the all-conquering squad comprised the likes of Bunjira, Murisa, skipper, Silver "Bhonzo" Chigwenje, Farai "Mr Perfect" Mbidzo, Joe "Kode" Mugabe, Lloyd Chitembwe and Frank "Dealer" Nyamukuta.
"We came a long way with Blessing, from our days together as juniors at Zupco Mutare until he left to play in Yugoslavia while I went to AirZim Jets and later Dynamos. He was a brother and friend to me; so hardworking and committed. Yogo-Yogo was a gentleman who deeply adored his family. He was also keen on seeing his friends develop, progress and do well. From my Sakubva home, I would often link up with him in Dangamvura and we communicated regularly even as his football career took him to DairiSteri in Chipinge.
"We signed up for CAPS United in 1995 and the rest is history. During our time there, we won the 1996 league crown, clinched the BP League Cup back-to-back as well as the Independence Trophy and Charity Shield," said the gangly Takaringofa, who is now MaKepeKepe's first assistant coach.
He added: "Most of the times he was outstanding in the centre of the park. The game which easily sticks out for me is the one we played in 1997 under floodlights against Black Aces and we walloped them 3-0. The bulk of the senior guys missed the match, with Yogo-Yogo, Chitembwe and I outclassing Aces as we bossed the midfield. The same team turned up for the duel against Zimbabwe Saints in the next match and we prevailed 2-1."
After his ex-teammate's death, Takaringofa stayed in touch with Makunike's son, Dean who had located to England.
The trio's deaths, Shabba said, was heartbreaking not only to the club, but the football fraternity as a whole.
Makunike's funeral attracted people from all walks of life and brought business to a standstill,with multitudes in the city thronging his Dangamvura home in winding cavalcade to pay their last respects to an industrious son.
MaKeKepe, as if on cue to honour their late players, went on to win the 2004 league title and retained it the following year.