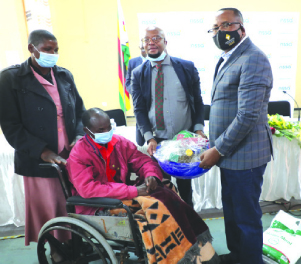 The ManicaPost
Moffat Mungazi
Post Correspondent
PUBLIC Service, Labour and Social Welfare Minister, Professor Paul Mavima has said Government is sparing no effort in prioritising social protection for all vulnerable citizens.
Speaking during an interface between the National Social Security Authority executive and pensioners' representatives in Mutare last week, Minister Mavima reiterated the Second Republic's commitment to implement sound social assistance programmes as espoused in National Development Strategy 1.
Social protection is one of the priority areas under NDS1. Zimbabwe subscribes to the International Labour Organisation's recommendations to avert poverty.
"It is Government's desire to ensure that social protection measures are put in place to mitigate against the challenges that are associated with loss of income due to various reasons that include old age leading to retirement.
"Zimbabwe is among the African countries that have committed to achieving the United Nations Agenda 2030 on Sustainable Development Goals which recognises social protection as an integral part of the universal goals," said Minister Mavima.
Minister Mavima highlighted that since social protection includes access to quality healthcare, NSSA will be setting up special clinics for pensioners across the country.
He said this will eliminate the challenges faced by pensioners in accessing medical attention, especially in light of the Covid-19 pandemic.
"This programme is already in motion, with Zvishavane, Gwanda and Bulawayo having benefited from our mobile clinics in April and May. NSSA is working on procuring more mobile clinics so that each region will have its own for rapid response to situations and consistent availability of the service," said Minister Mavima.
Government has also implemented a raft of measures to cushion pensioners financially.
"Last year my ministry approved the awarding of interim discretionary bonus payments to pensioners between April and June at 100 percent of their monthly pay-outs. In July, it was 150 percent and 200 percent between August and October," he said.
The bonuses have continued into this year, with the NSSA board approving a 100 percent increment in benefits payments across the board.
This has since pushed up the minimum retirement pension pay-out from US$12 to US$25 paid at the prevailing auction rate.
It is projected that the minimum pay-out will increase to US$30 by July, US$40 by October and US$60 by year end.
Minister Mavima, however, underscored the need to ensure the sustainability of the fund.
In stepping up efforts to cushion pensioners, NSSA is paying out grocery allowances.
So far, orphans and surviving spouses of pensioners have been receiving their allocations in addition to the monthly disbursements.
"NSSA is exploring ways to improve the welfare of pensioners through non-monetary initiatives such as waivers on bank charges, discounts on goods from participating shops and establishment of a revolving fund.
"We also want pensioners to benefit from other empowerment projects in order to enable them to generate extra income. All these are set to be rolled out this month," he said.
To operationalise such enterprises with efficiency, Minister Mavima urged NSSA to set up a business development unit to help pensioners with sound project proposals, capacity assessment as well as implementation.