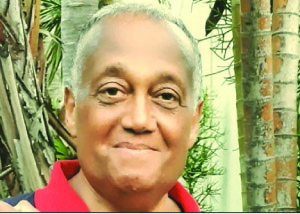 The ManicaPost
Lovemore Kadzura
Rusape Correspondent
RUSAPE last week was plunged into mourning following the untimely death of former footballer and philanthropist, Charles 'Makiri' White, who succumbed to cancer of the colon in the United Kingdom.
He was laid to rest there.
White who was born and bred in Vengere suburb of Rusape is fondly remembered as a talented footballer who later turned into the game's biggest benefactor as he helped a lot of teams to stay afloat.
He is also known as a man who had a deep passion for his community.
He was 64 at the time of his death.
From the humble beginnings in the then tiny Vengere suburb, White rose to a large than life character who left a national footprint on the sporting front.
White was born in 1958 to an Irish doctor and Zimbabwean nurse aide who both worked at Rusape General Hospital.
He attended the then Lloyds Primary School (present day Vengere High School) which was only for people of mixed race and Indians.
He later enrolled at Morgan High School in Harare for his secondary education where he linked up with the Arcadia community.
It was at Morgan High School where he launched his football career as a professional turning out for Arcadia United.
Because of his deep connection with his community, White would play for Lesapi (Rusape) United that was playing in the second division during school holidays.
Lesapi United had fierce rivalry with Swallows, another outfit in the town.
He later played for Arcadia in the late 1970s and early 1980s in the Super League.
He was also employed by Zimpapers as journeyman printer before setting up his own printing firm close to Mohammed Mussa Wholesalers in Harare.
This gave him extra income which he used to fund a number of football teams in Rusape, before selling his company to his employees and relocated to the UK.
Veteran football administrator and former Caps United secretary-general, Wellington Chando who grew up with White in Vengere, described him as larger than life character who was so devoted to the development of sport and as a person who never turned his back to the community that raised him.
Chando said it will be difficult for Rusape to find a person of White's calibre as he sacrificed everything he had for the development of sport and the welfare of children, elderly and vulnerable members in the community.
"Although he was of mixed raced, Charles in did not mix much with other coloureds or Indians in town. He chose to hang around with blacks. He attended Lloyd Primary School in Rusape and for high school, he went to Morgan High, but every school holiday he would come to Rusape and play football for Rusape United. He was a key player for Rusape United. In Harare, White played for Arcadia reserves.
"He was employed as journeyman at Zimpapers, before leaving the company to start his small printing company close to Mohammed Mussa Wholesale. He later sold the company to his employees when he was migrating to the UK. He was in the country in May and had the opportunity to visit his former company and Rusape," said Chando.
He added: "White used a lot of resources to finance a number of football teams in Rusape. At the time of his death, I had linked him with Robert Mugorosa who is the co-director of Vengere Juniors and was sponsoring the team.
"In Mutare, he assisted in the refurbishing of some basketball and tennis courts. In Gweru, he was funding a football academy and also visited it in May. He was very generous and also wanted to use sport to lure youngsters away from drugs. His death is a big loss to the Rusape community."
Former Rusape United director and coach, Fungai Chiwandire whose team enjoyed significant funding from White, and produced some players who featured in the Premier League, said his demise was a bitter pill to swallow.
"When he was in the UK, he phoned enquiring about the state of football in Rusape. That time teams like Rusape United, GMB, Blue Bird and Gibb Gen had folded. I had formed Morning Stars, but struggling to finance the project. He took over the funding of the team on condition that I renamed it Rusape United. He said the name reminded him of the early days of his football career in the town.
"He provided funding from our stint in Division Three till we were promoted to Eastern Region Division One. He provided cash, jerseys and training equipment. He had secured a bus for us, but faced shipping challenges and abandoned the project.
"He loved Rusape so much and was so concerned with the development of football here. He tried by all means to share his resources to fund soccer teams here. Football in Rusape is on its knees because we no longer have passionate people like White who sacrificed their resources to fund the game. Funding football is not a stroll in the park. He is our hero, he is a force to reckon," said Chiwandire, who said football luminaries are organising a memorial tournament for White.