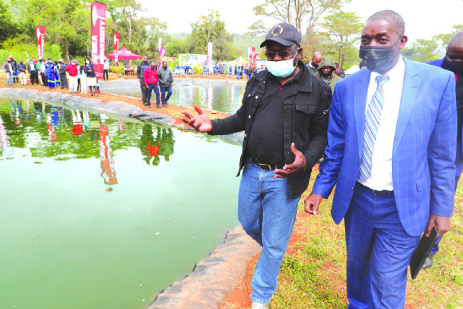 The ManicaPost
Liberty Dube
Post Correspondent
AFRICA University's farming endeavours continue to grow in leaps and bounds after they recently commissioned a fishing project.
The Tilapia fish project which was initiated almost a year ago through the support of the university's Farm Development Trust has two fish ponds, each having 900 cubic metres of water and a capacity to hold 12 000 fish per pond.
The fish will be ready for harvesting before end of this month.
The university already boasts of its Dream Farm products which are now available in Mutare's retail shops and will soon be available online.
In the livestock section, the farm produces 2 500 poultry birds per fortnight with its 6 000 hens producing 150 trays of eggs per day.
The farm has 50 pig sower units which produce and sells breeding stock and pork to the university's community.
On the dairy side, the farm started off with nine cows per day. It now milks 22 cows per day.
They also have a sheep project, with plans afoot to produce mutton.
In the crops section, the farm continues to produce potatoes, cabbages, maize, soya beans, winter wheat, sugar beans and tomatoes.
For the 2021 winter wheat farming season, the Dream Farm's aim is to surpass the 2020 production which saw the university producing an average of 5.5 tonnes per hectare on their 40ha.
Speaking at the commissioning of the fish project at the university farm premises on Monday, the university's acting Vice-Chancellor, Professor Peter Mageto said they plan to create an agro-tourism area in which tourists visit and embark on fishing expeditions.
He said the farm plans to set up maize and wheat milling plants and to commercialise some of its products in line with the university's thrust for industrialisation and innovation.
"The farm, just like how the entire country has experienced several challenges for over a year now due to the Covid-19, has managed to create opportunities from those challenges.
"When the country went into lockdown in March 2020, the future of the farm operations looked bleak as its biggest clients reduced their orders.
But as the academic side of the university went virtual, the farm produce sales also followed suit by creating an online store. What excites us as the management of AU is that we continue to dream and move on durin this era," said Prof Mageto.