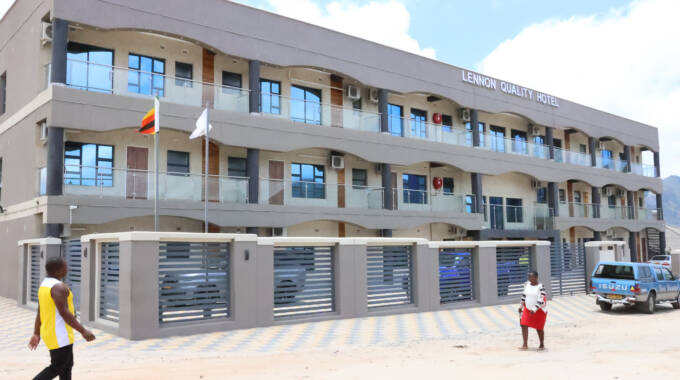 The ManicaPost
Ray Bande and Liberty Dube
THIS is straight upmarket stuff in downtown Mutare!
In a boost for local tourism industry, a new accommodation and conference facility, Lennon Quality Hotel was officially opened this week, in a development that is set to ease accommodation woes that have been bedevilling the Eastern Highlands.
The facility has 28 state-of-the-art rooms, which include deluxe, executive and family rooms.
It also houses two conference rooms and boardrooms that are ideal for business and private engagements.
Unlike most accommodation facilities, the hotel has specific rooms meant for guests living with disabilities.
It boasts of a cocktail bar and a restaurant which offers a variety of cuisine that ranges from western, traditional and a strong and sumptuous Chinese dish.
The facility boasts of clean and tidy rooms, all equipped with smart televisions sets as well as a neatly decorated environs marked with eye-captivating decorations from the reception to balconies.
The front office has immaculate portraits and refreshing paintings that are uniquely carved and meant to catch guests' attention and keep them engaged with the awesome physicals.
Among other positives, the facility offers super quick Wi-Fi.
It has a spacious and well secured parking for vehicles.
They have some personnel in departments such as front office, housekeeping, restaurant and administration with vast experience in the tourism and hospitality industry.
In an interview at the official opening of the hotel this week, the facility's general manger, Mr Adonis Mutigwe, who boasts of vast experience in the tourism and hospitality industry, having worked at various facilities across the country said: "We are looking forward to giving guests from Mutare and beyond a new feel of a lifestyle. It is an accommodation facility with a difference.
"We focus on class and making sure that guests have a memorable stay. We are not cheap and we are not expensive, but we are affordable. We aim to offer world class standards and give guests a noble justification of their money.
"We have started off on an excellent note and we want to thank people from Mutare and beyond for the instant support. We will always conform to our guests' wishes, and we are happy that the market has started responding well."
Minister of State for Manicaland Provincial Affairs and Devolution, Advocate Misheck Mugadza said he was elated by development.
"I am very happy with this development. You cannot talk about tourism when there are no hotels for visitors to sleep. This is the first of its kind in Mutare. Downtown Mutare has been transformed into a new city. We would like to congratulate the proprietor, Mr Leonard Mukumba for this project," he said.
Mr Mukumba said: "We are seriously coming into the hospitality and tourism industry as a company. This is just the beginning, but we will soon be unveiling our second baby in the form of a much bigger hotel.
"It is important to note that all these efforts are in sync with His Excellency, President Mnangagwa and the nation's Vision 2030. As business, this is the role we should be playing."
Prominent businessman and director of C.A.G Travellers' Coaches as well as Dr Mukumba's close acquaintance, Dr Afra Nhanhanga said: "We are excited with this development because this is the thrust that the business community should be taking to develop Zimbabwe.
"I have no doubt that this facility will change the face of Mutare, and add beauty to the city. The high quality fittings at this hotel speak volumes about the owner's strong sense of beauty and class. I also have no doubt that the people of Mutare and beyond will support this brand by providing the clientele base."