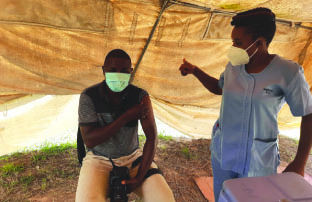 The ManicaPost
Ray Bande
Senior Reporter
A STICH in time saves nine, so they say.
This age old adage aptly sums up the current debate on whether or not one should be vaccinated against Covid-19.
Despite overwhelming evidence showing the safety and effectiveness of Covid-19 vaccines, some people in Manicaland are still hesitant to get it and protect themselves against the disease.
No wonder why Manicaland is yet to vaccinate 60 percent of its population to attain herd immunity.
The vice of social media came to the fore as falsehoods were peddled from all angles to create an atmosphere of fear and doubt about the authenticity and efficacy of the vaccines.
Some still believe in the two-year period peddled by the warped wits of social media as the time frame on mother earth for those vaccinated.
What a great misconception.
Religious and cultural perspectives are also fuelling reluctance against the vaccination drive.
But somehow, the truth has a way of making itself known!
Desire Dube of Gaza Township in Chipinge has the Covid-19 vaccine to thank for his life.
"The Covid-19 vaccine saved my life. I was infected by Covid-19 just after Christmas and was admitted in hospital for a week as I battled the respiratory infection. Had it not been the vaccine I had gotten, things could have turned out worse for me," said the 41-year-old.
Charity Chemwandoita of Ngangu in Chimanimani also has a similar testimony.
"I got infected with Covid-19 just before Christmas last year. As a result I could not travel for a planned family gathering. I did not really get seriously ill and I attribute that to the vaccination I got. I got both jabs and I am actually waiting for the booster dose once my six months period lapses," she said.
Experts have highlighted that while the Covid-19 vaccines do not prevent infection, it certainly protects people from serious illness and death.
After all, numbers don't lie.
For example, of the 41 deaths recorded in Manicaland since the onset of the current Covid-19 fourth wave, only six were fully vaccinated.
"It is clear that those people who are not vaccinated are in more danger due to their reluctance and ignorance. The figures speak for themselves. We continue urging the people to get vaccinated as this is for their own good. The good thing is the vaccines are available for free. One only needs to walk to their nearest health centre and get the jabs," said Manicaland Provincial Medical Director, Dr Simon Nyadundu.
One of the main issues fuelling the Covid-19 debate is misinformation about the virus, vaccines and the impact of wearing masks.
Society has the role to keep encouraging all eligible people to be vaccinated until we reach herd immunity.