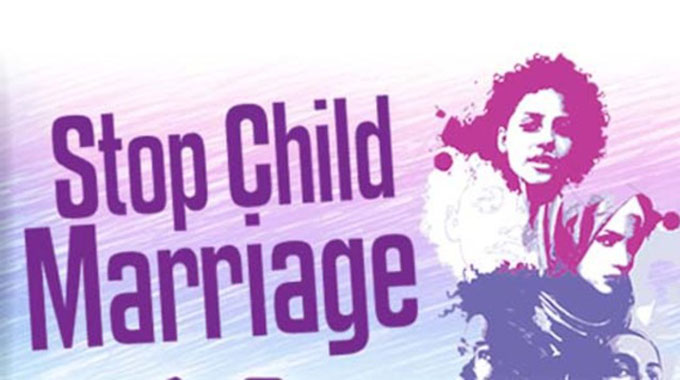 The ManicaPost
Freedom Mutanda
Post Correspondent
AS the International Day of the African Child draws closer, the scourge of early child marriages persists.
The Day of the African Child is commemorated annually on June 16.
While governments and civil society organisations run around and try to arrest early child marriages, certain factors make Agenda 40 remain a mirage.
However, with concerted efforts from all angles, the war will be won.
Education is the driver of success and child marriages are enemies of education, notwithstanding that the Government promulgated a policy where pregnant girls can still go to school and sit for their examinations.
On June 16, 1976, South African students in Soweto marched in their thousands demanding to use their indigenous languages and a waiver on Afrikaans as a major and compulsory language.
Unfortunately, the South African apartheid government deployed heavily armed police officers who killed hundreds of those students without any remorse.
Since then, June 16 has been a symbol of how students can show their resolve in rising up against ill-treatment.
Education has often been hailed as the ultimate tool to empowerment. Thus the International Day of the African Child has always been intertwined with the desire to let every child access education.
Disturbingly, child marriages have been in vogue in many parts of Africa as a result of patriarchy, poverty, financial problems, civil strife and many other factors.
Niger has the highest overall prevalence of child marriages in the world, according to UNICEF.
As an African country, Niger has to fall in the footsteps of other African nations such as Zimbabwe which have upgraded their education systems to a stage where they have made everyone, including pregnant girls and teen mothers, to access education.
In 2016, the Zimbabwe Constitutional Court ruled that child marriages are unconstitutional.
Further, Section 3 (81) of the Zimbabwe Constitution states that child marriage is a marital union where either spouse is below 18 years of age.
That means even if a boy 'marries' at 16 because he has money obtained from artisanal mining, that marriage is against the law.
Many years ago, Robert Nesta Marley noted that none but ourselves can emancipate ourselves.
Thus, youths should wait until they are old enough to take care of the responsibilities that come with being married.
In 2021, the theme is appropriate.
It runs thus '30 years after the adoption of the charter: accelerate the implementation of Agenda 2040 for an Africa fit for children.'
Do we want an Africa where groups like Boko Haram in Nigeria kidnaps hundreds of teenage girls at a school and turn them into baby making machines in contravention of the Charter for the rights of Children.
Africa should disdain wars which disenfranchise children and make them easy prey of predators who marry young girls.
At the same time, some rogue fighters entice young boys to marry for them to bear children who will fight for a particular cause when they are older. Africa should shun these pseudo modern organisations which have nothing but doom in their agenda.
Child marriages are the elephant in the room.
Some of us think child marriages will go away on their own accord. In Africa, your child is my child; and my child is your child. A child is a product of the community.
As we celebrate the International Day of the African Child, let us do everything in our power to eradicate child marriages and put education at the pedestal of everything we do.
Next Wednesday (June 16) must be a day for everyone to focus attention on the number of barriers African children face in order to receive quality education.
In the wake of the Covid-19 pandemic where lockdowns are the order of the day, it is important to discern ways and means of ensuring that children get that quality education despite the areas they are domiciled.
Much has been said about online learning.
There are mant questions, but a key one is: What have I done to equip my child with tools to access internet based education?
Investing in a family laptop may make the difference between passing and failure. Parents may gripe about the high cost of data, but if you look at the money spent on booze and other worldly pleasures, you will see that it's a matter of misplaced priorities.
How can one ensure that s/he has participated wholeheartedly in the commemoration of the Day of the African Child?
First, donate.
It doesn't matter your donation is a drop in the ocean. That little dollar goes a long way in creating a pathway for children to access education. Donations may be through Government programmes where you donate your labour or writing a cheque to organisations that deal with children.
Moreover, you may volunteer at a local school.
It may need more toilets. Why not dig a pit latrine for the school? By so doing you are advancing the cause of child rights at the community level.
On 11 July 1990, African Heads of States and governments adopted articles 32 to 46 of the African Charter in the Rights and Welfare of the Child and it came into effect on 29 November 1999.
It is from these that The African Committee of Experts on the Rights and Welfare of the Child draws its mandate from.
Crucially, Aspiration Six of Agenda 40 states that every child benefits fully from quality education.
When the Government sends its clarion call for parents and schools to embrace online learning, it wants every child to be a recipient of quality education.
For those who have made it in life, it is of paramount importance to adopt your former schools and do something for them. By so doing, you are doing something for the African Child in advancing his or her education.
The agenda seeks to restore the dignity of the African Child who for so long has been at the receiving end of the elders' fight for power.
Children are the future.