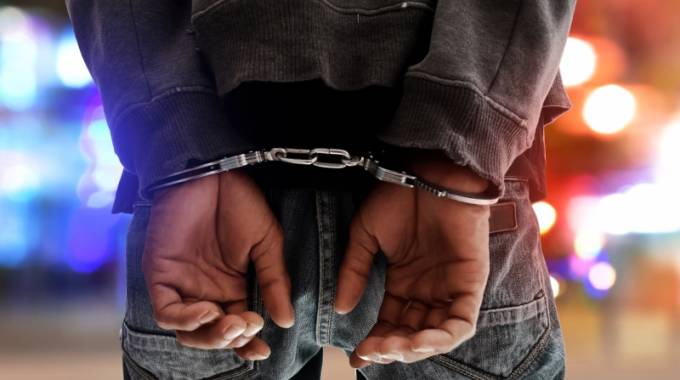 The ManicaPost
Lovemore Kadzura
Rusape Correspondent
POLICE efforts to combat violent crimes continue to bear fruits following last week's arrest of eight suspected robbers who had caused a reign of terror in and around Rusape.
The arrest of Malvern Muchedzi, Nicodimus Chitumba, Gerald Gumini, Darlington Maibvisira, Farai Nindi, George Chiwende, Wilfred Nyakuedzwa and Innocent Bera, all of Rusape, is likely to bring closure to several cases of robberies reported in the town recently.
The eight who were represented by Messers Munyaradzi and Kelvin Manyengavana of Manyengavana Law Chambers were not asked to plead when they appeared before magistrate, Ms Rufaro Mangwiro, who advised them to apply for bail at the High Court.
She remanded them in custody to June 20.
Prosecutor, Mr Tawanda Munjanja said the eight would identify their targets in the afternoon and then raid them at night.
They allegedly broke into a school, houses, farm and business premises.
They gang allegedly robbed businesswoman and pastor, Mrs Eliwe Mutemaringa after being supplied with inside information by a dealer who is now at large, Godfrey 'Gode' Dara, that she kept large sums of money at home.
"On January 12, Dara who is on the run had information that Mrs Mutemaringa intended to purchase a truck horse and approached Muchedzi, Chitumba, Gumini, Maibvisira and Nyakuedzwa and advised them that the complainant had cash at her house. Dara led Gumini and Nindi to the complainant's house and showed them their target.
"Acting on the information supplied by Dara, the accused persons teamed up with five other suspects who are still at large and robbed Mrs Mutemaringa of US$1 000, ZAR2 200, a car battery, a cellphone valued at US$1 000 and a Honda Fit vehicle. The accused persons later dumped the vehicle in Vengere next to Nyakuedzwa's home," said Mr Munjanja.
"On February 27 in Silverbow, Rusape, Muchedzi connived with Kudzanai Ncube (now deceased), Tichaona Chamangwana and three others who are still at large to rob Mr Blessing Dhimba.
"They robbed him of US$4 255 and six cellphones after spraying him with a pepper spray. Police arrested the now deceased Ncube and recovered two phones, a pepper spray and a screwdriver. Muchedzi was later arrested and made indications on how they had committed the offence," he said.
"On May 6, Muchedzi, Chitumba and Gumini, in the company of their five accomplices hatched a plan to rob Mr Simon Muganhu of Gas Masters in Vengere. They cut the security fence using a bolt cutter to gain entry. They pointed a firearm at Mr Muganhu and threatened to shoot him. After tying Muganhu, they took US$2 500 which was in a safe, shoes and a cellphone," said Mr Munjanja.
It is alleged that on May 20, Muchedzi, Chitumba, Gumini, Maibvisira and Nindi, together with six others who are still at large, went to St Faith's Mission School and raided the school.
"They were armed with a suspected AK47 rifle and machetes. The accused persons induced fear by threatening to shoot the complainants. They stole 11 cellphones, four laptops, a satchel, various clothes, a car battery and cash amounting to US$2 026 and $6 000.
"When the accused persons were searched, a laptop and a car battery were recovered," said Mr Munjanja.
"On May 26, around midnight, Muchedzi, Chitumba, Gumini, Maibvisira, Nindi and Chiwende went to Mugomba Shops at Tikitiki Farm using a vehicle that was being driven by Nindi.
"Upon arrival, the gang entered into Mugomba Shop by forcing the door open. They found the complainants – Ms Brenda Tsengerai and Ms Racheal Bosha sleeping. The accused persons assaulted the complainants and demanded money.
"The complainants handed over US$80 and $264. The suspects also stole groceries, a gas tank, two cellphones, a satchel, a steel toolbox with various tools and a car battery before going away.
"On June 1, the accused persons were arrested and the loot was recovered from their houses," said Mr Munjanja.
The suspects also raided a farm after being supplied with information by a security guard, Innocent Bera.
"On May 31, Muchedzi, Chitumba, Gumini, Maibvisira, Chiwende and Bera, a guard at Linderspool Farm, together with others, went to Linderspool Farm armed with a rifle. They approached the guard, Mr Luke Gwasira, and disarmed him.
"The suspects cut a piece of cloth from Gwasira's worksuit and used it to tie his hands from behind. They forced-marched him to the warehouse where they used a bolt cutter to cut the keys securing the gate to gain entry.
"They stole 250x50kgs bags of fertiliser and loaded them onto a truck. They used the bolt cutter again to cut the key securing another storeroom and stole 90 liters of diesel, a welding machine, a chain block and an electric grinder. After loading the loot, they drove away. However, the truck got stuck in the sand and they abandoned it with the loot.