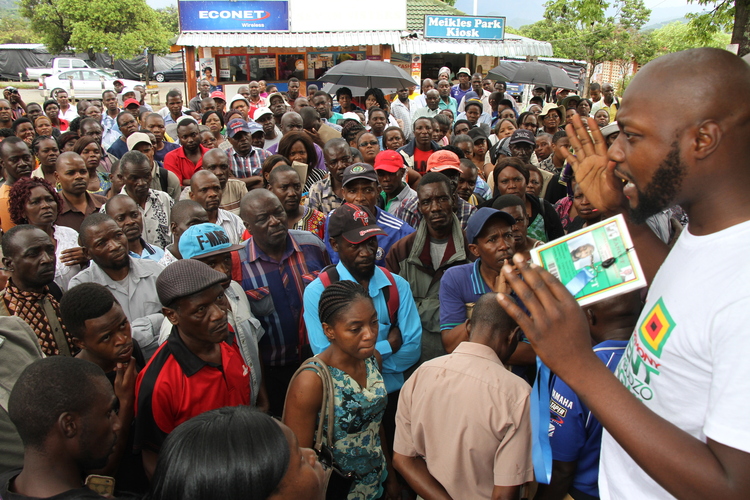 The ManicaPost
Liberty Dube Post Correspondent —
THE contentious issue of the now defunct Capital Base Savings and Credit Co-operative which left more than 4 000 clients stranded when the money pyramid scheme collapsed in 2012, has resurfaced with some of the clients calling for Government intervention.
The clients on Wednesday morning converged at Meikles Park to discuss ways to recover their money which they were owed by the co-operative before its collapse.
The desperate clients who spoke to The Manica Post were pinning their hopes on "Operation Restore Legacy" which ended tis week. They were praying that it would be extended to all the organisations that milked people of thousands of dollars of their hard-earned money to ensure that they paid up all outstanding dues.
Now that "Operation Restore Legacy" has been called off, the clients said they would engage the newly appointed Minister of State for Manicaland Provincial Affairs, Cde Monica Mutsvangwa, to assist them recover their money.
"We fully support Government's efforts to curb corruption and rogue elements who are anti-development. We have gathered here so that we come up with solutions that will enable us to recover our money from Capital Base.
"We hope the new Provincial Affairs Minister Cde Mutsvangwa will assist us. We are desperate. Some of us are now destitutes, yet we invested a lot of money. New members were supposed to receive their money first before old members, but nothing materialised. We are disgruntled," said one of the clients, Mr Jeremiah Job.
Another client, Mr Itai Wanguwa, said: "Government's positive stance against corruption is laudable. We wish they could look into the matter and assist us.
"We are now living in abject poverty after we sold our property to put our money in Capital Base. We want our money and Sonny Kambuma (the society's chairperson) should make it clear to us about what really hap- pened."
They took a swipe at the society's provisional judicial manager, Mr Crispen Mwete, for paying lip service to their plight.