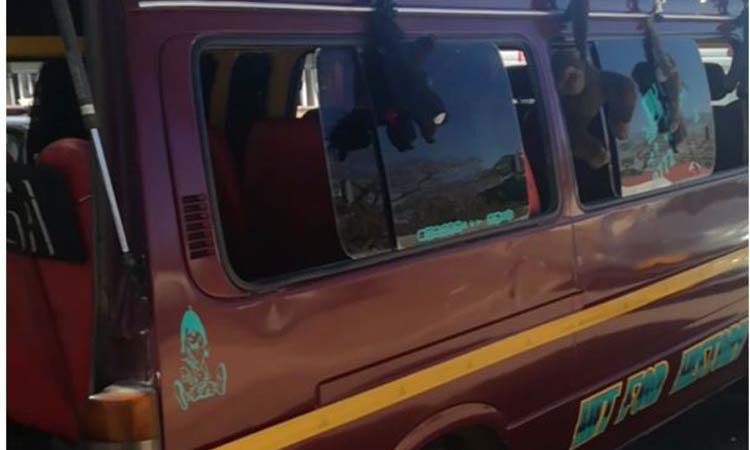 The ManicaPost
Abel Zhakata Senior Reporter
COMMUTERS on-board a Sakubva Musika-bound kombi got off the vehicle in haste on Wednesday morning after a passenger shot himself in the chest with a pistol, bringing business to a standstill in Mutare's Central Business District.
As the deafening sound of the gunfire thundered, passengers scurried for cover, using the closest possible exit to disembark before fleeing into different directions for safety.
The deceased, Freddy Mbendani, – a Chiredzi-based businessman – was pronounced dead upon arrival at Mutare Provincial Hospital.
Police quickly recovered the brown pistol he used to commit suicide.
Mbendani was travelling together with his son, Noway, aboard a Jusa Tours commuter omnibus when the incident occurred at around 9am near Electrosales Hardware.
When The Manica Post arrived at Mutare Provincial Hospital shortly after Dr Kasongo attended to the deceased and certified him dead, his son, the kombi crew and some passengers were at a loss for words to explain the horrific incident.
The kombi driver, Enock Manjera, said he heard the gunfire but mistook it for a usual deafening sound that follows each time he runs over plastic bottle containers on the road.
"I did not suspect anything. I thought the noise came from my tyres but I was shocked to hear passengers screaming for help saying someone had a gun. I then stopped the vehicle to investigate," he said.
His assistant, Judah Danga, who was collecting fares from passengers, said everyone panicked after the gunfire.
"Women who were sitting at the back together with the Mbendani started screaming saying someone had a gun. Before the kombi came to a halt people jumped off. I also got out and checked through the window to see what was happening.
"I saw the pistol, which was now on the deceased's legs. Blood was oozing out from his chest. I called a police officer who was nearby and he quickly took away the pistol. After a while we then drove to the hospital," he said.
Noway, who was constantly shaking his head in disbelief, could not fathom the way his father shot himself.
He struggled to explain and narrate events leading to the shooting incident.
In his statements to the police, Noway said his father had visited him in Harare in a bid to solve unending family disputes that were troubling their clan.
"I stay in New Canaan, Highfield, Harare, and my father has businesses in Chiredzi where he resides.
"A few days ago he phoned me and advised me that I should come to Chiredzi to help him solve these disputes. I told him to come to Harare so that he could explain everything to me before I could go to Chiredzi.
"My intention was to take him to a prophet in Harare for spiritual help. He agreed and came to my house. We went to see the prophet but he was not there," he said.
"After we failed to see the prophet, he started insulting me saying I was wasting his time and that he had no time for prophets.
"We then travelled to Mutare en-route to Chiredzi.
"While in Mutare we boarded a kombi on our way to Sakubva Musika where we wanted to board buses to Chiredzi.
"I did not suspect anything but all of a sudden I heard a gunshot. My father had shot himself in the chest. I was terrified," he said.
Noway said his father was being accused by his kinsmen of practising witchcraft and being in possession of wealth-enhancing goblins.
"Now that he is dead without solving these problems it means all these things will come to haunt me. I told him to solve these issues long back but look at what has happened today. He is dead.
"These disputes were once reported to the police in Chisumbanje but nothing happened. They were referred back to the chief's court but there was no solution," said a distraught Noway.