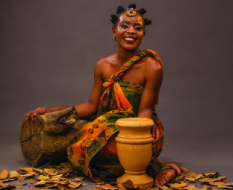 The ManicaPost
Liberty Dube
Post Correspondent
A MUTARE model has joined the fight against environmental threats such as deforestation, illegal mining, veld fires, land degradation and air pollution.
She is also urging young people to play a part in the preservation of the environment.
Michelle Anesu Chigweremba (22), a Miss Environment Zimbabwe 2022 semi-finalist says she is determined to educate young people on the importance of environmental conservation as well as advocate for investments in renewable energy like solar and wind energy.
Chigweremba, who kick started her pageantry journey in June last year is the Miss Winter Manicaland People's Choice, Miss Fabulous Zimbabwe Talent Queen and the Face of Mutare.
"I believe that as an influential beauty queen in the province, I should play a critical role in conscientising my age mates so that we all play a role in ensuring that our environment is clean and safe.
"Manicaland province is beautiful and adorable and it is home to scenic resorts, making it a preferred tourism destination.
"However, it is being plagued by several environmental issues, which is a huge cause of concern. These include illegal mining, veld fires, deforestation, air pollution and land degradation," she said.
"It is critical for the youths to join in initiatives such as the National Tree Planting Day, among others, to fight deforestation. It is important for the nation to intensify efforts to preserve the remaining forests. We could establish protected areas and promote sustainable forest management practices.
"To fight air pollution, I intend to educate others on investing in renewable energy sources such as solar and wind so that we don't over rely on fossil fuels.
"On land degradation, it is critical for the nation to implement sustainable land use practices such as agroforestry and soil conservation to improve the productivity and sustainability of our land.
"I am determined to keep the environment clean, engage fellow girl children and join others for the monthly cleanup campaign," she said.
"My aim is to bring Manicaland's glory days back as far as modelling is concerned," she added.