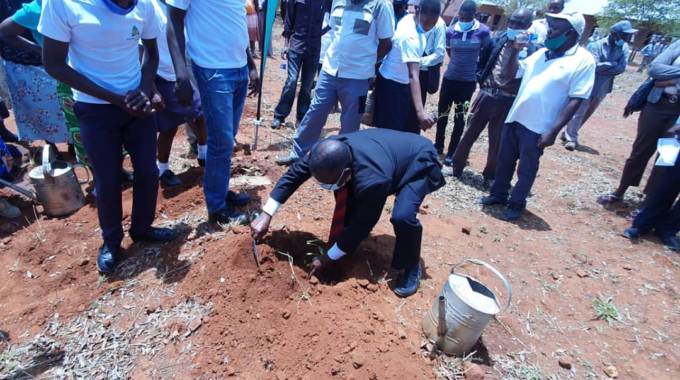 The ManicaPost
Liberty Dube
Post Correspondent
ALLIED Timbers of Zimbabwe (ATZ) has pledged to continue working with traditional leaders in Manicaland in empowering communities through environment conservation programmes.
The timber company today rolled out its first phase of out-grower scheme at Nyatate High School in Nyanga where they planted 863 plants of Cloeziana gumtree.
The plants covered over half a hectare of land.
Speaking at the launch of the out-grower scheme, Minister of State for Manicaland Provincial Affairs and Devolution, Honourable Nokhuthula Matsikenyiri, who was represented by the deputy director in her office, Mr Terrence Machocho, said the out-grower scheme will play a critical role in providing poles, research and education on the part of pupils and the community at large.
"This is a commendable project. A lot of benefits are associated with this programme such as the provision of firewood and herbal medicines to cure flues through the use of leaves and bucks. It will also serve as a windbreaker to secure the school buildings.
"The Nyatate Out-grower Scheme is one of the three identified out-grower schemes by the company. This scheme will also benefit communities in setting up beehives, droppers for fencing and roofing in five years as they thin the gums. They will also benefit from poles after 10 years," she said.
ATZ chief executive, Mr Remigio Nenzou, said the project was in fulfilment of the National Development Strategy (NDS1) as enunciated by Government.
He said the company would continue working with traditional leaders to empower communities.
The company pledged to fund the roofing of Nyatate High School's hall as well as provide doors.
"We will continue working with communities through chiefs such as Acting Chief Saunyama, Chief Tangwena and Chief Katerere. This is a programme we are working with chiefs on and we are happy that its bearing fruit," he said.
Acting Chief Saunyama said: "We are grateful with what Allied Timbers of Zimbabwe has done to our community. The community, the company and Government at large have been working hand-in-hand to empower communities, while providing villagers with education in preserving the environment as well as benefits of planting trees," he said.