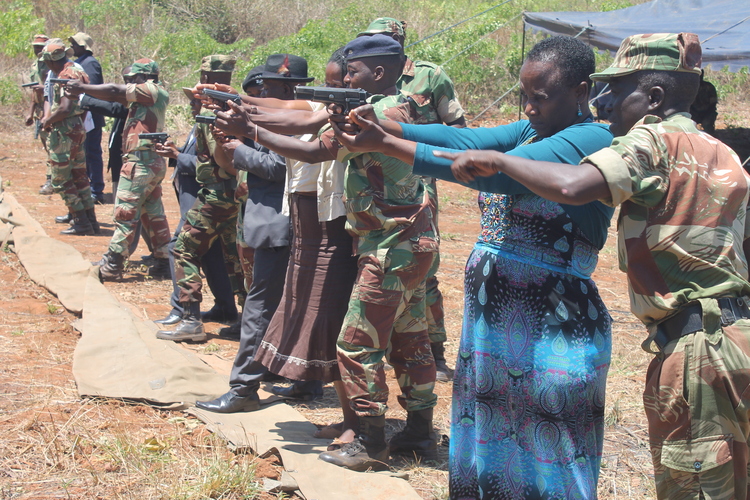 The ManicaPost
Moreblessings Mugumbate Post Correspondent
THE Zimbabwe National Army (ZNA) has commended the role of traditional leaders in upholding the true cultural values of Zimbabwe and pledged to work closely with them in all developmental programmes.
Addressing chiefs on the occasion of Traditional Leaders' Day Commemorations at Herbert Chitepo Barracks in Mutare recently Brigadier General (Brig Gen) General Staff, Kasirai Tazira said ZNA celebrated the day in honour of the role traditional leaders played in nation building, which constituted an important cog in the security and developmental architecture of the country.
He said traditional leaders were the repositories of moral and cultural values in the society.
"As an emissary sent by the Commander ZNA, I have come to let you know that the ZNA acknowledges the role you play in supporting all Government programmes and instilling the true cultural values in the communities that you lead. As the country's Defence Forces we are proud to partner you in your endeavours to foster peace and development in your respective communities. As your children, we all fall under your jurisdiction that is why the Commander ZNA has set this day aside  in honour of the sterling work that you are doing," Brig Gen Tazira explained.
Brig Gen Tazira challenged chiefs to strictly guard against wanton environmental degradation activities, which had become a threat to the society. 
"As leaders in your respective communities you should guard against the rampant destruction of the environment especially the unnecessary cutting down of trees, which poses a grave threat to the environment, flora and fauna," he said.
He said it was everyone's responsibility to preserve and protect forests. He further urged the chiefs to educate their subjects to be development-orientated to move the country forward.
Speaking at the same event, Commander 3 Infantry Brigade, Brig Gen Joe Muzvidziwa thanked the chiefs for their staunch and unwavering support to the army's programmes in the province and beyond.
"I wish to convey my utmost gratitude to you for sparing your time off your normal business to come and interact with us, your security forces. We take cognisance of the important role that you play as custodians of our heritage. "As your sons and daughters in your community, we pledge to continue working with you in your endeavour to support the Government's developmental programmes," he said.
The day saw the traditional leaders interacting with the army before being treated to a pistol firing competition. Buhera District emerged winners and were awarded a cash prize of $300 and a floating trophy while Mutare and Mutasa districts came second and third, respectively.