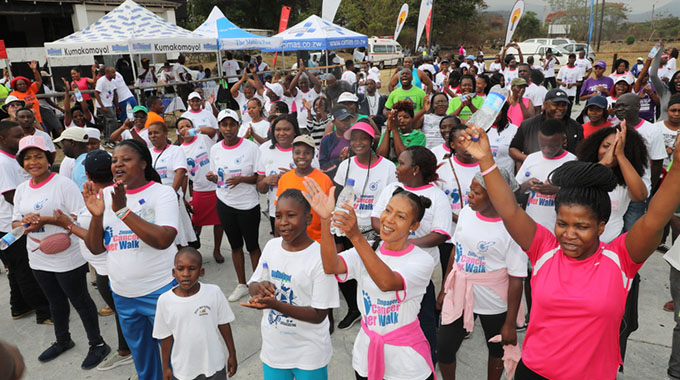 The ManicaPost
Sharon Chigeza Post Correspondent
CONSOLIDATED media group Zimpapers, last Saturday teamed up with Island Hospice to successfully conduct a Cancer Power Walk aimed at raising funds for cancer patients.
The event, which drew hundreds of people from all walks of life, also sought to amplify cancer awareness, as the disease is ranked among major killer ailments in the country.
The walk started at 6am at Mutare Sports Club.
Apart from the five kilometre walk, attendees were treated to a Zumba session by fitness trainer, Knowledge Nyamhoka.
The participants also had the opportunity to interact with radio and print journalists from The Manica Post and Diamond FM.
They also received free health checks.
The Manica Post editor Mr Hatred Zenenga delivered a speech on behalf of Zimpapers chief executive officer, Mr Pikirayi Deketeke.
Mr Deketeke said Zimpapers was a people-driven business and had a responsibility to worry over issues that affect people.
"We are in a business whose strength lies in the people, hence we value their health. Our audiences are our strength; hence it is our corporate social responsibility to care about what affects them. Cancer is one such issue," he said.
Zimpapers public relations manager, Ms Beatrice Tonhodzayi said cancer had become a heavy burden on the country's health system and required a multi-sectoral response to mitigate its effects.
She said the power walk was one of the initiatives by Zimpapers to mitigate the impact of cancer.
This year's Cancer Power Walk was sponsored by the City of Mutare, Manicaland Motoring Club, Tanganda Tea Company, Mutare Bottling, Nyaradzo, FBC Bank, Homelink, Cimas, Ngoda Granites, Megafest, First Mutual, National Aids Council, Medirite Healthcare, Beta Holdings, Corporate24 Hospital Group, Zimbabwe National Family Planning Council, Zimbabwe Republic Police and the Ministry of Health and Child Care.