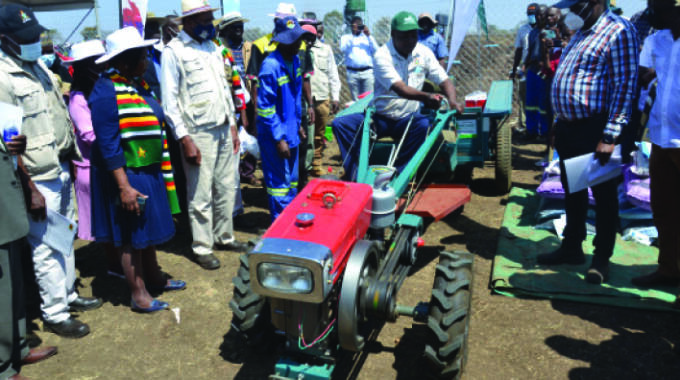 The ManicaPost
Cletus Mushanawani
News Editor
THE US$87 million Presidential Goat Scheme that was launched by President Mnangagwa in Chipinge last week on Friday will see the national herd jumping from 4,3 million to six million by 2025, The Manica Post has learnt.
The agricultural sub-sector's growth will also unlock vast export opportunities.
With demand for goat meat increasing globally, the Presidential Goat Scheme will spur the rearing of the livestock in local rural communities.
With a target to cover all three million rural households in the country, beneficiaries will receive training on goat rearing, best management practices and how goat production can be taken as a business.
From the Presidential Goat Scheme, Manicaland will receive 93 165 goats, Mashonaland East (98 053), Midlands (84 685), Mashonaland Central (50 545), Matabeleland South (45 564), Matabeleland North (39 669), Mashonaland West (65 605) and Masvingo (72 714).
Figures available on the Trade Map show that the global import of sheep and goat meat has been growing over the past five years, from US$6,99 billion in 2017 to US$8,61 billion in 2021.
According to ZimTrade, the largest importers of goat and sheep meat are China (US$2,38 billion), United States of America (US$1,44 billion), France (US$893 million), United Kingdom (US$368 million), Germany (US$323 million), United Arab Emirates (US$322 million).
There are also opportunities to supply live goats and sheep, whose global import value was US$1,4 billion in 2021.
Major importers where Saudi Arabia (US$494 million), Jordan (US$167 million), Kuwait (US$89,5 million), and Italy (US$63 million).
President Mnangagwa has made it clear that it is no longer business as usual in the goat value chain as the country seeks to build a strong goat production and marketing system.
"The Presidential Goat Scheme will contribute to an increase in goat numbers from the current 4,3 million to 6 million by 2025. The Agricultural and Marketing Authority and ZimTrade are now expected to play key roles in the establishment and development of high value domestic and export markets to absorb this increased production, while ensuring fair pricing and compensation for farmers.
"The recent commissioning of Boustead Beef Cold Storage Company in Bulawayo is central to the development of a formal marketing system of goats in the country. I, therefore, encourage all actors in the goat value chain to come together to build a strong goat production and marketing system," said President Mnangagwa.
ZimTrade is already bracing up for the challenge and its chief executive officer, Mr Allan Majuru is upbeat that they will meet part of the bargain.
"Countries such as China and United Kingdom already enjoy good trading relations with Zimbabwe in products such as tobacco and horticultural produce. Local farmers can use existing supply routes to introduce goat and sheep meat into the markets.
"Discussions on the export potential of the agricultural sector often touch on traditional export products such as tobacco and peas as well as emerging crops such as blueberries and macadamia nuts.
"While these are usually top earners, the capital requirements to do meaningful production is often high and far from the reach of small-holder and rural farmers who make up the majority of the country's farmers.
"For those considering participating in the mainstream export business, there are opportunities that have been part of local communities for generations that can be commercialised.
"This will not only provide export options for small-holder and rural farmers, but also integrate them into mainstream economic activities such that no one is left behind," said Mr Majuru.
He said while most households keep goats and sheep as domestic livestock for their own consumption, there is vast potential to increase production for exports.
"The production and exportation of goats and sheep has not been fully explored, yet it has great potential as evidenced by the world import demand for the products. In fact, the demand for goat and sheep meat is increasing faster than the growth in their population, thereby making it difficult for local producers to meet required quantities," he said.
"During the business-to-business engagements between local farmers and buyers from Dubai during the Dubai Inward Buyer's Mission recently organised by ZimTrade, goat and sheep meat was one of the biggest areas of interest. It was identified as having the potential to catapult Zimbabwean meat producers to unimaginable heights once they penetrate the Middle East markets.
"Some organisations have committed to work with private players to get Halal Certification, which is a requirement when exporting meat and other food products to the United Arab Emirates.
"What is important now is to identify supply gaps that Zimbabwean farmers can tap into, as well as finding sustainable solutions that will make it easier for small-holder and rural farmers to consolidate and grow their supply capacity," he said.
Mr Majuru added: "Goats and sheep are consumed across the world and are multi-functional animals. Unlike other livestock like cattle and pigs, goat and sheep have no religious taboos and hold a unique role in traditional events and religious gatherings.
He called upon farmers to organise themselves so that they consolidate and meet the demand.
"Small-holder farmers are usually the top breeders of goats.
"There is need to consolidate farmers and introduce export favoured breeding techniques and standards.
"With the current production, it may be difficult for a single farmer to sustain demand over long periods of time. It is encouraging to note that a few associations have been formed to bring together producers.
"The Presidential Goat Scheme will also go a long way in ensuring the growth of the country's goat production and marketing system," he said.
The company spearheading the distribution of goats in the country, Blackdeck's managing director, Ms Hazvinei Kabisira said there is need for communities to look beyond the goats as sources of meat for household consumption, but a viable business venture.
"We are ready to meet the increasing demand of goats across the world. We thank President Mnangagwa for availing this opportunity to young entrepreneurs so that we can play our part in contributing towards the growth of the economy. We will not disappoint our leadership and will ensure that every corner of the country is covered in this programme.
"Farmers also need to adopt better animal husbandry practices and consider hybrids," she said.