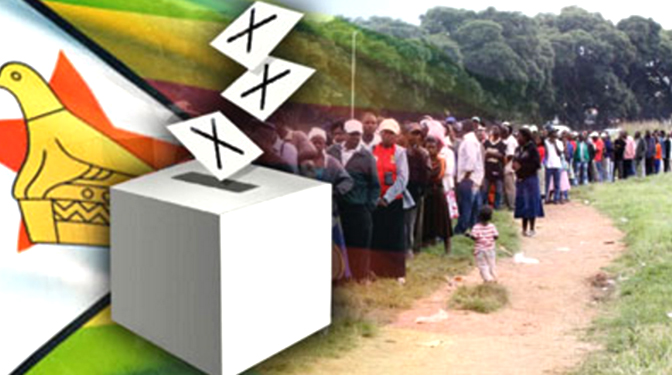 The ManicaPost
Abel Zhakata Senior Reporter
ITS all systems go for Monday's harmonised elections with the Zimbabwe Election Commission and the Zimbabwe Republic Police giving assurances three days before the plebiscite that the voting process will go on smoothly with utmost transparency and fairness.
ZEC, which is mandated by the Constitution to run and preside over the elections, revealed that all essential materials and the human resource capital required to conduct the elections were well in place.
The ZRP, which provides security to ensure an enabling voting environment, also said that police officers had since been deployed to various polling centres while standby units have been activated to answer to distress calls 24/7.
Manicaland chief elections officer Mr Moffat Masabeya said everything was in order.
"In terms of personnel, we have recruited enough constituency election officers and their deputies.
"They were trained and already deployed to various centres. We have 26 constituencies in Manicaland. All wards election officers and their deputies were trained and are now stationed at the polling stations.
"We also recruited and trained presiding officers and they are up to 1 438. Polling officers were also trained and they have been deployed as well," he said.
Mr Masabeya said on Sunday the election personnel will undergo rehearsals at their respective polling stations to refresh them ahead of the actual voting day.
"We have sourced all the equipment that we will use to conduct the elections. Tents have already been pitched, all necessary forms that we use are there and the generators are also there.
"We are now in the process of moving them to particular polling centres. in terms of readiness we are focused for the task ahead of us. Ballot boxes have been received as well as the polling booths. We are to receive our ballots which will be the last item. In a nutshell we are ready to conduct the elections," he said.
Officer Commanding Manicaland police, Senior Assistant Commissioner Dorothy Kupara, said the police were up to the task.
"We are ready. We have deployed our officers to the polling points. All the police officers who have been deployed were trained how they conduct themselves during the election process in view of the new Electoral Law. By end of June we had finished the training.
"Our police officers know what they are supposed to do. They have in their possession hand books which they will constantly read in order to refresh themselves on how they discharge their duties during the voting process. Those on standby duties who quickly respond to disturbances are already in place.
"We have road blocks on the highways for security reasons and travellers and motorists should not think that the past experiences of bribe-taking by corrupt cops is back. No. This is to ensure the maintenance of peace. Police commanders are also working 24/7 doing supervisory roles to ensure that everything is done by the book. In total more than 7 000 police officers are on the ground. We are in full force and let me warn would-be offenders that the long arm of the law is very alert," she said.