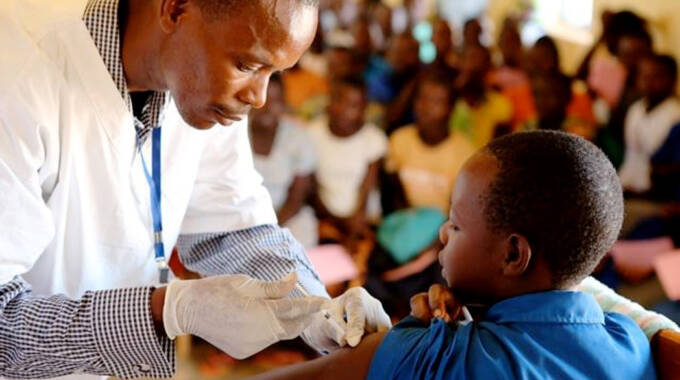 The ManicaPost
Moffat Mungazi
Post Reporter
A ROBUST health delivery system keeps other sectors of a country's economy ticking and that pulse can also give an entire nation life.
Clinical psychologist and author Anne Wilson Schaef could not have put it any better when she posited: "Good health is not something we can buy. However, it can be an extremely valuable savings account."
True to that observation, a sound healthcare sector sets off positive spin-offs to every human endeavour as it becomes the heartbeat of a people's existence.
Over the years since attaining independence from British colonial rule in 1980, Zimbabwe has meticulously placed top priority on its health delivery system to ensure the wel-lbeing of its citizens.
Huge strides have been made in the 43 years of Uhuru, although there have been challenges that have successfully been dealt with along the way.
Next week on Tuesday (April 18), the country marks 43 years of self-rule and the commemoration will run under the celebrations aptly-themed 'Zim@43: Nyika Inovakwa Nevene Vayo/Ilizwe Lakhiwa Ngabanikazi Balo'.
Government is ensuring that the health sector remains critically vitalised.
Section 76 (Subsections 1-4) of the country's Constitution guarantees citizens the right to health.
"Every citizen and permanent resident of Zimbabwe has the right to access basic healthcare services, which include reproductive health; every person living with chronic illness has a right to have access to basic healthcare; no person may be refused emergency medical treatment in any healthcare institution," reads part of the Constitution's Section 76.
This also speaks to Sustainable Development Goal 3, which seeks to ensure health and well-being for all.
Zimbabwe has scored varying successes in its health delivery system that are worth reflecting on as the country celebrates 43 years of Independence.
Fundamental, firm foundation
To redress the imbalances of colonial injustices, the Government of Zimbabwe at Independence committed to taking reasonable legislative and policy measures within the limits of the available resources to ensure that citizens enjoy the right to easily access healthcare services of good quality.
This resulted in the construction of health institutions across the country in urban and rural areas, fully funded by Government.
On the other hand, mission hospitals were also established to augment these efforts.
All the hospitals are manned by qualified and skilled personnel.
Consequently, a vigorous nationwide universal public health coverage was put in place.
Over the years since Independence, the majority of Zimbabweans have enjoyed unprecedented access to healthcare as the sector makes remarkable progress.
Unsurprisingly, the World Health Organisation described the country as one that "places universal health coverage and health promotion at the centre of its policies to provide healthcare to all."
Up to the turn of the Millennium, Zimbabwe boasted a requisite yet sophisticated public health infrastructure that ticked most of the boxes such that the United Nations International Children's Emergency Fund (UNICEF) pronounced it "as one of the best in sub-Saharan Africa" that was the envy of many and a source of pride for us.
While the public hospitals and clinics' expansion and upgrading continued to even their distribution throughout the country, private health institutions also came into the fray to cover the bulk of the population.
Special programmes like the immunisation against infectious diseases among children were initiated, leading to an increase in the coverage of the vaccination exercise.
Even during the years when droughts hit the country, nutritional programmes to feed children were implemented, especially in schools, to prevent malnutrition.
With the country prioritising disease control programmes, pregnant women were immunised against tetanus.
Mothers have also became familiar with oral rehydration therapy and its correct recipe, while the country has attained the highest rate of contraceptive use in the region.
Antenatal care was also significantly increased across the country.
This subsequently led to a sharp decline in infant mortality rate.
Sound policies have also helped to keep the health sector's pulse high, with Government in 2004 expanding the provision of antiretroviral drugs, especially for HIV-positive mothers.
This intervention proved to be just what the doctor had ordered as infant mortality shot down from 102 deaths per 1 000 births to 82 per 1 000 by 2006.
Estimates show that there is a positive trajectory in infant mortality after the mother-to-child HIV transmission rates were lowered.
Recent figures show that the infant mortality rate was 38 per 1 000 in 2020 while neonatal mortality rate stood at 26 per 1 000 live births in the same year.
Circumventing impediments
With robust training, the numbers of qualified health personnel, who are highly sought after globally, have continued to steadily grow since 1980 as the delivery of basic healthcare was being extended.
To enhance and promote preventive healthcare in rural areas, thousands of community-based village health workers were trained by the Ministry of Health and Child Care.
Available data shows that Zimbabwe has made huge strides in improving the quality of its nutrition, child care, hygiene and sanitation initiatives.
Despite being beset by challenges, some of which were wrought by the illegal sanctions imposed by hostile Western countries and their allies, Zimbabwe's health delivery system has impressively refused to be bedridden.
This is evidenced by the reported malaria cases that drastically dropped from 1,8 million in 2016 to just 281 000 in 2016 owing to effective prevention and control interventions.
The cholera outbreaks of 2008 and 2018-2019 were successfully contained before they ravaged the population.
After Cyclone Idai affected parts of Manicaland, nearly half-a-million people were vaccinated in Chimanimani and Chipinge districts to guard against the possible outbreak of cholera which was wreaking havoc in neighbouring Mozambique.
Zimbabwe has also scored highly with effective intervention programmes on prevention, care and treatment to combat HIV and Aids.
By 2021, over 90 percent of people living with HIV were on antiretroviral therapy.
In 2000 the incidence rate of tuberculosis — one of the top three health threats bedevilling the country alongside HIV and malaria — reached 605 per 100 000, before dropping to 193 per 100 000 in 2020.
Stone upon stone towards Vision 2030
Zimbabwe is on the road to achieving an empowered and prosperous upper-middle income society as enunciated in Vision 2030.
This drive, fuelled by economic growth and social transformation, is firmly anchored on National Development Strategy (NDS1) and health is one of the key pillars of this development blueprint.
Under NDS1's health and well-being cluster, Government is targeting to enhance access to essential medicines as well as reduce morbidity and mortality due to communicable and non-communicable diseases.
With improved domestic funding for the health sector, a significant upgrade in the general populace's quality of life is expected.
With that, life expectancy at birth from the current 61 years is also anticipated to go up to 65 years.
To achieve these targeted outcomes, Government has committed to increasing public health expenditure per capita from US$30.29 in 2020 to US$86 by 2025, according to NDS1.
To ensure that the initiatives come to fruition, the Ministry of Health and Child Care has initiated the National Health Strategy (NHS) 2021-2025, which outlines the roadmap towards turning around and restoring stability in the country's health system.
The NHS is designed to enhance efficiency, effectiveness, transparency and integrity of the health service delivery through improved access to primary, secondary, tertiary, quaternary and quinary care.
Provision of state-of-the-art medical infrastructure and equipment for health service delivery is also being prioritised.
To date, a number of hospitals and clinics have been built in several districts across the country under the devolution programme, a game-changing initiative by the Second Republic to spur development.
Devolution, which is largely premised on the principle of empowering provincial councils to spearhead economic and social development projects in their areas by leveraging on available local resources, entails that every province benefits from the developmental programmes.
This is meant to ensure that no persona and no place is left behind.
As such, the pulse of Manicaland's health sector has been very impressive as access to basic services has greatly improved owing to local authorities utilising part of the devolution funds disbursed by Government to either construct new clinics or refurbish existing ones.
The massive investments in health facilities has resulted in the drilling of boreholes, installation of solar systems for power back-up, as well as acquisition of ambulances and water treatment chemicals.
Over a dozen clinics are presently being constructed.
Among the signature projects that are either completed or still under construction are the US$6 million state-of-the-art National Pharmaceutical Company (NatPharm) warehouse at Victoria Chitepo Provincial Hospital in Mutare, the $7 million Nzvimbe Clinic (Makoni), Mbundire Clinic (Buhera), Mhakwe and Hotsprings Clinics (Chimanimani), as well as Chidazembe, Magadzire, Mt Jenya, Muparutsa, Nyamukwarara and Tsvingwe Clinics (Mutasa). In Chipinge, there is Zamuchiya, Chipangayi, Checheche, and Maondere Clinics.
On the other hand, Zimbabwe is now medical oxygen-sufficient, thanks to the commissioning of the Verify Engineering gas plant in Feruka, Mutare, by President Mnangagwa.
Only recently, a 5 000-litre oxygen tank was installed at Chipinge District Hospital to give a major shot in the arm to the country's sustained efforts of improving the health delivery system.
The estimated supply that all the medical facilities in Chipinde District can get from the oxygen tank can go for around is three and a half years.
As a badge of honour, Zimbabwe has received international plaudits for its sterling efforts it is making in its responses in containing the Covid-19 global pandemic which killed and affected millions across the world.
Government's multi-sectoral approach, in conjunction with friendly countries such as China, Russia and India as well as development partners, implemented a Comprehensive National Preparedness and Response Strategic Plan to minimise the impact and reduce the risks of the pandemic.
Vice President Constantino Chiwenga, who is also the Health and Child Care Minister, said under the able leadership of President Mnangagwa, Government took several measures to enhance its capacity to efficiently and effectively deal with the public health threat, resulting in the success story in tackling Covid-19.
Launching the Health Resilience Fund (HRF), the National Health Strategy (2021-2025), the Investment Case for the National Health Strategy and the Coordination Framework for the Health Sector early this year, Vice President Chiwenga said these strategies will increase the reach of millions of Zimbabweans to healthcare services in line with the vision for universal access to health services as enunciated in NDS1 and in pursuit of Vision 2030.
"These strategies are designed to ensure a resilient and sustainable health system. The challenges and lessons learnt were critically analysed to come up with bankable health interventions cognisant of the scarcity of resources and the need for improved efficiency in our programming," he said.
Crucially, this provides the perfect tonic and prescription for a healthy nation as a healthy population is the engine of any country's economy.
Having stood the test of time, Zimbabwe's robust health delivery system continues to show signs of abundant life and this is worth celebrating as the country commemorates 43 years of Independence.