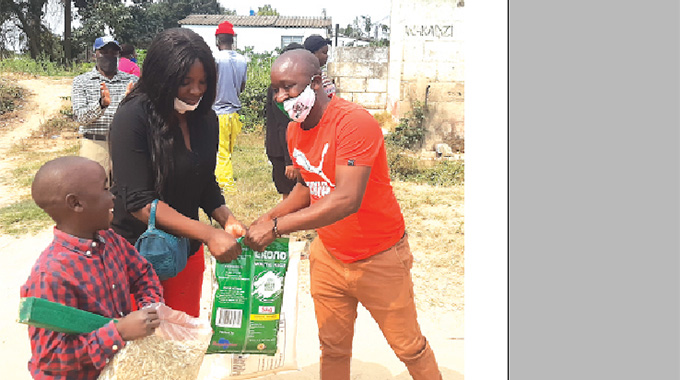 The ManicaPost
Ray Bande Senior Reporter
THE country's football governing body — Zifa — has praised Manicaland Juniors of Excellence (Majesa) after the academy dished out a second batch of food hampers to more than 100 families in Mutare's Dangamvura, Chikanga and Sakubva suburbs.
The junior football ensemble was the first Manicaland football institution to render support to its players by providing food hampers to them to cushion them against the effects of the Covid-19 lockdown.
The Mutare-based junior football talent nursery's professional approach to football administration has earned the respect of authorities in the game.
Zifa president, Felton Kamambo, has even pledged to donate equipment to them.
Zifa Eastern Region vice-chairperson, Simba Wisdom, said clubs should emulate Majesa in catering for the welfare of players.
He said it is sad that some football players are resorting to illegal activities as they are desperate to put food on the table.
"We have gone through the worst as a fraternity. Some of our players are now resorting to illegal means for survival. The situation has been worsened by the clubs' failure to spare a thought for their players at a time when their livelihoods have been greatly affected. We urge football clubs to go beyond contractual obligations and show their humane side in the way that Majesa is doing," said Wisdom.
In an interview with Post Sport on Monday, Majesa owner Charles Chave said, "We are motivated by the sense of responsibility to the community we reside in. We are just complementing the society's efforts to raise responsible children.
"My aim is to see some of these youngsters playing for the national team as well as in foreign leagues. I have no doubt that we have very talented youngsters who can go all the way if they are given the right platform," Chave said.
Majesa technical director, Sammy Kabwe said the food hampers will cushion the players' parents during this hour of need.
"Covid-19 has affected many livelihoods. This is our small way of assisting our players and their parents.
"We are also teaching both parents and their children that football can bring food on the table. As an academy, we hope to continue enjoying a cordial relationship with the players and their parents," said Kabwe.
Jerry Dore, a parent with a child attached to Majesa said, "We are excited that we now have a highly professional academy. Our kids are safe there. We are noticing the progress in our kids since they started training with Majesa."
Majesa became the first registered football academy in the province early this year.