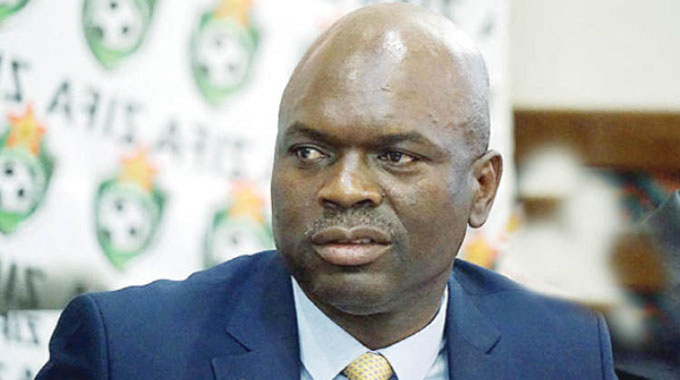 The ManicaPost
Ray Bande
Senior Reporter
ZIMBABWE Football Association (ZIFA)'s negotiations with Government over the resumption of all leagues, as well as approval of fans to attend matches is expected to be concluded by end of next week, says president, Felton Kamambo.
In a wide-ranging interview on the sidelines of the official launch of the Nyanga/Mutasa Sports Festival at DC Mutasa Community Ground last week on Saturday, Kamambo said the return of domestic football action was now around the corner as Government's approval for the resumption of all other leagues together with other lower leagues is expected in the near future.
Government has only approved the resumption of the men's and women's top-flight leagues.
ZIFA Northern Region, Eastern Region, Southern Region and Central Region, as well as their provincial Division Two leagues and area zones, NAPH, NASH and tertiary leagues are yet to get the clearance to begin training.
The PSL got the nod early last month to start training and staging matches.
They have since been running their Chibuku Super Cup matches.
However, football matches and other sporting genres are being played without fans in attendance as the country grapples with the possible spread of Covid-19.
"The league will start very soon. We are working on the approval of the resumption of other leagues. I am sure in the near future all leagues will get the nod to resume training. We have not been playing football for a long time as a country because of the Covid-19 pandemic lockdowns and that means we have not been producing players locally.
"Part of the reason we are here in Mutasa for this tournament is a broader programme wherein we hope to increase participation of more people in football so that we cover up for the lost time, and possibly benefit our national teams in the long run.
"It is our wish that we perform well at international level. We surely cannot have a national team that is composed of foreign-based players only. That is not the way it is supposed to be," said Kamambo.
He said fans' attendance was a key issue, given that most local clubs depend on gate takings for survival.
On issues relating to the country's flagship football team, the ZIFA president believes it is too early to judge coach, Norman Mapeza, based on the back to back World Cup qualifiers against the Black Stars of Ghana whose results rendered the country out of contention for a ticket to the quadrennial global showpiece.
Kamambo's sentiments come hard on the heels of Zimbabwe's ouster from World Cup Qatar 2022 qualification.
He said it was too early to judge the former Warriors midfielder on the basis of the two matches he has been in charge.
Kamambo said there was an undeniable need to have locally-based players blended with their foreign-based counterparts to assemble a formidable national team.
"We have just appointed Mapeza, and his contract runs until mid November. The technical team will then assess the performance of the coach. We cannot judge him based on the two games he has been in office. There are other factors that came into play like the unavailability of locally-based players who were inactive.
"We cannot say if one is playing in England he is the best at our disposal. They just had the chance to go there. Like I said, you cannot have a national team with foreign-based players only. We are hoping that when we go to the Africa Cup of Nations we will have all our players at our disposal.
"We want to ensure that we compete favourably at international level. You are aware that our local leagues have not been active, and this process we are having here in Mutasa is part of a broader initiative to cover up for lost time, and ensure that we have locally-based talent being part of the national team. This is part of a programme of grooming rural talent for the benefit of our national team," he said.
Meanwhile, Kamambo said ZIFA was one of the poorest on the globe, and that explains their failure to finance national teams adequately.
When asked about rationale behind the arrival of the Black Stars of Ghana in the country ahead of the Warriors arrival for the reverse fixture, Kamambo said: "The route we used from Ghana, going via Ethiopia, was the best possible route given our financial position. We all know that we are one of the poorest associations, and that is the reason we could not afford a chartered flight for the national team. We are doing everything that we can to ensure that we run this game smoothly given the resources that we have."
ZIFA came under fierce criticism after Ghana arrived in the country first before the Warriors arrived for the reverse fixture which the national team eventually lost 0-1.
The result left the Warriors out of contention for a ticket to the Qatar 2022 global showpiece.
However, it was the shambolic travelling arrangement that exposed the gulf in administrative competence in the eyes of fans and analysts.
Kamambo said negative criticism that his association always faces was unwarranted given the effort that they put while operating with limited resources.
"I think people should learn to criticise from an informed point of view. We have done all that we can to ensure that we keep the game alive. We came in when the association was grappling with a legacy debt running into millions, but we have since managed to clear all that. We discovered that we cannot do anything meaningful when tied by a legacy debt.
"These are some of the positives that give us hope for a better future. We will continue to try and ensure that we give the best professional approach to football administration and it is only as matter of time that people will start realising the fruits of our hard work," he said.