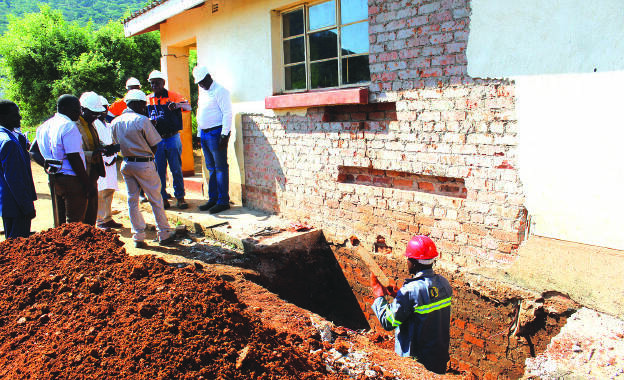 The ManicaPost
Ray Bande
Senior Reporter
PEOPLE who were relocated from Chiadzwa to ARDA Transau area heaved a huge sigh of relief after Zimbabwe Consolidated Diamond Company (ZCDC) pumped in more than US$100 000 to renovate their houses.
The diamond mining company, which has upped its community social responsibility tempo, is also constructing two classroom blocks at Chiadzwa Primary School.
One block has already been completed and was commissioned recently, while the other one is still under construction.
ZCDC board member, Dr Douglas Zimbango confirmed that US$67 000 has been released so far, while the total budget for the running CSR projects is over US$100 000.
"We have been inspecting the work being done by ZCDC in attending to the faults on the houses that were allocated to people who relocated from Chiadzwa. There were issues of poor workmanship that we are being attended to," said Dr Zimbango.
"We are not only doing superficial works, but serious repairs. As you can see, the work is being done by locals, with ZCDC supervising. That is one way of empowering the local community.
"US$67 000 has already been used since we started last month. In terms of the budget, it is over US$100 000. We want to beat the rainy season. We look forward to continue working closely with the community that was relocated as well as those that are still near the confines of the mining area," said Dr Zimbango.
Mutare District Development Coordinator, Mr Wilson Bore commended ZCDC for living up to their pledge of empowering the local community.
"We want to appreciate the effort and the quick response by ZCDC for our community in ARDA Transau. Surely, some of the houses had major cracks that were posing great danger to the inhabitants. We want to appreciate them for putting a lot of resources to ensure the safety of the people.
"What is also interesting is that they have engaged the builders and ancillary staff from the locals in this rehabilitation initiative. In doing so, ZCDC is also helping them, not only in giving them work, but also in sharpening their skills, which will certainly make them survive on their own even beyond these rehabilitation works.
"We want to call on other companies to follow suit and take up corporate social responsibility initiatives. What ZCDC is doing is impressive," he said.
Eighty-four-year-old Gogo Alice Gama, a widowed resident of ARDA Transau said: "I am really happy about this latest development. My house was in a bad shape and I am really touched by the benevolence of this company which has remembered that an old widowed woman like me needs decent accommodation. The house is now in good shape. May the Lord bless them."
Another resident, Mrs Evelyn Magadza said: "We really appreciate the renovations that have been done here. We were having a difficult time during the rainy season due to roof leaks. The structures had developed cracks and we are happy that it has now been fixed."
Speaking during the commissioning of a classroom block at Chiadzwa Primary School on Wednesday, a representative of the Mutare District Schools Inspector, Mrs Patience Mathende heartily thanked ZCDC for the gesture.
"I really want to appreciate the work that has been done by ZCDC in assisting the education sector in this area. This is a result of the good working relationship between the company and the local community. If there was no good working relationship, this could not have been accomplished.
"We thank ZCDC for that because we have so many companies that are doing nothing in the communities that they operate in," said Mrs Mathende.