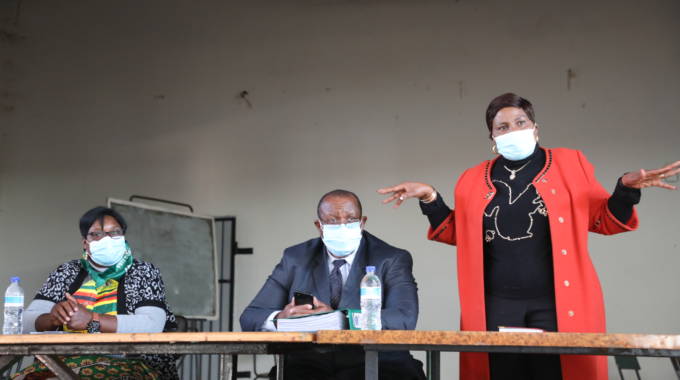 The ManicaPost
Moffat Mungazi
Post Reporter
UPHOLDING its founding principles of unity, peace and development is the cornerstone of sustaining Zanu PF's legacy of delivering on its election promises, the party's provincial leadership has said.
This was said by Zanu PF Women's League national secretary for administration, Cde Monica Mutsvangwa in her address during a Provincial Coordination Committee meeting in Mutare last week on Saturday as she urged party members to emulate the visionary leadership of the party's First Secretary, President Mnangagwa.
Cde Mutsvangwa, who is also a Politburo member, said Manicaland is looking forward to securing at least 700 000 of the targeted five million votes in the 2023 harmonised elections.
"As Zanu PF, we are working to ensure that the party wins the national 2023 harmonised elections by a five million vote margin. Manicaland must contribute at least 700 000 votes to that number and because we are one of the country's biggest provinces, our vote counts. This is achievable due to our reputation and legacy as a revolutionary party.
"We all have to take after the party's First Secretary, President Mnangagwa, under whose guidance the Second Republic is moving towards an upper middle income economy through Vision 2030. This is the way we have to follow to foster the development of our country," said Cde Mutsvangwa.
She added that party members must rise above mere sloganeering and ensure that they act on the party's deliverables.
Speaking on unity in the province and beyond, provincial chairman, Cde Mike Madiro drove the message home.
Said Cde Madiro: "Harmony and unity among cadres is essential. It drives the party forward as a formidable force. Zanu PF is a people's party. We are the ruling party, not a pressure group. We, therefore, have to show good organisation and maturity by conducting ourselves orderly. This is premised on dedication to duty and discipline."
Cde Madiro revealed that the party is 90 percent on meeting the minimum target of membership at cell level as it moves towards buttressing its structures and support.
He also urged the provincial leadership to get down to the grassroots for orientation of cadres and mobilisation of support.
Cde Madiro added that the party is encouraging all eligible members to present their credentials, especially women, and contest in elections when the time comes.
Buhera South Member of National Assembly, Cde Joseph Chinotimba, who is also a Central Committee member, urged party cadres to put the party's interests first by following procedures from cell to national level.
He also called on party members to end individualism and egotism by advancing Zanu PF's agenda and doing away with divisive tendencies that seek to manipulate the internal processes.