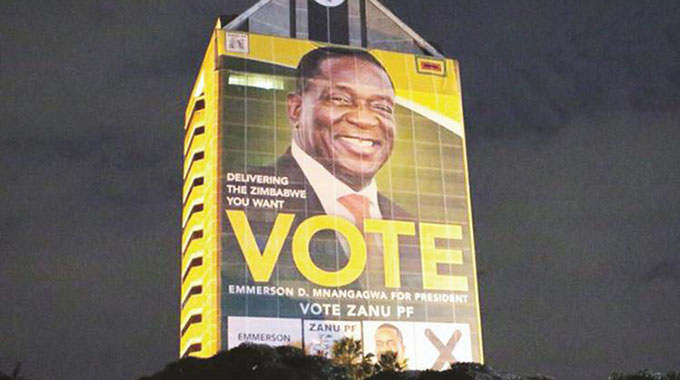 The ManicaPost
THE ruling Zanu PF is basking in the glory of its emphatic victory over MDC-Alliance in last weekend's Chimanimani Ward 16 by-election. The party's candidate, Cde Charles Chinamira, got 1 589 votes against Mr Erasmus Murada's 231 votes. Since the 2018 harmonised elections, Zanu PF has won more than 95 percent of all National Assembly and local authority by-elections. This week, The Manica Post News Editor, Cletus Mushanawani (CM), caught up with Zanu PF's Manicaland secretary for administration, one of the party's longest serving provincial executive members, Cde Kenneth Saruchera (KS) or Sayeyo, as he is affectionately known, hear what makes Zanu PF the party of choice.  Below are the excerpts from the interview:
CM: Last weekend Zanu PF overwhelmingly won the Chimanimani Ward 16 by-elections, what contributed to this victory, which is an endorsement of the ruling party as the governing party in the country by the electorate?
KS: The party effectively engaged the electorate, they fully understand why as Zimbabweans we are in this prevailing situation. The electorate appreciates that Government policies will bear fruits in the long run. The unity of purpose among all party cadres was our driving force. People clearly understood the messages we were preaching to them. On the other hand, the opposition had nothing to offer to the electorate, except slogans. The opposition was just disorganised and failed to connect with the people. They did not take the electorate seriously. In short, they (MDC-Alliance) took the electorate for granted by failing to address the real issues concerning them.
CM: During the last Politburo meeting in Harare early this month, President Mnangagwa urged members to be in constant touch with the electorate, especially at grassroots levels. What are the programmes being rolled out by the party to ensure that there is two-way communication between the electorate and the leadership?
KS: The leaders at all levels have been instructed to be in touch with the people, listening to their concerns and views on Government programmes and policies. Our provincial chairman, Cde Madiro, has implored Manicaland leaders to seriously heed President Mnangagwa's call and implement it on the ground. We are doing just that. We are spending most of our time with the people and initiating developmental projects that directly benefit people. Those canvassing for votes should not only be visible towards elections. The party is for the people and we will remain with them in every aspect.
CM: Zanu PF is targeting to have five million votes to ensure a crushing victory in the 2023 harmonised elections. How is Manicaland mobilising the electorate to achieve this figure? What are the targeted votes for Manicaland during the 2023 elections?
KS: The party has drawn up a comprehensive plan to mobilise, engage and work with the people at grassroots levels. As a province, we intend to win all local government and National Assembly seats. During the 2018 harmonised elections, we lost narrowly to the MDC-Alliance in the Presidential elections as we had 292 938 votes against MDC-Alliance's 296 429 votes. This spurred us into action. Come 2023, we want to double that figure. Our President and First Secretary of the party should have the most votes in this province. The results of the recently held by-election are a clear indication of the roadmap we have embraced as a party. We are not leaving anything to chance. We continue targeting new members, especially those sitting on the fence.
CM: A number of projects and programmes outlined in the 2018 harmonised Election Manifesto are yet to be implemented. What is causing this delay and how will this be addressed?
KS: We are closely monitoring the implementation of the Zanu PF 2018 Election Manifesto. So far, we have noted progress on a number of projects, especially on infrastructural development. However, we need to bear in mind that many factors affect policy implementation. A lot has happened on the economic front since 2018, and this has negatively affected the implementation of some of the programmes outlined in our manifesto. Party leaders should continuously liaise with policy implementers on the ground. If we do not do, some of them can throw spanners and derail progress. However, this will not deter the party from embarking on life-changing projects that will bring immense benefits to the people of Zimbabwe.
CM: What is Zanu PF doing to win the hearts of the urban electorate?
KS: We have studied and analysed the urban voter and we believe that the tables are being turned. People are increasingly realising that opposition parties have nothing to offer. The Zanu PF train is now on a roll and any member of the opposition is welcome to join the party. An analysis on the performance of the opposition parties in local authorities has shown that they have nothing to offer to the urban population. Service delivery has deteriorated to unacceptable levels, with the city fathers lining their pockets and grabbing property, especially residential and commercial stands. Zanu PF is a tried and tested party that strives hard to improve people's lives.
CM: Factionalism has been the party's Achilles heel. With the upcoming District Coordinating Committee elections, we will not see it rearing its ugly head again? How will you deal with this issue to ensure a united family?
KS: His Excellency, President Mnangagwa, has condemned factionalism. Our national political commissar, Cde Victor Matemadanda, has also condemned factionalism. Factionalism will see errant members being disciplined in terms of the party's constitution. In Manicaland, Cde Madiro has facilitated a five-day ideological workshop for party leaders, through the Herbert Chitepo School of Ideology, where members got a full orientation of what is expected of them in discharging their duties. The leadership here is well versed with the dangers of factionalism. People belong to the party, not individuals. Leadership positions should be obtained on merit, not through vote buying or using one's proximity to the party's leadership.
CM: The party and Government have scaled up the fight against corruption, what is Manicaland doing in this regard?
KS: The corruption issue is always being discussed extensively at various party meetings. This fight is being taken seriously by the party's leadership, as everyone is convinced that corruption is harmful to both the party and the country. People are being urged to cooperate with the Zimbabwe Anti-Corruption Commission and all law enforcement agents by reporting any corruption cases they might have witnessed. However, the main drawback identified so far is that some people who report corruption cases are failing to provide the necessary evidence to achieve convictions in courts of law. It is everyone's responsibility to ensure that there is enough evidence to back up the cases that are being brought to law enforcement agents for further investigations. The fight against corruption is everyone's responsibility.
CM: Central Government is rolling out the devolution agenda, how is Manicaland embracing this? What are the low hanging fruits the province can leverage on to contribute significantly to the national economy?
KS: Manicaland has welcomed the devolution programmes since they empower provinces to develop their own economies. We are urging our people to identify opportunities where they can actively contribute to both provincial and national economic development. We are a very rich province, endowed with diamonds, gold and other minerals, as well as timber. We should fully benefit from our minerals, especially the people in those mining areas. We want to see a positive change in people's lives, they should also benefit in terms of employment.
We also boast of all the five natural regions which are good for agriculture. From Nyanga to Chipinge, we want to see a greenbelt with crops flourishing. Our perennial rivers and water bodies should be fully utilised, both for irrigation and hydropower generation.
Once we have enough power, we will be able to have more irrigation schemes and more land will be put to productive use all year round. We also have beautiful and rare sites for tourism. Manicaland should be promoted as a prime tourist resort and it should start with us as locals. We should play a leading role in promoting domestic tourism. Visits to our tourist attractions should not be confined to school trips only. Families should also find time to visit these tourist sites.
We are all challenged to come up with projects to add value to these God-given resources. Although we expect Foreign Direct Investment, we should be conscious to the fact that we are also investors in our own right. We should tap into all the available opportunities to improve the welfare of our people.
CM: The issue of farm downsizing has been on the cards for some time now. What is the party doing to ensure that more beneficiaries, especially youths and women, are brought on board for them to play their role in national development?
KS: We understand that the current land audit will release some land. As a party, we prioritise the allocation of the identified land to youths, women, war veterans and other deserving citizens who have the capacity to be productive. The land reform programme is not all about Zanu PF members, but all Zimbabweans who feel that they have what it takes for the country to reclaim its breadbasket status.
We want to see all idle land being productive to ensure food security. Farming should be taken as a serious business because there are so many economic benefits that can be realised from it. We are witnessing life-changing testimonies of those who are excelling in farming. One does not need vast tracts of land to become a successful farmer. Maximum utilisation of our pieces of land will be the game changer.
CM: What makes Sayeyo tick?
KS: I have learnt a lot from the hard school of experience. It is the people who usher me into these positions. I will continue serving the party in whatever capacity people deem fit. I served for almost 10 years as the provincial secretary for information and publicity, and more than 15 years as the secretary for administration. As long as I still have the mandate, I will continue serving the revolutionary party.
CM: Finally, Cde Saruchera, how do you balance your roles as a politician, a businessman and an academic?
KS: I have learnt to separate these three roles as they all have different requirements and expectations. In my capacity as the Manicaland Zimbabwe Open University regional director, I don't play politics at work. My role there is clearly to educate the nation and promote education at the highest level. As academics, we are there to develop future leaders and responsible citizens. As a politician, I clearly know my role. I am ideologically orientated to serve Zanu PF since the party has the right agenda to develop the country. As a businessman, I have a role to play in national development and employment creation. I will never relent in my desire to dutifully serve this nation.