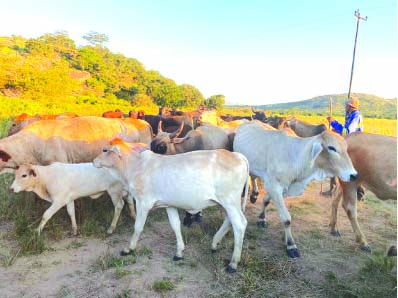 The ManicaPost
Samuel Kadungure
Senior Reporter
HIGHLY educated young farmers are investing heavily in agriculture, particularly livestock farming, as they leverage on new technologies, research and development as well as irrigation.
The youths are increasingly turning to agriculture to earn a decent living, with most of them aspiring to become successful commercial farmers.
Livestock farming is a key sector, although it is fraught with challenges that include prolonged droughts, shortage of land and diseases, among others.
However, young people seem to have mastered the practicalities of livestock production and are well acquainted with the characteristics of their animals and birds, their feed requirements, breeding habits and common illnesses.
They have also managed to establish their markets and keep all requisite records.
Mr Tichafara Chidawanyika diversified from his beef retail business to become a full time livestock farmer, specialising in Brahman, Mashona, Boran and cross-breeds.
Like all his colleagues, land is a major challenge.
Mr Chidawanyika is renting his farm, something that is holding back his full potential.
To enhance the quality of his herd, Mr Chidawanyika bought top bull breeds from stud breeders, building up the herd to 165.
He now regards the herd as his "bank balance".
"The herd now stands at 165 on a 35-hectare plot. Grazing pastures are a serious problem. When my heard grew to 50, I started having problems with my neighbours who were complaining that my cattle were overgrazing the pastures.
"I then rented a 356ha farm in Nyazura, but last year the farm owner found another investor and I had to move out. I am now in a cul-de-sac, and my biggest cry is for land, at least a 200ha farm," he said.
"I want to grow my herd to 1 000. This will be my bank balance, I do not need to go to the bank for a loan, but to my kraal.
"If I get the land, in three years, I will be a proud owner of 1 000 high quality cattle," he said, adding that his dream is to expand his top grade beef supply in Manicaland and to export markets.
"We need to establish a one-stop abattoir while improving the quality of our products to penetrate the export market.
"Zimbabwe used to be a major beef exporter to Europe. If the white farmers could do that, nothing can stop us," he said.
Another young farmer, Mr Tonderai Magaya, has 180 cattle and aspires to be a successful stud breeder.
He is renting 200ha at Mhiripiri Farm in Nyazura, alongside Mr Samson Mangani, who specialises in chickens, ducks, turkeys for meat and eggs.
Mr Magaya said to raise cattle profitably and productively, one must feed and manage them properly.
He said animal feed must contain the essential nutrients and minerals required for proper growth, health and vitality.
Mr Magaya keeps local cattle breeds and pure bred beef cattle of exotic lineage.
"I am three years into this and want to take this project far. I have introduced pure bred, which I got from a stud breeder in Chipinge.
"Given the room, I want to reach a thousand in two years," said Mr Magaya.
The farmer also decried shortage of land, highlighting that he currently cannot control movement, breeding and diseases.
"I cannot control the breeding season. If my cows drop during the dry season, they will suffer because they will be suckled while feeding on dry grass which has no nutrients. Stock feed is very expensive.
"We need to control the breeding by quarantining the bulls for a while, which we cannot do now due to limited land. The animals are mixed. I am crippled to make long term investments as it borders on security of tenure.
"My dream is to venture into beef wholesaling and stud breeding. I am planning to get pedigree heifers and bulls.
Eventually I will need to establish an abattoir for the beef supply chain and also look at the export market," said Mr Magaya.
Another livestock farmer, Mr Cosmas Chitere (37), spent US$25 000 on acquiring a 65ha plot at Fairfield, Headlands, for his piggery and poultry projects.
"I have 55 pigs, 20 herd of cattle, 40 goats and 150 road runner chickens on a two and half hectare plot. I have invested in a bigger plot to grow silage and venture into horticulture.
"I have a black granite company, so as a way of spreading risk, I thought of diversifying into farming so that l have multiple streams of income.
"My goal is to invest in high maturing beef cattle at the new plot. I want to start with 20 cattle. My desire is to supply beef, poultry and piggery products in Manicaland," said Mr Chitere.
He said the poultry project has quick returns.
"Poultry gives you quick returns in a very short period of time. Our fowl runs can carry 40 000 birds, but we currently have 15 000 layers because the chicks are a problem during the winter season.
"We have also added turkeys and ducks. We are trying to grow the numbers since the birds grow faster. We have 200 ducks and 200 turkeys, which are primarily for export in Mozambique.
"The birds need a clean environment. If you rear them in dirty structures they can succumb to diseases. However, we do not have land for free ranging and paddocks," he said.
Animal health expert, Mr Steven Manzini-Sithole, said farmers should vaccinate their animals and birds according to recommendations to control diseases.
He said farmers can control ticks and other harmful organisms by applying acaricide regularly.
He said Manicaland's herd is decreasing due to poor health management, particularly disease control.
"The beef is under the economy grade, which is average quality. This means our herd management must be strengthened, especially the nutritional component.
"What makes the business profitable is the size and grade of the animal. Most farmers are selling cattle at prices that do not enable them to expand on the project," said Mr Manzini-Sithole.